"May I See Your ID, Please?"
Every morning around 7 a.m., hundreds of students flood into the LHS building for their first period class. Though this ritual has not changed from students' previous years in school, one new development has arisen: the increasing scrutiny of school identification. Now, all students have a photo ID with their school picture, first and last name, eight-digit identification number, and grade level. Not only do students need to show their ID at the door, but they need to wear it around their neck for the entirety of the school day. Is this system effective at keeping LHS safe? 
The new ID system is substantially different from those that have been used in the past, as explained by Class of 2021 graduate Marisa Hickey. "With the old ID system, we pulled out our ID to show whoever was at the door, and then we went on with our day at LHS," Hickey said. Students in the past were not required to wear their ID for the entirety of the school day.
Another difference between the system when Hickey was a student versus the current system is the implementation of the color-coded lanyards. Hickey believes that this method is safer and better than the system in the past. "This is a great step in the best direction to keep everyone at LHS safe," she said.
Senior Stella Kasprzyk, who experienced the former ID system during her freshman and sophomore years feels indifferent about the new one. "I don't feel any more or less safe with the ID system," she said. "It has never bothered me." 
Some students wonder whether a scanning system, in which students need to digitally scan their ID card, may work as an added precaution. However, many students may fall victim to forgetting, misplacing, or losing their ID at some point throughout the school year, a mistake that Hickey herself has been guilty; so, a scanner system for students may provide an even greater problem, especially if a student loses his/her ID, giving anyone who finds it access into the building. 
"All our staff is scanned in," said door and hallway monitor Jennifer Caracciolo. '"Students are not, and our students won't be."
Aside from student and staff IDs, IDs for visitors, such as driver's licenses, are checked upon entry. "Whoever is entering the building, I have to take their licenses down," Caracciolo said. "There could be kids from other schools [trying to enter the building]," she added. "Sometimes they try to come in." 
Would the school be better off without student IDs for entry? Hickey explained how she felt regarding safety when she was a student. "I never thought of immediate danger when it came to this system, but there definitely could have been safer measures," she said. The fact that IDs are now required to be worn for the duration of the day is certainly improving the safety aspect, and the color-coding provides even more information to monitors, like Caracciolo, as to who is supposed to be in the building. 
Caracciolo believes that the new system is very thorough. "That's the greatest thing that they could ever do, having the students wear the IDs around their necks. It's great," she said. 
"We have great people in those positions [monitors and security guards] who take their responsibilities seriously and take the extra time to become familiar with the students in the building," said Assistant Principal Matthew Sarosy. 
One of the most unique aspects about LHS that plays into school safety is the fact that it is an open campus for all four grade levels. "Having an open campus also makes securing the building more challenging," shared Sarosy, "which is why we need student ID cards." 
Some students and staff wonder if there is anything else that can be done to keep the school safe from intruders. "Anybody who enters that building should have to make an appointment. No one should just be able to stand by the door and say, 'Oh, I want to see Mr. Sarosy,'" Caracciolo said. 
One of the issues with school safety is that, often, breaches of safety are not caused by outsiders but by people who are regularly in the building. Perhaps, metal detectors or a bag-checking system would be more effective. However, this would cause a long line to form outside of both entrance doors in the morning to allow for all bags to be thoroughly checked. 
Thus far in the school year, there have been no reported incidents of intruders in the building. So, it appears that the ID system has been effective at helping to keep LHS safe from intruders.
About the Contributor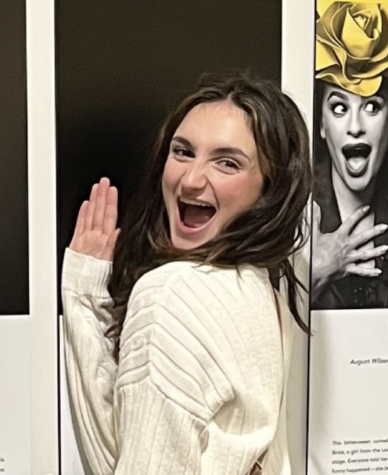 Gianna Longo, Editor
Hey there! My name's Gianna, and I'm a member of the Class of 2025, along with many clubs here at LHS. In my spare time, you can find me on the stage,...