A Bittersweet Farewell to Head Custodian Bob Lovergine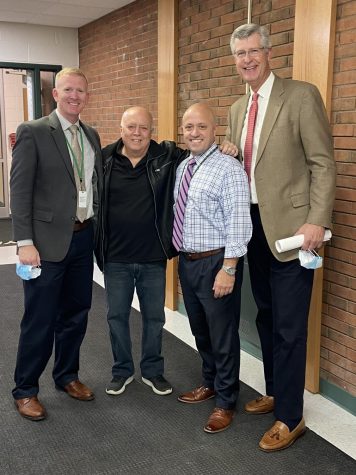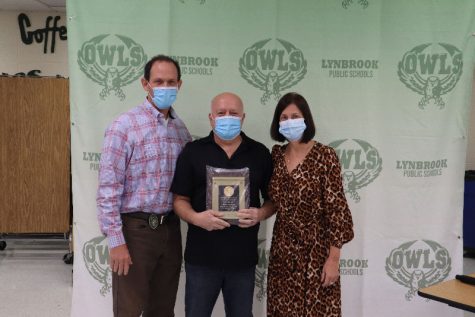 The retirement of Head Custodian Robert Lovergine will surely bring an "astronomical change" to LHS, said Assistant Principal Sal Brescia. Described as an "absolute diamond of an individual" by Principal Joseph Rainis and "part of the heartbeat of LHS," by Brescia, Lovergine's loss will be felt by hundreds of LHS students and staff.
As head custodian since 2012, Lovergine leads his team of custodians day and night to ensure that the school runs smoothly. He has been a part of the Lynbrook Schools community since 1999; prior to working at LHS, Lovergine worked at North Middle School and West End Elementary School. He quickly became head custodian after joining the LHS staff due to his hard work and dedication. He inspires the other members of his team to "take pride in their work," and he strives to "provide the students, staff, and the community with a building everyone can be proud of," Rainis explained. Most importantly, he always has "a smile on his face and a friendly disposition," Brescia said.
Along with providing the building with "a lot of TLC when it needed it," as Brescia said, Lovergine has been a part of many LHS events — staff talent shows, school musicals, field days, and volleyball tournaments — proving his love for the school and community. "Mr. Lovergine is open, honest, funny, and the type of person you want to be around," Rainis said. 
Lovergine is the person many turn to when they need a favor and someone who is always eager to help out. "Bob is the type of guy who would help anyone. Years ago, while I was teaching at North, the kids loved him so much that they asked him to be the genie in the school production of Aladdin. In typical Bob fashion, he said, 'Yes!' What an amazing show. He was certainly the best genie I've ever seen. Sorry, Will Smith!" said English teacher Roseanne Mitchell. "I'll always remember the patience he demonstrated in the way he helped Mr. LoCicero with all of the problems he couldn't figure out how to fix himself," social studies teacher William Leighley said. "At least once a week, something would go wrong, and Bob would just turn back into the patient helper that he is and never show any frustration." Leighley described Lovergine as "an absolute inspiration" because "he keeps LHS running like a well-oiled machine, and he does it with a never-ending positive attitude." 
Lovergine's staff have likewise expressed their fondness for the kindhearted custodian. "It is a pleasure to work for him," said custodian Sal Grillo. "He's not just a boss, but also a friend. He's made LHS a great place to work. It's always fun to be around him. He has a great personality and is a good, standup guy." 
Custodian Chris Brower, who has worked with Lovergine for over 20 years, explained that he and Lovergine became friends outside of LHS, mentioning that his whole family was upset by news of Lovergine's retirement. "Bob is fun, has a big heart, and is a caring person," 
Brower said. "I'm going to hate it when he leaves." Both Grillo and Brower are sad that Lovergine is retiring but happy for him to be able to begin this next chapter.
Students have also formed close relationships with Lovergine. Senior Vincent Sullivan has known Lovergine since he was a first grade student at West End. "Ever since I can remember, he would go out of his way to give me a high five, or even something simple as a 'hello,'" Sullivan said. "I was so excited to see a familiar face when I came to the high school; just knowing he would be walking the halls put me at ease. Every time I see him, he takes the time to talk to me. When he retires, the halls will feel empty." 
Lovergine has formed his own small community within LHS. Every day he, Rainis, Brescia, Assistant Principal Matthew Sarosy, and Guidance Chairperson Laurie Mitchell have coffee together, with a different person buying the coffee each day of the week. Lovergine has also become friends with many members of the staff, including social studies teacher Eric Finder, who shared that Lovergine can be described in one word: "kind." 
Lovergine's hard work earned him the You Go the Distance Award, which Superintendent Melissa Burak presented him with at the Nov. 10 Board of Education  meeting. Although this award is typically given out at the end of the school year, Burak made an exception in order to honor Lovergine before his retirement. This award recognized him for being a staff member who has gone above and beyond to serve the Lynbrook students and community. Specifically, it was awarded to him because he decided to stay an extra year in order to make sure the transition into the new building went smoothly.
"Mr. Lovergine is a genuinely positive person and kind-hearted," Burak said. "Lynbrook High School is not just where he works but is his second home. He takes great pride in making the building clean and attractive for all who work and study. We value his work ethic and appreciate his positivity." 
Burak also discussed her feelings about Lovergine's retirement, explaining that she has "mixed emotions" because "selfishly, she does not want him to ever leave." But, she said, "No one deserves to enjoy life more than him. He has given so much to all of us that it is now time for him to do so for himself."
Lovergine views his retirement as "bittersweet"; while he is sad to leave Lynbrook, he is excited to enjoy more time with his family. He plans to go on more vacations, like to Disney World this February. He is also looking forward to relaxing at home with his wife, his two children and their families, and his dog, Chase. He discussed his time at Lynbrook, explaining that he appreciates "having a great team to work with" and that "working at LHS has been very fulfilling." He has loved getting to know the staff, administration, and students and will miss the LHS community when he retires. As Brescia stated, Lovergine is leaving LHS "with his head held high." 
"I couldn't be happier for the entire Lovergine family that Bob is going to finally retire," Sarosy said. "While it will be a huge loss for our building, I am so incredibly grateful for all that I have learned from him."
About the Contributor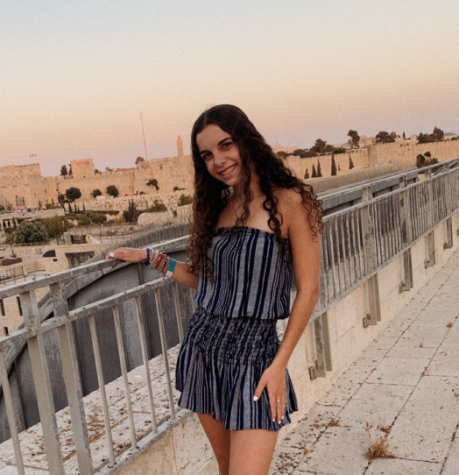 Emma Ward, Managing Editor
I am Emma Ward, and I am the News and Opinions online editor for Horizon. In my free time, I enjoy playing tennis, working out, and hanging out with my...