Ms. Moller Just Keeps Running
For many people, running the New York City Marathon is just another item on their bucket list. For guidance counselor Sue Moller, this race was so much more. For her, it was a declaration of her strength and perseverance in the face of adversity.
Moller began working as a guidance counselor at LHS in 2007, and over her time in the building, she has become beloved by students and staff alike. "Mrs. Moller is truly one of a kind,"  said social worker Roseanne Bogard. "She is passionate and driven. She also has a way of staying positive through tough times."
While she had participated in smaller races and exercise classes since 2017, Moller said she did not get serious about running until the COVID-19 pandemic. With gyms shutting down and new free time on her hands, Moller began running outdoors with her friends, and she even joined the Merrick triathlon team. She grew to love running, and she set her sights on the New York City Half-Marathon, which took place on March 14, 2021. She trained for the race for weeks, and was excited when the time finally arrived. But two days before the half-marathon, Moller received life-altering news: she had been diagnosed with breast cancer.
The cancer was detected at a routine mammogram. Moller said she felt no symptoms whatsoever that would have alarmed her to get tested. However, because she has the BRCA gene — a genetic trait that makes her more likely to develop breast cancer — Moller was part of a high-risk program in which patients get mammograms every six months. Getting tested so frequently led Moller to detect her cancer early, before it could have more harmful effects or spread to other organs. 
"My story really just shows the importance of early detection," Moller said. "Everyone needs to get tested because you really never know, and it could save your life."
Fortunately, breast cancer can be one of the more easily treatable cancers, and Moller caught it early. The shocking news, however, took a psychological toll on Moller that made the upcoming half-marathon all the more difficult. 
"My friends kept asking me, 'Are you ready to run?'" Moller recalled. "Physically, I was. But, emotionally, it was really tough. I felt emotionally beaten up." Despite the challenge, Moller kept on going; 48 hours after the diagnosis, she completed the half-marathon within her time goal of two hours, clocking in at one hour and 58 minutes. 
Several months prior, on Memorial Day of 2020, Moller began a "run streak challenge," vowing to run at least one mile every single day, no matter the conditions. Though the challenge was only supposed to last through the Fourth of July, Moller continued it for another eight months. She even ran through the harshest days of winter, one day completing her mile in snow boots in the aftermath of a blizzard. 
Nothing, it seemed, could prevent Moller from making it to the one-year mark, an impressive 365-day running record. However, things do not always go as planned. The mastectomy was scheduled for April 2021, on the 323rd day of the challenge. Though she could not run on the morning of her surgery, Moller was determined to make it to day 323.
"I woke up at midnight, and by 12:01 a.m., I was running down my block in the pouring rain," Moller said. "I just wanted that day to count." 
Later that morning, Moller underwent a nine-and-a-half hour procedure: a double mastectomy with reconstruction surgery. Moller needed to rest after the operation, so during those six weeks when she could not run, members of the LHS staff ran a mile each day to continue her "run streak challenge." The day the six weeks were up, Moller was lacing up her running shoes, resolved to begin another run streak.
Moller's tenacity was to be admired, but her body could not yet handle the stress of such frequent running. Her coach warned her to take it easy, as it takes up to six months to fully recover from surgery. Moller agreed on one condition: that she be able to run the NYC Marathon in November. Moller's mind was made up, and this time, nothing would stop her from achieving her goal. 
In June, Moller was cleared to run 30 miles. The next month, she ran 60; the month following, she ran 90. By September and October, Moller was running over 110 miles per month, and soon enough, she was completing 13-mile "half-marathons" every week to train for the big event. 
Moller knew that if she was going to run the marathon, she wanted to pay it forward to a good cause, and she chose one very close to her heart: Memorial Sloan Kettering Cancer Center, where she received her own treatment. She joined a program called Fred's Team that "gives every runner the opportunity to add more meaning to their miles by raising money for lifesaving cancer research at MSK," the MSK website states. Moller, herself, raised over $6,800, and the program raised more than $7.1 million through this year's marathon.
So, six months after surgery and daily cancer medicine, Moller took her place at the 50th annual NYC Marathon, the largest marathon event in the world. From Staten Island, to Brooklyn, to Queens, to Manhattan, to the Bronx, and finally in Central Park — 26.2 miles, four hours, 55 minutes, and 51 seconds later — Moller ran through the finish line. 
"Listen," Moller said. "I'm slower than I was before. It is what it is … but I ran a damn marathon!" Moller laughed. "I'd never run 26 miles before."
Most of the run, Moller said, she ran with ease. But, when she entered the Bronx around mile 19, things began to look downhill. Fortunately, someone was there to lift Moller's spirit: special education teacher Kristen Burke.
"A lot of the marathon runners say the Bronx is the least populated spot, where there's a lull in the crowd," Burke said. "So, we thought this was the best location to support Ms. Moller! She's such an inspiration, and we were just happy to be there to see her run."
Members of the guidance department also showed their support for Moller by decorating her office after the marathon. Bogard and fellow social worker Samantha Lancaster were part of the crew that decked out Moller's office with posters, confetti, and sweets.
"We think she is a warrior," Lancaster said. "It did not surprise us one bit that she was able to accomplish this huge goal because once she sets her mind to something, she makes it happen, as difficult as that may be. Watching her rebuild and gain strength each week was truly inspiring."
Moller is not just stopping at the NYC Marathon. She is excited to be participating in a 10K run and half-marathon run through Disney World this upcoming February. In June, Moller will take on a 70.3-mile half-ironman triathlon — a 1.2-mile swim, a 56-mile bike ride, and a 13-mile half-marathon — which she has already begun training for. Most of all, though, Moller cannot wait to restart the "run streak challenge," but, this time, with a new mindset.
"My goal is not a full year, but 324 days — just one more day than before," Moller said. "Just make it one day longer. That's my motto for life, now."
Out of the many lessons she takes away from this experience, Moller said the greatest ones have been learning to make the most of life, cherish time with family, and push through difficult times, even when giving up seems so much easier.
"If we want to do something, let's go do it," she said. "No more putting it off. If it gives you joy, go for it … and most of all: just keep running."
About the Contributor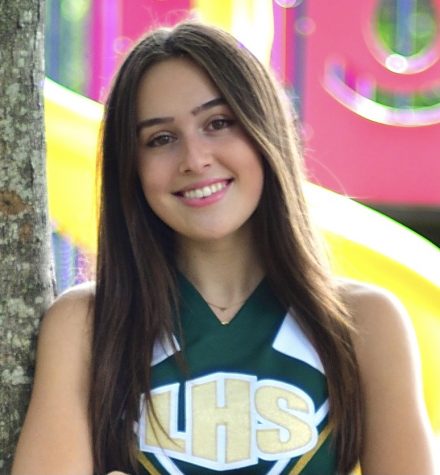 Julia Swerdin, Editor-in-Chief
I am the editor-in-chief of the Horizon newspaper and a member of the Class of 2022. I am also the captain of the LHS Speech, Debate, and Model Congress...