Key Club's Popping Start to the School Year
Break out the popcorn because the show is just getting started for the Key Club! In just four days, 150 of the club's members raised $66,913 by selling popcorn. The fundraiser was conducted through the company DoubleGood Gourmet Popcorn Fundraising. 
Due to Covid-19 measures set in place last year, the club had to conduct its fundraiser virtually, using DoubleGood's online platform. To many people's surprise, the club raised almost $37,000 in just five days. This year, with its reputation to uphold, Key Club members rose to the challenge and doubled their DoubleGood goal. 
The virtual fundraiser started on Sept. 30, and in less than twenty-four hours, the entire club met and surpassed their previous goal. New club members and veterans alike were eager to support the cause, as funds went to a variety of charities: Project9Line, the Rose Brucia Education Fund, the Dr. Barbarino Scholarship Fund, the Summer Camp Opportunities Promote Education (SCOPE) organization, Alex's Lemonade Stand, and more. 
Club members posted links to their DoubleGood pop-up stores on social media and spread the word to friends and family. A few days after the store closed, DoubleGood found out about Lynbrook Key Club, its success, and the money it planned to give out to the community. In response, DoubleGood decided to donate $6,000 dollars' worth of popcorn to Lynbrook's essential and frontline workers.  
The DoubleGood leaderboard, which kept track of Key Club's total amount of money raised and the individual funds raised by each member, created healthy competition amongst members. This was done through raffles, which were given out several times each day to club members who raised a lot of money or spread the word through social media. The top-three sellers combined raised over nine thousand dollars. 
Freshman Damon Lanzello came in third place, and he said he owes it to his family for culminating a lot of his funds "by posting on their social media to help spread the word." Coming in second place was senior Jaden Harvin, who was eager to beat his previous popcorn records from last year. Harvin also sent out his pop-up store link to family members who shared it with their colleagues. "Sharing the link with their coworkers was a big part of raising a lot of money," Harvin said.
On top of the leaderboard, was Sophomore and Key Club Co-Vice President Dea Pulatani. As the highest seller, she spread the word far and wide about Key Club's fundraiser on social media and by going door to door throughout the community. Pulatani explained that community is very important to her, which is why she is "proud" to be a part of Key Club. "The club is not just about fundraising," Pulatani said. "It is about empowering and helping the community, which is something I love to do," she added.
Entering a new school year, Co-Presidents Emma Ward and Sophie Ward had high hopes for this fundraiser, as it was a huge success last year. "The main goal for this club is to raise as much money as possible to give back to charities," said Emma. She is also excited, she said, to see the increase in membership of clubs in general as things are slowly returning to normal for extracurricular activities. 
The increase of Key Club members led to a tremendous profit, as her sister, Sophie, shared her fervent enthusiasm about the funds that just kept coming. "It was so amazing watching the numbers keep going up," Sophie said, "knowing how many people we were going to impact." Although this was just the first fundraiser of the year, Sophie remarked that she has never been happier running a fundraiser quite like this one. 
Key Club Advisor and Virtual Enterprise teacher Benedict Tieniber could not have been more impressed by the number of funds collected. He expressed that the club always shoots for high goals, and for this fundraiser, the goal was fifty thousand dollars. Once that goal was met, Tieniber knew Key Club would not stop there. 
Tieniber said he owes the success of the club to the generosity of Lynbrook families and residents. "It's amazing when the community comes together to help so many different charities," he commented. In the months to come, he hopes the Lynbrook Key Club will continue to raise money for charities and ultimately win awards later at the New York District Key Club's Leadership Training Conference, as the club did last school year. 
About the Writer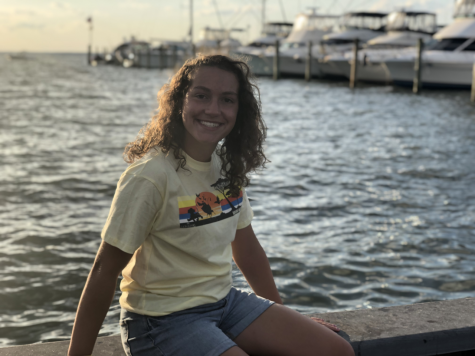 Alyssa Inserra, Managing Editor
I am a member of the Class of 2023 and the managing editor of Driftstone and assistant editor of Sports for the print edition. I enjoy singing, reading,...