LHS All-State Musicians
     Five LHS musicians have been recognized by the New York State School Music Association (NYSSMA) and selected to attend the annual All-State Festival this upcoming December. Seniors Andrew Director and Jaden Harvin, as well as junior Dylan Baltes, are guaranteed a seat at the prestigious conference; seniors Manaka Ogura and Rachel Edelstein have been chosen as alternate participants. 
     The three-day, overnight festival will take place in Rochester, New York, from Dec. 2-5. During the event, students will be taught music pieces, directed by renowned guest conductors. The event will culminate in three concerts, each student performing in one.
     Students must first perform a solo piece at the NYSSMA Festival, and those with a score of 98/100 or higher are recommended for All-State. Students with the same scores are then distinguished by their judges' written evaluations; finally, an All-State Selection Committee reviews these comments, teacher recommendations, the candidate's previous NYSSMA ratings, and grades in school. Approximately 900 students across New York State were selected for All-State.
     Last year's All-State Festival was yet another event affected by the coronavirus pandemic. Students did not come together in person, but rather over a screen, as they submitted their musical compositions virtually. Also due to the pandemic, this year's All-State musicians lacked NYSSMA scores from their sophomore year, so they were adjudicated based on their junior year scores. 
     Though this is all of the musicians' first years attending All-State, they are certainly no strangers to musical competition. Director will play the tuba in the symphonic orchestra, an instrument he has played since third grade. Director said music is a constant in his day-to-day life, as he is "always playing or listening to" something. He also sings and plays the trombone, and he is a member of seven LHS music ensembles: wind ensemble, symphonic band, concert choir, jazz band, brass ensemble, marching band, and show choir. 
      Director has been to All-County five times and said he looks forward to his first All-State experience. "I'm really excited to go on an overnight school trip after so much was cancelled last year, like Disney," he said. "It will be great to have some semblance of normalcy." Director plans on continuing his music career in college, potentially as a minor in musical performance or theory.
     Famous around the halls of LHS for his fun personality and blossoming talent, Harvin was accepted to All-State as a tenor in the mixed chorus. He has been singing since he could talk and has been a member of Lynbrook choirs since third grade. When asked why he loves to sing, Harvin said, "It is a great form of expression." He is a member of the LHS concert choir, show choir, and musical; he also writes his own original music, and plays piano and the alto saxophone. In his sophomore year, Harvin attended All-County, and he is "excited to go to All-State" because "it means a lot to be recognized for my craft." Harvin said he plans to continue singing after graduation, wherever he ends up going to college.
     The only LHS junior to be selected for All-State, Baltes is an ambitious and dedicated musician. She plays string bass in the LHS orchestra, the Long Island Youth Orchestra (LIYO), the Children's Orchestra Society (COS), the Metropolitan Youth Orchestra (MYO), and the Long Island String Festival Association (LISFA). She will join the All-State symphonic orchestra this December. Baltes picked up the bass in second grade, and she used to play piano and alto saxophone. When asked why she loves music, Baltes said, "It feels cool to be a part of something that sounds so beautiful."
     It will be Baltes' sixth year at a NYSSMA festival, as she has attended All-County five times. "I am really excited for All-State," she said. "I've been waiting for this since I was really young."
     Edelstein is a master of percussion and has been selected as a snare drum alternate for the All-State symphonic band. She began playing the drums in third grade, and she now knows how to play the drum set, vibraphone, marimba, and piano. Edelstein is a member of seven LHS music ensembles — concert choir, show choir wind ensemble, marching band, jazz band, jazz combo, and full orchestra — and she has attended All-County three times, twice for percussion and once for voice.
     "There is nothing like the exhilaration of performing with others," Edelstein said when asked why she loves music. She added that it is a great way to alleviate stress and form community with her peers. Edelstein said she appreciates being recognized for her hard work and dedication as a musician. In college, she hopes to continue her music career in performance groups.
     Ogura has been selected as an All-State alternate for her talents playing the violin, an instrument she has practiced since second grade. She is a member of the LHS chamber and pit orchestras, as well as LIYO and the South Shore Symphony Orchestra. She has attended All-County six times, and said that if she is able to attend All-State, she is most excited for the "the food." 
     Ogura, like her fellow All-State participants, has a strong passion for music. "It is a source of creative expression and comfort," she said. "I love how music can be interpreted differently because it's a reflection of our own personalities," she added. Ogura expressed her gratitude for being selected for All-State and feels "fortunate to be selected for a very competitive group of talented violinists." She said that this experience has pushed her to work even harder for her future music endeavors. If she does not minor in music, Ogura plans to audition for a college orchestra ensemble.
     All LHS students invited to All-State are happy to return to pre-pandemic performance, and to connect with their fellow music-lovers from across New York State. "Being able to come together and make music is an amazing beacon of light," said Edelstein.
About the Writer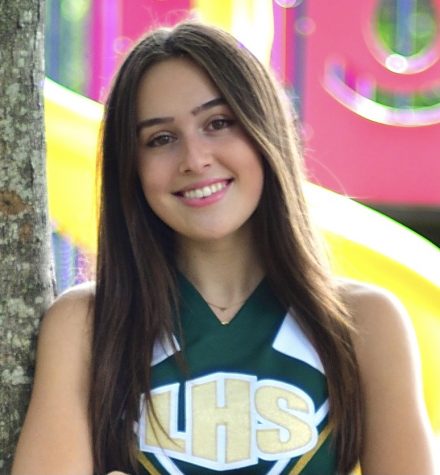 Julia Swerdin, Editor-in-Chief
I am the editor-in-chief of the Horizon newspaper and a member of the Class of 2022. I am also the captain of the LHS Speech, Debate, and Model Congress...