Making Lynbrook History: Three Students Earn Seal of Biliteracy
 Jennireth Tomayo, Tania Ramirez, and Mariam Caraza were recently awarded the New York State Seal of Biliteracy (NYSSB), making them the first Lynbrook students to receive the honor. According to the Department of Education (DOE), the NYSSB "recognizes high school graduates who have attained a high level of proficiency in listening, speaking, reading, and writing in one or more languages, in addition to English." 
     Lynbrook School District's Chairperson of the English as a New Language (ENL) Department, Madelyn Torres, explained that the Seal is a distinguishing factor for college and job applicants and an important way to honor the meaningful skill of bilingualism. "In a world that's constantly changing, evolving, and becoming more diverse, in not only our district but the world as a whole, it is so important to be able to communicate with others," Torres said. "When we widen our understanding of each other's backgrounds, we can grow to have greater appreciation and respect for everyone," she added.
     Torres said that when she first became a Lynbrook teacher in 2004, the ENL curriculum was a completely pull-out model, meaning ENL students did not receive any instruction in general education classes. Now, Torres said, the curriculum is "much more personalized to each individual student's needs," and contains a mix of ENL-specific and general education courses; there are currently about 70 ENL students spanning the district. 
     This growth of the program was what enabled Torres and her students to apply for the Seal for the very first time in Lynbrook history. Torres' first step in obtaining the Seal was to contact a representative from the DOE in September, who she then corresponded with throughout the school year. Next, the three candidates needed to complete a series of requirements: scoring an 80 or higher on the NYS English Language Arts (ELA) Regents Exam, completing all 11th and 12th grade ELA courses with an average of 85 or higher, and finally, presenting a culminating project to a panel of reviewers.
     The presentations were evaluated on May 13 by the Seal of Biliteracy Committee: ENL teacher Karen Smith, Spanish teacher William Luzzi, guidance counselor Jonathan Spector, Principal Joseph Rainis, Assistant Principal Sal Brescia, and Superintendent of Schools Dr. Melissa Burak. At the Senior Awards ceremony on May 25, the girls were presented with the Seal.
     Tomayo moved to Lynbrook in 2017, after completing eighth grade in Brentwood, New York. She was born and raised in Venezuela, and she explained that it was extremely difficult to adapt to both the American culture and English language after uprooting her life in her native country. "I missed my country, my family, my friends, and everything was different," she said. "I just kept telling myself, 'There's always new challenges coming,' and I learned with time," Tomayo added. 
     For her NYSSB presentation, Tomayo chose to research education in Venezuela versus the United States. She explained that "not that many people know what it's like outside of their country," and that she hopes to educate more people about the educational disparities in Latin American countries. 
     In her presentation, Tomayo shared her personal experiences of attending school in Venezuela; fortunately, she was able to attend private school, but for those who cannot afford it, public school is the dreaded, and only, option: the walls are covered in graffiti, the supplies are abysmal, and the level of education is far below anything taught in America. For these reasons, she is thankful for the opportunities she has been given in Lynbrook, and she hopes to later pursue a career in teaching.
     Tomayo further explained that the Venezuelan government is to blame for the immense poverty of the country: "The salary is about a dollar per month, but the price for food is the same as it is here, so nobody can buy anything," she said. "The government tries to make the rest of the world think that nothing bad is happening, but it is."
     Tomayo feels a strong sense of gratitude for her teachers at LHS, who she said were her biggest supporters during a scary and challenging time. Over her four years at LHS, Tomayo has made great strides in her English learning, and now she has achieved fluency. She has also taken on an active role in the school and local community; she is the president of the Culture Club, a member of National Honor Society and National Art Honor Society, an AP student, and a cashier at Key Food. 
     "Four years ago, I never could have imagined what my life in Lynbrook would become," Tomayo said. "It's been hard, but I'm the type of person that when I see something I want, I go for it." Next year, Tomayo will attend Queen's College to study graphic design and education. 
     Ramirez grew up in the countryside of El Salvador and moved to Lynbrook in 2016 after completing middle school in Hempstead, New York. In El Salvador, she lived in her aunt's house because her mother's house was more than an hour away from the nearest school. Ramirez explained that the English education in El Salvador was very minimal, so her move to the U.S. was frightening, and the culture was unfamiliar.
     As a young woman, coming of age and simultaneously moving to a new continent, Ramirez has often reflected back on the differences between her native country and her new home. For this reason, she chose to focus her NYSSB presentation on the contrast between adolescence in both countries. 
     "When I came here," Ramirez said, "I heard many stories about my classmates' childhoods, and I realized how different they were from mine. Latin American parents are really strict due to circumstances that they can't control, like the country's security, and I think that not many people in America realize Latin American children grow up with little-to-no freedom because of that," she added.
     Ramirez has also become an involved student in the Lynbrook schools as the vice president of the Culture Club and a member of National Art Honor Society. After graduating, she plans to attend college and pursue a career in illustration and design. "When I was living in El Salvador, I never thought that I would be able to go to college since it was too far away, and we really didn't have the resources," Ramirez said. "I now have the opportunity to go and to study what I like, and I want to be able to keep creating art." 
     Ramirez, too, is thankful for her teachers, who she said have always supported and encouraged her to become the best version of herself.
     Caraza moved to Lynbrook in 2017 from her home in Peru, where she said she enjoyed spending time with her family, playing sports, and making art. She explained that she was excited to move to America because it was "a big step towards achieving [her] educational goals," though she was also sad to move away from her family. 
     Unlike Tomayo and Ramirez, Caraza found that learning English was not as difficult as she had imagined and that adapting to the culture was an easy transition. She is now a high achieving student in her classes and an athlete on the LHS varsity volleyball and soccer teams. "I am proud of everything I have accomplished so far and so appreciative of my family for motivating me every day to continue with my goals," Caraza said. "In addition, I'm grateful to the teachers at LHS for all of their help and support," she added. 
     Caraza chose to focus her NYSSB presentations on festivals in Peru versus America and the benefit of immigration on the U.S. economy. She said that applying for and receiving the Seal of Biliteracy has been one of her greatest experiences throughout her four years at LHS. After graduating, Caraza will attend college at SUNY Old Westbury and study the field of criminology. "I strive to become a professional in my field," Caraza said, "and my goal is to work in what I love the most."
     AP United States History teacher Stephen LoCicero taught Tomayo, Ramirez, and Caraza throughout their time at LHS. On the day of their presentations, he surprised each student with a rose. "It has been a pleasure watching each of these young ladies grow as people and English language speakers over the last three years," said LoCicero. "Let's also not forget the tremendous teaching of Mrs. Karen Smith, who has worked tirelessly to teach all of our ENL students the English language," added LoCicero.
     Smith began working with the students when she joined the Lynbrook School District in 2018. "These students inspire me every single day with their courage and their willingness to share their stories and experiences," Smith said. "I could not ask for three more hardworking young women to be the very first Lynbrook students to receive the Seal of Biliteracy. We are all so very, very proud," continued Smith.
About the Writer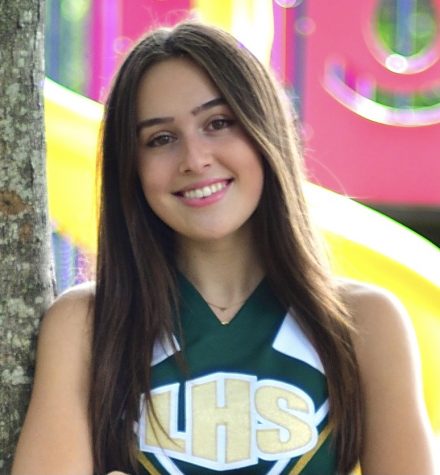 Julia Swerdin, Editor-in-Chief
I am the editor-in-chief of the Horizon newspaper and a member of the Class of 2022. I am also the captain of the LHS Speech, Debate, and Model Congress...