Best Beach Reads for Summer 2021
 Reading is one of the most beneficial ways to relax over summer break. Many agree that there is nothing better than lying out on the beach with sunglasses on, hearing the soft crash of waves on the shore, and reading the perfect summer novel. Here are some of the most anticipated books of the summer to get back into reading, and of course, relaxing.
That Summer – Jennifer Weiner 
The best-selling author of Big Summer presents readers with another beachy read for the summertime. A tale about a girl moving out of the big city of Philadelphia to the wild landscape of the Cape, That Summer continues to be one of the most anticipated summer reads this season. 
Daisy Shoemaker — the protagonist — finds herself lost in her own superficial life; then, she meets Diana Sterling, a glamorous, sophisticated business woman. That Summer is a story about newfound friendship and learning to reflect on the past by looking ahead to the future. Junior and avid reader Emmie Paladino commented, "I just bought this book, and I'm so excited to read it. It is said to be the best read of the summer."
Dear Edward – Ann Napolitano
Dear Edward, by Ann Napolitano, truly captures the heart of the reader. On an ordinary summer morning, twelve-year-old Edward Adler boards a flight headed to Los Angeles with his parents, brother, and 183 other passengers. When the plane plummets and crashes halfway to its destination, Edward is the sole survivor. His story becomes one of hope, but when he loses everything, how will he find the will to keep moving forward?
Firekeeper's Daughter – Angeline Boulley 
New and upcoming author Angeline Boulley has produced an immersive thriller about a powerful topic. Told through the eyes of eighteen-year-old Daunis, a biracial member of the Ojibwe tribe, the novel shows the complexities of Native American communities and of the strength of native women who endure much trauma. Junior Victoria Matorano excitedly said, "I cannot wait to read this book. I love to immerse myself in different perspectives to learn about new people and ideas, and this book seems perfect just for that."
Concrete Rose – Angie Thomas
In a response to her best-selling novel, The Hate U Give, Thomas delivers another jaw-dropping read told from the streets of Garden Heights. Concrete Rose focuses on Starr's father, Maverick Carter, when he was just seventeen years old. He learns the importance of taking care of his family, which opens his eyes to the real world around him. Though the novel focuses on the past, the raw exploration of what it means to be a man in the Black community proves itself just as relevant today.  
Tokyo Ever After – Emiko Jean
Tokyo Ever After by Emiko Jean is not a book to miss this summer. It was described by Booklist as, "The Princess Diaries meets Crazy Rich Asians […,] so refreshing and spot on." The plot is based on Japanese-American Izumi Tanaka, who never really fits into her hometown, located in Southern California; however, when she finds out her father is next in line for the Emperor of Japan, Izumi is whisked away into a world filled with glitz, glam, and a whole lot of self-discovery!
About the Contributor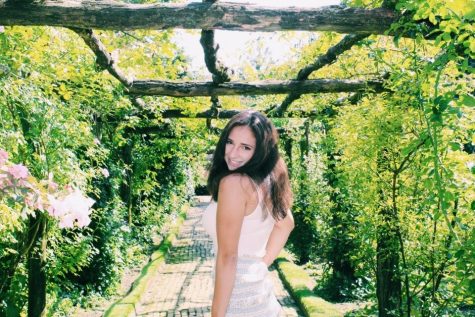 Elizabeth DiFiore, Managing Editor
I am a part of the Class of 2022. I am a news online editor and a managing print editor for the features section of Horizon. I am an avid reader and writer.