Dive into These Great Reads This Summer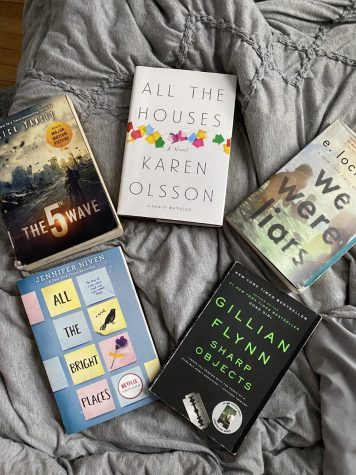 With summer almost here, that means no more school! While your days may soon be filled with beach trips, getting ice cream, and playing outside, you may find yourself bored at times with nothing to do. Grabbing a good book while relaxing in your room, hanging out in the backyard, or tanning at the beach is the way to go. Here are some awesome book recommendations to keep your brain muscles working this summer and to explore a whole new world right in the palm of your hands.
All the Bright Places by Jennifer Niven: All the Bright Places is a true story that takes you through the lives of Violet and Finch. Violet has just lost her sister, and Finch is suffering from severe bipolar disorder and is suicidal. One night at the edge of a bridge when Violet has lost all hope, she meets Finch. These complicated characters find light in each other during their darkest of times. This book talks about many issues and portrays them in an appropriate and thought-out way. It's a book for a good laugh and a good cry.
Sharp Objects by Jillian Flynn: Sharp Objects follows young newspaper journalist fresh out of a psychiatric hospital, Camille Preaker. After assigned to go back to her hometown Windgap, Missouri, to investigate two murders, she is hesitant, as going back brings bad memories. Seeing her mom is the least of her worries when dead bodies pop up and she has a crazy half-sister to worry about. This book has so many twists and turns and will leave you looking behind you with every noise you hear for the next week.
We Were Liars by E. Lockhart: The rich, Democratic Sinclair family have square chins and big smiles, although mostly fake. They spend every summer on their private island. Candace Sinclair is one of the liars. They include her two cousins Johnny and Mirren and a friend they bring every year, Gat. During summer 15, all she can remember is going in the ocean, hitting her head, and waking up in a hospital bed. Candace has been severely ill ever since then with no diagnosis and no recollection of what happened to her. Desperate to see her liars in summer 17 (Johnny, Mirren, and Gat) to see if they can help her remember, she pieces together the truth. This book leaves you speechless, with one of the biggest twists and something you will never ever saw coming.
The Rose that Grew from Concrete by Tupac Shakur: If you're a fan of Tupac, then this book is for you. It includes poetry from Tupac himself. These poems illustrate what it was like growing up from his point of view. It brings you into this legend's life and makes you feel the struggles he went through. This book is a lesson on how, although you may fight through the lows of life, as long as you have your eye on the ball and work towards your goals, you can do anything.
All the Houses by Karen Olsson: After her father has a heart attack, Helen Atherton goes home to take care of him. Her life has never been the same after her father ruined her family's reputation with a huge scandal that he was involved in, in Washington. During this novel, she tries to piece together the political moves that tore her family apart. Karen Olsson fills this book with dry humor and a complex father-daughter relationship. This book shows how politics and Washington turn people into unnatural versions of themselves.
The Off-Campus Series by Elle Kennedy: This series includes five books: The Deal, The Mistake, The Score, The Goal, and The Legacy. The way the author takes a side character from each book and makes him/her the main in the next is brilliant. It follows students at college where hockey is the sport of the real champions. Each book has its own special way about it, and no storyline repeats or gets old. Although this book follows college students, it includes many issues that high schoolers go through today, such as plummeting grades, meddling parents, and, of course, relationships. There is something in this book for everyone, and it will leave you leaping for the next one in the series.
Unbroken by Laura Hillenbrand: This book is about an Olympic athlete turned World War II pilot, Louis Zamperini. It talks about his story on how he spent a month boiling and starving in a life raft after crashing into the Pacific Ocean. That's not even the worse part. After reaching land, he is taken as a prisoner of war. This true story about survival and perseverance is breathtaking.
The Fifth Wave Series by Rick Yancy: Some uninvited guests come to Earth wanting to take it over. In order to do so, they must kill off the human race. These sci-fi novels follow Cassie and her brother through the different steps the invaders take to demolish all humans. With only a few people left, they work hard to survive, but is there anything to live for anymore. There is no one to trust, and they are losing the one thing they have left: hope. These novels take a silly idea and turn it into an extraordinary story. It involves intricate details that leaves you asking, "What happens next?" and "Will they survive?"
These are just some books that can help get you through summer's boring moments with a smile on your face, not to mention provide a break from schoolbooks and the pressure to read them. There are people who say they do not like reading, but maybe they just have not found the right book yet. Whether it be fiction or nonfiction or the countless genres out there, the possibilities are endless. Hopefully, you read some of these books and so more before next school year. Happy reading!