Lynbrook School District Proposed Budget Overview
Lynbrook School District officials recently announced their plans for this year's school budget, which aims primarily to bolster current programs, make improvements in school infrastructure, and continue staff development across the board. At the May 5 Board of Education meeting, Dr. Paul Lynch, assistant superintendent for finance, operations, and information systems, presented a breakdown of the proposed budget, as adopted on Mar. 10 and adjusted on Apr. 20. All information regarding the budget, status of the schools, and fiscal accountability can be found on the district website, as well.
Although the administration initially prepared for a decrease in state aid, this year's aid program exceeded their expectations. Through local taxes, a federal grant program, and an increase in NYS Foundation Aid, the district was able to make bolder program adjustments in this year's budget, while still maintaining their original priorities: an additional special education class at the elementary level, a book selection from diverse perspectives to offer student choice, and continued staff development for technology, special education, and reading. 
Overall, the three-part budget — which includes administrative, capital, and program — will see a 1.62% increase, amounting to $92,907,426. 77% of the budget will go into programming: "It's the heart of what we do," Dr. Lynch said at the budget hearing. However, due to the large sum of state aid, this will be the lowest proposed tax levy in five years. Coming in at .98%, the levy is significantly lower than the allowable levy of 1.88%, meaning it only requires a simple majority, rather than a supermajority, to pass.
While one of the primary goals of the budget is to strengthen the district's special education program, it proposes a 5.47% decrease in funds for the program this year. Superintendent of Schools Dr. Melissa Burak explained that the special education budget is known to fluctuate each year, as it depends on the number of students attending high-cost, out-of-district programs. Currently, less students are placed out of the district, so the budget can be reduced. This will allow the schools to "safely save money," Dr. Lynch said at the hearing. An additional special education class will be added in Waverly Park Elementary School.
Additionally, the district's budget for salaries will increase, allowing for an expansion of the special education staff; the schools plan to hire a special education chairperson, an additional 1.5 special education teachers, two elementary teacher assistants, and one elementary-level aide. The budget for the guidance department will remain steady, but it will also include new Career Development Program job coaching services for special education students.
As previously mentioned, the administration also plans to expand student choice within the high school English curriculum. "It is important to use literature in our schools that reflects the growing diversity in our student population," said Dr. Burak. "Our students need to read books that offer diverse perspectives so they will be equipped to make their own educated choices down the road," she added.
Under this diversified literary repertoire, each grade will focus on a different theme. In order of grade level, nine through twelve, the chosen themes are as follows: Coming of Age, Empathy, Cultural Awareness, and Identity. Students will be offered a choice of approximately 10-12 titles that have been chosen with consideration for diverse authorship, perspectives, interests, genres, literary merit, and ability levels.
To continue supporting the creative arts, the administration has decided to increase funds for the Fine and Performing Arts Department. "We have an incredible community for the arts," said Dr. Lynch. He specifically noted the high school's Bern Seiderman Gallery, which displays student art pieces year round. The Health and Athletics Department, run by Director Joseph Martilotti, will have a decrease in funds as a result of the pandemic; much of the new sports equipment purchased in years prior went unused as team sports were put on hiatus due to Covid-19, so there is no need to fund additional supplies. 
The instructional buildings' funds, also known as the principals' budget, will decrease by 4.71%. This budget funds classroom furniture, school supplies, and club activities. "No programs will be touched by this decrease," said Dr. Lynch. Facilities will also see a significant decrease of 5.63%, which includes oil, gas, water, and security. Preventative maintenance functions will be maintained, but new projects will be delayed for next year.
The communications budget will see a timely 2.14% increase, as the pandemic has created a greater need than ever to invest in technology. Learning management systems, including Schoology and Seesaw, will be maintained through these funds, and teacher desktops will be replaced to include webcams; these precautions are being taken in case the district must return to remote instruction, which Dr. Lynch pointed out could happen at a moment's notice.
The second proposition on the budget is for the district to appropriate $600,000 of the Technology Replacement Fund for network infrastructure and the installation of new technology tools in the Kindergarten Center; as proposed, touch-screen televisions will serve as a replacement for Smartboards. This will have no impact on the tax levy, as it is merely making use of funds that the district already possesses.
The budget's third and final resolution proposes the laying of a turf field at North Middle School and the repair of the courts at Waverly Park Elementary School, including handball, basketball, and tennis courts. Residents will also vote on the use of $605,000 to finance capital facility projects and improve school infrastructure. Proposed projects include "sealing the playground surface at the Kindergarten Center, making improvements to the elevator project at Marion Street School to adhere to the Americans with Disabilities Act, and adding roofing onto two needed sections of Lynbrook High School," as explained in the budget newsletter.
While the tax levy is the lowest it has been in five years, district officials are also taking active measures to reduce the schools' costs: cooperative bidding with other school districts for transportation, products, and furniture; membership in the NYS Insurance Reciprocal; and mutual agreement with the Village of Lynbrook to share fuel for district vehicles. Debt has decreased by 2.7% due to the prosperous selling of bonds. Due to this success, district administrators predict very little fluctuation in debt for the next 20 years.
"The yearly budget vote is one of the main things that keeps our district going," said Board of Education President William Belmont at the May 5 hearing. "As a Board member, it is always comforting to know that this area is handled so well. Thank you very much to you and your staff," Belmont said to Dr. Lynch.
District residents over the age of 18 can register to vote on the proposed budget in the district clerk's office from Monday, May 9, through Friday, May 14, from 8 a.m. to 4 p.m. Applications for absentee ballots must be received at least seven days prior to the vote and may be obtained by visiting the New York State Education Department's website, or contacting the district clerk by email ([email protected]) or phone (516-887-6558). 
The vote will take place on Tuesday, May 18, at North Middle School, South Middle School, and Lynbrook High School from 7 a.m. to 9 p.m.
About the Contributor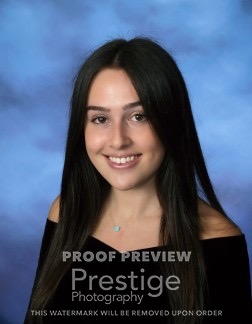 Julia Swerdin, Editor-in-Chief
I am the editor-in-chief of the Horizon newspaper and a member of the Class of 2022. I am also the captain of the LHS Speech, Debate, and Model Congress...