Starbucks Saves the Environment One Cup at a Time
The United States is considered one of the most wasteful countries on the planet, according to Bloomberg Green (bloomberg.com). In fact, in 2018, the US produced over 292.4 million tons of garbage. Of this excessive amount of waste, only 32% was recycled, while almost 50% remained buried in landfills, according to the US Environmental Protection Agency (EPA). The constant generation and accumulation of trash has become detrimental to our environment. Freshman Dea Pulatani commented, "These statistics are frightening. Our generation needs to step up and come up with ways to preserve the life of our planet before it's too late." Trash production is completely out of control, and many feel that it is not being dealt with in sustainable ways. Much of our waste is not biodegradable and because it is not being recycled, it eventually ends up in our oceans and landfills instead. These large volumes of waste are significant contributors to the worsening climate change crisis, according to the Earth Day website (earthday.org). However, there are some ways in which people can make changes that will counteract some of the damaging effects of pollution. 
Starbucks is just one example of a large corporation that is seeking ways to lessen its contribution to the pollution problem. In 2013, Starbucks began to offer a reusable cup that customers can buy and use in place of the traditional disposable plastic cup they give to each customer. Consumers are now able to receive their drink orders in their very own personalized cup. Since its inception and because of its popularity, Starbucks is now offering many different types of reusable cups. Designs range from metal, rainbow, and glitter, to even color changing. As an incentive, Starbucks provides a $0.10 discount every time customers use their cups. While these measures seem somewhat small and insignificant to some, many hope that over time, the use of disposable cups will decrease as a result of the increased use of personalized cups. Starbucks currently has over 31,000 stores and serves over 100 million customers weekly.
The reusable cup program has been largely successful and there have been many benefits, but unfortunately, when the Covid-19 pandemic arrived, the program was brought to a halt. Due to the pandemic, many stores and restaurants remained closed. In order for the food service industry to reopen, vendors, stores, fast food chains, etc., had to follow and implement new rules provided by the CDC. To abide by these rules and regulations, Starbucks could no longer refill personal cups. This step was taken to minimize the spread of germs and keep both baristas and customers safe. Although consumers are currently unable to refill their own cups, Starbucks has agreed to continue providing the $0.10 discount to customers who bring their reusable cup in store. 
The Starbucks corporation has sought a multitude of ways to focus on sustainability and become more resource positive. Starbucks CEO Kevin Johnson announced that "by 2030 it is our hope that Starbucks will give more than we take from the planet." The coffee giant continuously looks for new ways to go greener, and most recently, they have developed and perfected the "Borrow A Cup" program, which is set to be put into action in honor of Earth Day. 
A trial of the program is set to be available to five stores in the Seattle area. The program allows customers to order their desired beverage in a reusable cup. It is required that each customer pay a $1 deposit for each reusable cup they receive. When the customer finishes their drink, they must return the reusable cup back to the store; each participating store will have a contactless kiosk, and there will also be an at-home pickup service called Ridwell, according to USA Today (usatoday.com). The contactless kiosks have designated scanners for easy return and designated receptacles to store the dirty cups in. After the cups are returned, the customers will retrieve their $1 deposit, receive 10 bonus stars through the Starbucks loyalty program, and will receive a $1 credit added to their Starbucks account through their loyalty program. Each reusable cup is professionally cleaned and sterilized after return and can then be used by someone else. Starbucks has partnered with GO Box to aid in the cleaning of the cups. Each cup will be put back into circulation 48 hours after being sterilized to make sure there are no germs spread. 
The cups come in all Starbucks drink sizes: tall, grande, and venti. The trenta drink size being the only size to be excluded. There is a deadline for all "borrowed" cups to be returned, and consumers will be charged the $1 fee if not returned. This system is very similar to the way one would check out and later return a library book. Freshman Raquel Romano commented, "I think that this system is ingenious and can be very effective. It can be done with ease and create such a huge difference in the world we live in. I hope this system expands outside of Seattle and makes its way over to the East Coast!" It is difficult for companies of this size to come up with sustainable and effective ways to make change while also making it easy for customers to participate. The few extra steps and the deposit seem arduous at first, but over time, customers will be rewarded for their compliance. It is hoped that these small steps will prove to be effective in the future. 
Starbucks has even attempted to make this new program more seamless to participate in by partnering with Ridwell. Ridwell is an at-home pickup service for those wanting to stay extra safe during the pandemic, and it allows consumers a second chance to return their cup. Participants will receive a bin for their items and a specialized "reusable cup bag" from Ridwell. They will place their cups in the bag and in their Ridwell bin by their front door, making it easy for contactless pickup to occur. Freshman Stephanie Neri shared, "I think this new program could go two ways. I would hope that most people would be responsible and return their cups by the deadline, but I would be disappointed if anyone disregarded the rules and did not return their cup. Starbucks really perfected their plan and made it accessible for all by partnering with Ridwell. I wish this plan the best and hope it goes well and can reduce the USA's carbon footprint!"
According to USA Today, each reusable cup distributed by the program replaces about 30 disposable cups. It is estimated by the Clean Water Action and Clean Water Fund that Americans alone use about 120 billion disposable coffee cups per year. These cups are one time use, and often, the lining inside of the cup makes them unable to be recycled. 
Starbucks' "Borrow A Cup" program is one small step that will help pave the way for other corporations to lessen their environmental impact. Starbucks never fails to promote new and innovative ways to "go green," but it is important not only to make it easier for consumers to go green, but to help them get there. Consumers all around the world are eager to see what the coffee giant will come up with next.
About the Contributor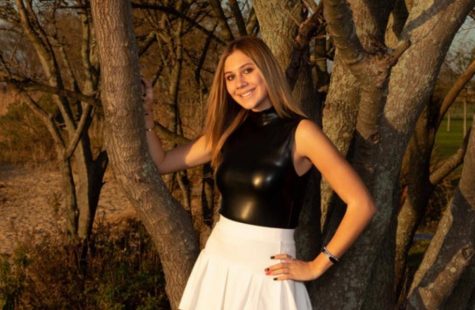 Alexis Raynor, Assistant Editor
Hi! My name is Alexis Raynor, and I am a member of the Class of 2024 and an assistant editor for Horizon. I love to dance and hang out with my friends....