The Islanders' New Home: A Work in Progress
A new year means a new season of hockey, and the New York Islanders look forward to opening their new home arena on Long Island. UBS Arena, located in Belmont, New York, is undergoing major construction to become the pinnacle for live sports, music, and entertainment. As shared on the arena's official website, it promises to be "a beacon of strength, resilience, achievement, and community for decades to come." This UBS arena is one of the only worldwide that is being constructed specifically for hockey; furthermore, its indoor amenities promise to make the viewing experience as memorable as possible. Although players will have to wait for the 2021-2022 season to step out onto the ice, the expectations for this state-of-the-art arena cannot be more promising for the Islander team and its massive Long Island fanbase. 
Founded in 1972, the Nassau Coliseum saw Islanders win four Stanley Cup victories. These trophies are set to be displayed in the new UBS Arena on individual podiums, along with other Islanders memorabilia. Jon Ledecky, co-owner of the Islanders, plans to work with Tim Leiweke, the CEO of the Oak View Group, to complete construction of the facility by fall of this year. In collaboration with Islanders' General Manager Lou Lamoriello, Head Coach Barry Trotz, and several team members, Leiweke created a blueprint for the arena that will benefit the team and its fans. 
In an interview with New York Metro, Leiweke explained that the initial designing process was a group effort: "We all collectively did an analysis on what worked and what didn't work," he said. "The players helped design with Lou and Barry the 23,000 square foot campus." UBS will have a seating capacity of over 15,000, with additional seats in the lower bowl, giving fans an intimate experience with in-game action. 
Junior and Islanders superfan Connor Rogan is thrilled to see UBS Arena once construction is complete. "If I were designing the arena," he said, "I would try to make it very compact, similar to Nassau Coliseum. This would increase the effect of fan noise, giving the team the home-ice advantage and creating a fun fan experience." 
It is not just hockey that is expected to take center stage at UBS. Like Nassau Coliseum, UBS Arena anticipates hosting numerous events each year in partnership with the Azoff Company, which represents many recording artists. UBS Arena is made for music, built for hockey," said Ledecky. Subsequently, much of the arena was built to accommodate musical and entertainment events. This includes backstage areas and an underground loading dock for music equipment. 
There are many indoor amenities that Islanders fans can look forward to enjoying when the UBS Arena is complete. It is always frustrating and nerve-wracking for any sports fan to leave his/her seat to buy refreshments for fear of missing a goal. However, in the UBS Arena, that will no longer be an issue. A total of eight bars will encompass the arena, and every single one of them will be facing the rink: "That's something you don't see in a lot of arenas," Ledecky said. 
This past August a brand-new ice plant was delivered to UBS for installation. It consists of steel piping to create a smoother surface on the rink, in contrast to Nassau Coliseum's plant, which was made of plastic pipes. Additionally, when game day finally arrives, fans will not have to worry about making long treks from their cars to the arena because UBS is in close walking distance from its general parking area. 
UBS Arena is generating many economic byproducts to the world of hockey, entertainment, and transportation. As stated in article from the Long Island Herald discussing construction updates on UBS, "The redevelopment project is expected to generate some $25 billion in economic activity with the Islanders' lease of the land. Developers also hope to fill 30 percent of the arena's permanent jobs with workers who live in the area." Finding a permanent job proves to be an evident struggle for many people in Nassau County, and it is relieving to know that UBS' construction now serves a dual purpose: to provide Islanders' fans a long-awaited home for their team and work opportunities for those who are in search of a reliable job. 
This past July, work was started on the first new station of the LIRR in almost fifty years; the construction was made possible by UBS' generous investments in transit and infrastructure enhancements. Starting from Elmont, the new station will run right through Belmont, making access easier to an Islanders' game or a concert. Sophomore Chris Lucchese commented, "I think there will definitely be bigger crowds because of the new station." Rogan, however, believes that the new addition by the MTA will do little to help attract bigger crowds to UBS: "The Elmont station will be in very close proximity to the already existing Bellerose station, which has the same Hempstead Branch service that Elmont will have. I would have rather seen an overhaul of Belmont Junction, allowing trains from the east to enter the Belmont Park station, which is adjacent to the arena," Rogan said.
As the Islanders prepare to bid farewell to Nassau Coliseum, they hope to bring many more successful seasons of hockey for future generations in the UBS Arena. Junior Sophie Ward, an Islanders season ticket-holder, is very enthusiastic about the team moving closer to Lynbrook. "I loved going to the Coliseum, but I am so excited to go to games at UBS," she said. Likewise, the timely construction of the arena will bring to fruition a new era of sports and entertainment for Long Island residents. 
About the Contributor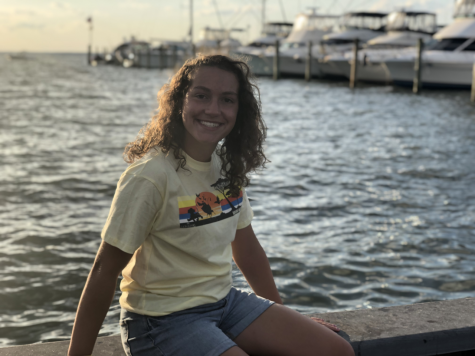 Alyssa Inserra, Managing Editor
I am a member of the Class of 2023 and the managing editor of Driftstone and assistant editor of Sports for the print edition. I enjoy singing, reading,...