At-Home Workouts 101
Due to restrictions caused by the coronavirus pandemic, many people have been forced to reinvent the way they exercise. To avoid or lose the "quarantine 15," many people have invested in new workout equipment and started watching online workout videos. In March, many gyms were forced to close, and some have still not been able to reopen; while this has hurt the owners and the members, the repercussions of the pandemic greatly benefited the at-home fitness industry. Brands that had already offered at-home workout content, including Peloton, the Mirror, and PopSugar Fitness, have profited immensely.
LHS students are among those whose workouts were affected by the pandemic. Junior Grace Bodian said that she found herself exercising much more frequently since she had more time on her hands. She discovered Jabs, a virtual exercise class, hosted over Zoom. She explained, "With Jabs, I looked forward to working out, and it made me exercise more often. It also gave me a whole different outlook as to the true meaning of why we should workout. Working out should be enjoyable and your 'me' time. It's not all about losing weight or burning calories, but being the strong person you are and feeling good about yourself." She said that working out improves her day because it makes her feel strong, accomplished, proud, and confident.
Peloton, a NYC-based fitness company, has experienced a 172% increase in sales since the start of the pandemic, according to CNN Business (cnn.com). When the company was founded, it offered only in-person cycling classes; now, it has expanded into an on-demand platform that offers bike, treadmill, strength, yoga, Pilates, and stretching classes. According to Glofox (glofox.com), to adapt to the pandemic, Peloton first expanded its free trial to up to 90 days and is currently offering a two-month free trial. Additionally, all of the on-demand workouts can be accessed for $13 a month without owning a Peloton bike or treadmill. Starting in April 2020 through the beginning of the summer, Peloton instructors were teaching classes live from home. Additionally, Fit Family Cardio, Dance Cardio, barre, and Pilates classes were all added to Peloton during the pandemic. Peloton workouts can be done with or without equipment and at home, making them a great alternative to going to the gym. 
PopSugar Fitness is another platform that has allowed many people to work out during this pandemic. In March of 2020, the app became free of charge, and it now has a website featuring many written workouts and workout guides, along with a YouTube account that provides live and on-demand workouts. At first, the company produced live workouts that required no equipment, but now, it is beginning to record workouts with some equipment; these workouts can all be done from home. According to an interview on Cheddar (cheddar.com), from March to July of 2020, the company's YouTube subscribers increased by 40% and the company saw a 20% increase in Instagram followers. In the Cheddar interview, Lindsay Millar, the deputy editor of PopSugar, revealed that throughout the pandemic, PopSugar has "really seen a great community arise."
Another popular at-home workout company is Lululemon. Last year, it released the Mirror, a functional mirror that, when paired with the Mirror app, displays an array of on-demand fitness classes. Mirror user and Wired contributor Boone Ashworth explained, "Staring at your own reflection while working out allows you to pay close attention to your posture and form." Before the pandemic hit, Mirror offered live classes where instructors monitored the users' heart rates and motivated members directly. Now, members can still train with on-demand classes, but they will have to wait to take more live classes. The Mirror is a great option for people who do not have the space for large workout equipment, especially because many of the classes do not require additional equipment.
Orangetheory Fitness, the nationwide company that has opened new gyms during the pandemic, has created another way for people to work out from home. As of Mar. 18, Orangetheory began releasing a daily workout video on YouTube. These workouts require minimal equipment, and the instructors are often seen using household items as equipment. According to CNN Business (cnn.com), unlike most major gyms, Orangetheory survived the shutdown and was able to reopen most of its studios. Since some studios are still closed and some membership accounts are still frozen, the Orangetheory team has created another new option for users: OT Live. This platform will allow users to workout live with instructors who can see them and their heart rates, and it is the same price as an in-studio class. It began in Canada and is going to begin in California soon. Orangetheory Co-founder and CEO Dave Long said, "OT Live gives you the same flavor and feel of being in a studio. Our bread and butter is live coaching. Members want to be accountable for a certain time and be motivated and supported."
Tonal, a machine often compared with the Mirror, is a strength-training machine that can be mounted on the wall and has ropes with weights emerging from it. According to CNN (cnn.com), the machine has "digital weights" that allow the user to create personalized resistance throughout a workout. There are many on-demand workouts, and the instructors provide step by step instruction and motivation. At the start of the pandemic, Tonal offered new customers the ability to use a coupon code and the delivery and installation fee was waived. There is currently an option to try the machine for 90 days, commitment free. Aly Orady, Tonal's CEO, claimed the business is doing "ten times" better than it was a year ago, before the pandemic hit.
Whether one is looking to invest in an at-home gym or wants to work out from home, there is a wide array of options. Fitness companies have been very accommodating throughout the pandemic, helping struggling Americans wake up with a smile and remain motivated to stay strong.
About the Contributors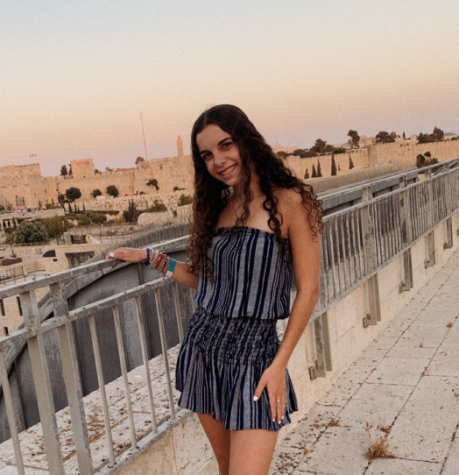 Emma Ward, Editor
I am Emma Ward, and I am the News and Opinions online editor for Horizon. In my free time, I enjoy playing tennis, working out, and hanging out with my...