Solving the World's Pollution Problem with a Garbage Camera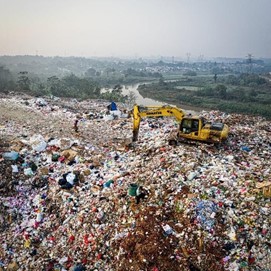 The Environmental Protection Agency (EPA) has reported that Americans produce an average of over 250 million tons of trash per year. The bulk of trash that is produced is not disposed of properly, and most of the time, it is neither recycled nor composted. Instead, the trash ends up in landfills or incinerators. This method of disposal and eventual breakdown of waste not only causes air pollution, but it can contribute to respiratory diseases. In addition, when the trash is incinerated, it releases abundant amounts of fossil fuels into our atmosphere. 
Unfortunately, because of this mismanagement, millions of plastic fragments are now floating in our world's oceans. The trash found in our oceans is disrupting our ecosystems and killing animals. Freshman Raquel Romano commented, "I didn't even know that we produced that much garbage! I am horrified, and after reading on the subject, I will definitely be more cautious on how much waste I produce." The way in which we are handling our waste is said to contribute to the enduring issue of global warming and climate change. The world is pondering: Will we ever reach the limit of garbage we can produce?
In the past year, New York State has created regulations in hopes of reducing the ongoing problem of pollution. One such measure is the plastic bag ban issued by the New York State Department of Environmental Conservation. The act finally came into effect on Mar. 1, 2020. Since then, supermarkets, department stores, etc. cannot supply consumers with plastic bags. Consumers who wish to buy items may either use their own reusable bags, or as some retailers have even offered, they can be given paper bags. The hashtag #BYOBagNY (bring your own bag NY) was created to remind New Yorkers to not forget their reusable bags while also bringing awareness to the environmental issue of pollution. 
The solution to this ever-enduring pollution problem has taken hold in the form of a garbage camera. Jason Gates, the CEO and co-founder of Compology, created an invention to help large-scale companies deal with their trash in an environmentally friendly way. Compology has implemented the use of cameras and artificial intelligence to watch what is thrown into dumpsters. Compology installs trash-monitoring cameras inside the industrial waste containers of large businesses. The cameras take photos of the waste container multiple times a day. There is an accelerometer in the camera, which triggers the camera to go off when the bin is lifted. AI software in the device further analyzes the images and calculates how full the container is. It also can discern if a foreign item is contained in the bin. For example, if a waste container were full of cardboard boxes, the camera could detect an anomaly and notify people on site with a text message. In an interview with CNN, Gates stated that the Compology camera can decrease the amount of recyclable items that are incorrectly thrown away by at least 80%. Lynbrook resident Eva Buonavita commented on Compology: "I think Compology is an outstanding idea that will help the astronomical pollution problem in our country. Compology has positive effects on the large businesses that have already taken part in the change, and it is my hope that the device becomes mandatory for all businesses to have in the future."
Compology is also able to detect recycling contamination. Recycling contamination is essentially when recyclables are not disposed of in the right place or in the right way. In many such instances, perfectly good recyclables are rejected and not taken to be recycled due to improper disposal. For example, a glass bottle that is placed incorrectly in the paper bin, or a recyclable that is not thoroughly cleaned and still has food residue, or if a recyclable is placed in a plastic bag. These are all examples of recyclables that would be declined. When Lynbrook resident Maria Raynor heard about recycling contamination, she commented, "I did not realize that I was not disposing of my recyclables properly. After hearing the effects that this has on the environment, I will definitely be more careful!" As a result, contaminated recyclables are taken to where all other garbage goes: a landfill, further contributing to our excessive waste problem. It only takes one person to incorrectly separate his/her recyclables to have a whole load of recyclables sent to a landfill.
The accuracy of the Compology camera is regarded as outstanding. Gates told CNN (cnn.com) that Compology has trained its system to sort trash by already photographing tens of millions of dumpsters. The camera uses these pictures from dumpsters and can figure out the fullness and the content of what is inside. Gates told CNN, "So far, it has processed over 80 million images from the 162,000 cameras it has installed…The more images we get of inside of the dumpsters, the more accurate we can be."
The work of Compology can aid the US in its waste problem. In the past, the US would send a large sum of its trash and waste to China each year. However, China is no longer accepting our litter and began the ban of imported recycling materials in 2017. Since the ban, the US has had trouble figuring out a new way to deal with excessive amounts of waste. The US EPA has a goal to raise the recycling rate to 50% by 2030. Currently, the US recycling rate stands at around 32%, according to CNN.
With the growth of Compology and more businesses hopping on board–like Starbucks, McDonald's, and Capital One–and converting to the product, the US may have found a practical solution to an out-of-control problem.
About the Writer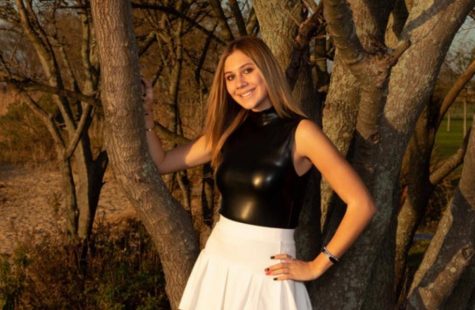 Alexis Raynor, Assistant Editor
Hi! My name is Alexis Raynor, and I am a member of the Class of 2024 and an assistant editor for Horizon. I love to dance and hang out with my friends....