The Holiday Season
As November approached, the holiday season began to fill people with hope and joy. However, like many aspects of 2020, the holidays were celebrated very differently than what is typical. The coronavirus pandemic put a limit on the extent to which families could gather, and as of Nov. 13, New York State Governor Andrew Cuomo enforced new rules to slow the spread and lower the number of cases. According to WGRZ, the Governor announced, "…parties in private homes can have no more than 10 people attend unless the household consists of more than 10 people." Unfortunately for New Yorkers, Thanksgiving and winter holiday gatherings were largely spent without extended family and friends.
Junior Sophie Ward celebrated Thanksgiving differently than usual. She said, "My family had Thanksgiving over Zoom. It was really sad to not be able to be all together, but it was fun to be together virtually." Sophomore Ryan Benvenuto typically spends Christmas Eve with her father's side of the family and Christmas Day with her mother's side. "I love getting to see both cousins and aunts and uncles during Christmas time. We always change into pajamas toward the end of the night and play board games with each other. Christmas is my favorite holiday to spend with family." 
Unfortunately, for many families, like Ward's and Benvenuto's families, things just could not operate the same this year. Benvenuto said she was very upset because her favorite part of the holidays is "spending time with everyone in my family that I love." She added, "It was not pleasant news that we had to change our plans, but it is for our safety and health, which I understand. We definitely will visit our grandparents with a socially distant hello from outside, bake cookies for them, and make it a special Christmas even considering the circumstances." 
According to Ward, this holiday season is "a time where people see their families, but still be precautious. As much as I wish I could see everyone in person, their safety is much more important to me." According to The New York Post, "Studies prove that seven in 10 respondents shared there's an increased pressure on hosts to monitor their guests' health before hosting an in-person get-together this holiday season." Many people are nervous about the virus but want to see their family and have a traditional celebration. 
The 2020 holiday season will be very different from past years. Families will have to adapt to the changes the coronavirus brought and make the best out of the situation. The holidays are not about where you are but who you are with, even if it is virtual.
About the Writer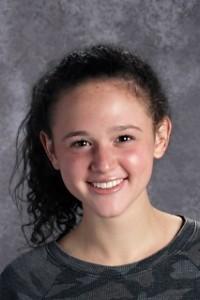 Rachel Belmont, Editor
I am a member of the Class of 2022. I have a brother, Jake, who is two years older than me. I enjoy playing sports such as soccer and lacrosse.