Grey's Anatomy: COVID-19 and the Return of Derek Shepherd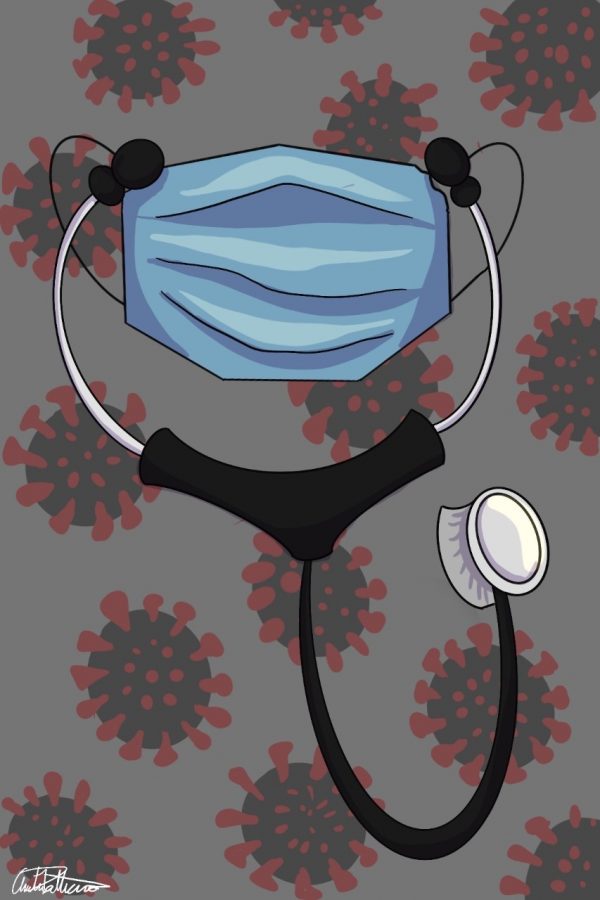 The widely popular medical drama Grey's Anatomy has been on the air for seventeen captivating seasons, each season arguably better than the last. But this year, due to COVID-19, the writers were forced to get more creative than ever before. 
The premiere of season seventeen had more twists and turns than viewers had ever expected. The episode opened with a frantic hospital scene (usual to the show), but words appeared saying "April 2020." Months before the premiere, executive producer Krista Vernoff had confirmed that season seventeen would be based around COVID-19. The character Dr. Miranda Bailey took her colleague, Dr. Richard Webber (returning after an illness from last season), around the hospital, explaining all the new protocols and procedures the doctors must follow. From this, viewers got to see how the hospital would look for the foreseeable future. Many viewers thought this COVID storyline was expected and somewhat practical. Junior Allison LaBarbera commented on the topic, saying, "It is definitely weird to see this perspective of the pandemic on my favorite show; however, due to the seriousness of COVID-19 and Grey's Anatomy being a medical show caught up with the current times, I sort of expected this to become a reoccurring storyline this season." 
The show quickly took a turn at the end of the second episode, as the main character of the series, Dr. Meredith Grey, was shown passed out in the hospital's parking lot. At first, many people thought that she had passed out due to exhaustion, but it was revealed in the third episode that Meredith was diagnosed with COVID-19. While she was passed out, viewers saw a dream sequence that showed Meredith on a beach. While some unfamiliar with the show may have seen no problem in this, Grey's Anatomy fans were quick to pick up on the fact that this could end badly. Junior Emma Leighley commented, "The last time we saw this type of dream sequence with Meredith was when she had drowned and been pronounced dead in season three. There she saw some of her former patients and her then recently deceased mother. So, the fact this dream sequence was similar, I am worried this can mean the end of Grey's Anatomy, since the show would end if they wrote the main character off."
However, on a lighter note, Grey's Anatomy had viewers crying tears of joy at the return of one its most beloved characters– Patrick Dempsey reprised his role as Dr. Derek Shepherd in episode two during Dr. Grey's dream sequence. No viewer had ever expected Dempsey's reprisal, both due to his character being killed off the show back in 2011 and ongoing rumors of feuds taking place between him and showrunner Shonda Rhimes. Junior Chloe Renz commented on Dempsey's return: "I was pleasantly surprised by the return of Derek Shepherd. It made me so emotional since he has not been on in six seasons. He was always one of my favorite characters, and I never expected his return due to the way they had killed him off in the show. Overall, I cannot wait to see who will be on the beach next episode."
The fourth episode of season seventeen is scheduled to air Thursday, Dec. 3, and fans cannot wait to see who will be reprising their role next now that it was made aware that another Grey's alum would be returning in Meredith's next dream sequence. The show has not confirmed if this will be the last season, but as Grey's Anatomy is the longest running medical show in TV history, fans are expecting the show to end sooner than later. Though it was confirmed that the COVID-19 storyline would continue, fans can expect to see the beloved Dr. Shepherd three more times throughout the season.