Artist Spotlight: Christell Diaz
Junior Christell Diaz is one of the many talented artists at LHS. She made her foray into the world of art at the age of seven. Despite her natural passion and talent, Diaz never joined an art class outside of school; she is primarily self-taught and has used YouTube to improve her artistic abilities, along with school art classes. She does not have a specific art style, but she enjoys experimenting with new techniques and mediums. Her favorite medium is colored pencils and graphite, which she has mastered.
From her youth, she was inspired by her grandpa, who was also an artist. "I remember seeing my grandpa painting one night, and it inspired me. I wanted to be just like him. I remember him being so proud of me when I did my first art piece, and after that, I never wanted to stop," Diaz recalled. 
Her favorite memory involving art is from her time at North Middle School: "I had made art pieces for Mr. Seibert and Mr. Balas, my favorite teachers at the time. Just seeing their reaction to my pieces warmed my heart. I miss them so much to this day." 
Throughout her life, Diaz has used art as a source of creativity and expression. In middle school, she was given the opportunity to have her art displayed in Farmingdale College for the Annual Nassau All-County Art Exhibit by her art teacher, Janice Sariva. The artwork was sectioned and displayed by grade, and only a select number of talented students were bestowed with this honor.
Diaz's ninth grade art teacher, Vincent Lentini, said, "She is an outstanding art student who has always put in a great amount of effort and focus into her artwork."
Junior Litzy Reyes agreed that Diaz is an outstanding artist: "She is very talented and always has been." Reyes added, "I have seen her and her art improve throughout the years, and she has definitely grown as an artist. She has become much more patient with her pieces coming together, and she is overall just a creative, gifted, and lovely person to be around."
Diaz continues to inspire her friends and peers, and she strives to be a great role model for aspiring artists. "Do not be afraid to try out new mediums and art styles," she said. "Even if things do not work out, there will always be something for you. Do not try to fit into specific criteria. Keep working hard."
About the Contributor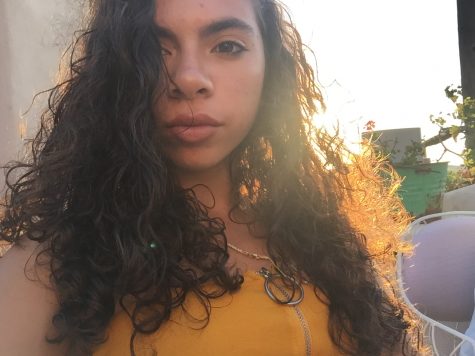 Amintta Ragavanis, Editor
I am a member of the Class of 2022 at LHS. I love to draw and paint. I look forward to contributing and writing articles for Horizon.