Farewell, Mrs. McCartin!
Students, teachers, and administration alike are sad to see one of LHS's most beloved English teachers, Louise McCartin, retire at the close of the 2019-20 school year. McCartin grew up in Malverne and went to high school at Valley Stream North. She has been a Lynbrook Owl since 1975, when she began student-teaching at LHS without even knowing where the school was located! 
McCartin has officially taught at LHS since 1976, educating students in more than ten different courses: ninth grade General, Regents, and Honors; English 10; English 11 Regents; English 12 AP Lit. and Comp.; Writing Lab, Communications Lab, and electives including Theater Arts, Romance in Lit., Contemporary Lit., and Speech.
McCartin, who is loved for her personable and friendly nature, starts each year with a special goal in mind:  "I have always prioritized getting to know every student in my class. So, all of my 'first days' involve learning the name and something interesting about each person in the room. My personal goal is to memorize everyone's name within the first two days."
Not only does McCartin memorize her students' names, she is also famous around the school for her jovial nicknames! Many of McCartin's students leave her classroom on the first day with a different name than the one that they came in with. It is her way of connecting with the students and creating bonds that last beyond graduation or retirement.
Principal Joseph Rainis shared, "Mrs. McCartin is a professional in the truest sense. Student centered and creative, her classroom was where students learned about literature and life. Students in her classes received expertly delivered lessons that expanded their understanding of language, of the writing process, and the human condition through the works read and shared. I will miss her perspective, her insight, and her devotion to the students of LHS. Well done, Louise, and thank you. You can put the pen down, but I know you won't."
In addition to being a wonderful English teacher, McCartin has participated in many school events over the years. She has acted in faculty productions, played in tournament volleyball fundraisers, gone on field trips to the city, participated in the Lincoln Center program, and helped with The Corner of the Sky production.
"There have been countless highlights over the years, but what I treasure the most and what I will miss the most is the bond and connection with students, the shared experiences, the beautiful opportunity to travel the road of learning together," reminisced McCartin. 
McCartin's students, old and new, are also reminiscing on their time in her class. Senior Andrea Glanzer commented, "Mrs. McCartin always challenges us academically while teaching with a kind heart. I love how she pushes us to see literature through unique lenses."
LHS alumni Hanna Swerdin was McCartin's student in both her freshman and senior year. Swerdin is thankful for McCartin's rigorous teaching and passion for literature, instilling in Swerdin an appreciation for classic novels such as The Tale of Two Cities. "Mrs. McCartin is one of the most memorable teachers at LHS because not only does she prepare students so well for college, but her personality is like no other. She has an infectious humor; I will never forget my nickname, Swirl, that she continues to call me to this day."
McCartin's longtime friend, coworker, and fellow English Teacher Carla Gentile said, "Mrs. McCartin is old-school smart.  She knows a lot about a lot of stuff.  She is extremely well read, and she is aware of all the finer points of English, which makes her English teacher extraordinaire (and sometimes a bit intimidating). Although I am so very happy for her because she deserves to finally be free of the morass of paperwork that gets in the way of our good time as conscientious English teachers, I am really sad to see Mrs. McCartin go. Her level of dedication and excellence leave us with an enormous void in the English department. Although I highly doubt that it will be so, Mrs. McCartin, if you are ever bored during retirement, you can always c'mon over and help me grade a stack of papers!  No one does it better than you!"
Rainis, Glanzer, and Gentile all shared their appreciation for McCartin's great sense of humor. Gentile and McCartin love to entertain their students, and they even get into trouble sometimes for their grammatical mischief.
"Mrs. McCartin and I can't help ourselves; the sound of bad grammar is like nails on a chalkboard for us.  So, whenever we would hear or read something that was grammatically amiss, we would immediately look for one another in the crowd and raise our eyebrows at each other. Needless to say, we found ourselves in many laughing fits at all the wrong moments," Gentile said.  
Although McCartin has many fond memories of her teaching experience, she is also grateful to leave behind the world of grading essays and creating lesson plans. "What I will miss least is the burden of grading papers. It averages about ten minutes to correct and edit an essay, and if you multiply that by 120 students, it is a staggering quantity of time. Also, I will not miss the black cloud of completing weekly lesson plans that hovers over me every weekend."
McCartin has grand plans following her retirement, including world travel, volunteer work, and learning a new language: "Pre-pandemic, we scheduled a trip for eight of us to visit Arizona to hike (part of) the Grand Canyon and rent/pilot a houseboat on Lake Powell. That, along with trips to Africa and Australia are on my wish list. I'd like to volunteer for a literacy group or perhaps SIBS Place; foster dogs; maybe run a workshop I've thought about called 'Writing for Wellness' ; brush up on Italian and French; exercise a lot; tutor; spend time exploring the city; cherish and visit my family and friends," she excitedly shared.
During her 44 years at LHS, McCartin has created a lasting legacy of her teachings and wisdom both in and out of the classroom. She has made significant connections with her fellow staff and students, making memories that will endure for years to come. 
"My message to all former and current students: Thank you for generously sharing your talents, emotions, curiosity, dreams, friendship, failures, and successes. You inspire me!"
About the Writer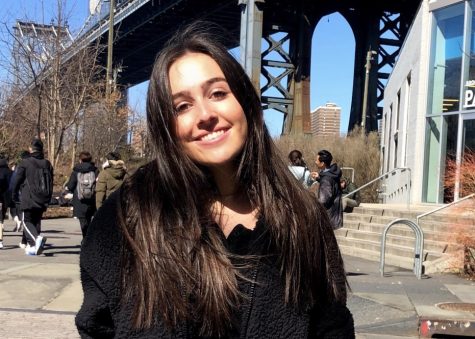 Julia Swerdin, Print Editor-in-Chief
I am the editor-in-chief of the Horizon print edition and the managing editor of our online features section. I'm a member of the Class of 2022, and I...