Dr. Benedict Tieniber Goes the Extra Mile for the Class of 2020
With the COVID-19 pandemic halting normal function in several areas, many have come together to express their condolences for the class of 2020 as they are missing many of their long-awaited senior year milestones. But no one has expressed gratitude for this year's graduates quite like Business Teacher Dr. Benedict Tieniber. On May 5, Tieniber decided that he would run 206 miles in the span of one month in honor of the 206 seniors in this year's graduating class. 
Tieniber expressed that he is "trying to keep seniors' spirits up by running in their honor," and wants "students to know Lynbrook School District is behind our seniors and their accomplishments." 
Tieniber began running in 2002 during his senior year at Islip High School. He then ran cross country at St. Joseph's College while studying business administration. Since then, Tieniber has run several NYRR races, many of which were for charity. In 2014, Tieniber ran his first New York City Marathon for the Rose Brucia Educational Foundation. He completed his second marathon this past October in Chicago for Team Bommer fighting Cystic Fibrosis. Clearly, running for a cause is not a foreign act for Tieniber. He plans to continue this trend by running in the Chicago Marathon this October and the New York City Marathon in November. 
Tieniber, lovingly nicknamed "Doc" by his students, has become close with this year's graduates through his Virtual Enterprise class, accounting class, senior seminar program, and Key Club, which he has served as the advisor of for the past three years. He expressed that his connection with this year's class served as a prime motivation during the challenge of completing his 206 miles. 
Although Tieniber's decision to run 206 miles in honor of his students is not common, many seniors have expressed that they are not surprised by his gesture. Senior Billy Wren stated, "Doc has given 110% percent for his students throughout this entire year. So, when I found out he was running a mile for every student, it did not come as a shock to me. If anyone would do that for his students, it would be Doc." Senior Gaby Campos-Peyrou agreed: "Doc genuinely cares about his students and does all he can to help us succeed. He is always the one to put in the extra time and energy to help the students at LHS reach their full potential, even if they've never been his student. So, him doing something as selfless and generous as this is not out of character for him at all!"
Nevertheless, the class of 2020 has expressed nothing but gratitude for his commitment to run in their honor. "Him running for us is incredibly touching, and things like this are why we are lucky to have him as our teacher and role model," added Campos-Peyrou.  
Tieniber completed his goal on June 5, surrounded by his students and coworkers. Spirits were high as the socially-distanced crowd cheered, waving signs and balloons, as they watched Tieniber take his final strides of the 206 miles while the iconic Survivor song "Eye of the Tiger" played from two police cars. As Wren explained, "It was an amazing experience. It still blows my mind how he was willing to do that for his students. I felt proud to have a teacher like him." 
This feat, coupled with the kind words of his students, truly proved Tieniber's willingness to go the "extra mile" for his students.
About the Contributor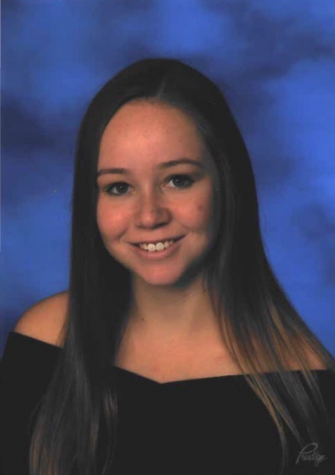 Jane Hoeflinger, Editor-in-Chief
I am a member of the Class of 2020. In my free time, I write articles for Horizon. I am the editor-in-chief for the print edition for 2019-2020.