Get to Know the Board of Education Candidates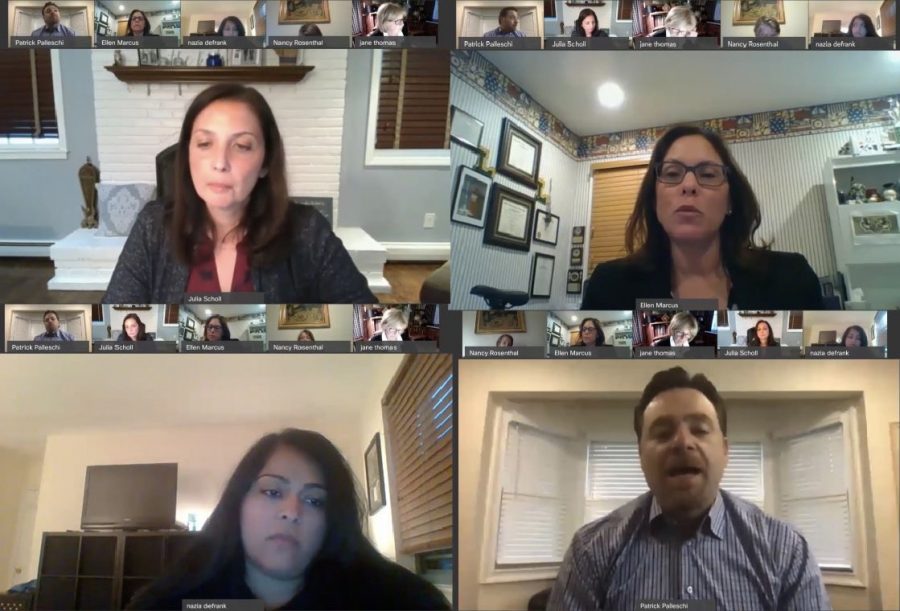 This year's Board of Education (BOE) elections are being held through mail-in ballots, as ordered by Governor Andrew Cuomo to prevent the spread of coronavirus. These ballots were mailed to residents on May 27, and were previously set to be returned by June 9. As of Monday, June 8, however, Governor Cuomo has extended the deadline for district ballots to be mailed in to Tuesday, June 16 by 5:00 PM. Ballots being returned to the Lynbrook Schools Administration Building by hand still have to be handed in by 5:00 PM on Tuesday, June 9.
Every year, the PTA Council hosts a meet-the-candidates night moderated by the League of Women Voters (LWV) to provide candidates with a forum to allow voters to be more informed about each candidate and his/her experiences, goals, and stances. Since this year's event could not be held in person, it was held over video conference and livestreamed for viewers to tune in to. Members of the streamed video conference were candidates Nazia DeFrank, Ellen Marcus, Patrick Palleschi, and Julia Scholl; LWV moderator Jane Thomas and timekeeper Nancy Rosenthal; and PTA representative and host Maria Squitieri.  
Squitieri planned and organized the event. She explained that the process of planning the event was not much changed, as she still had to inform and invite the candidates and have them provide her with personal information to compile into a brochure about the event. Instead of corresponding with the high school and the custodians as she would for the usual in-person event, Squitieri coordinated with the Lynbrook IT department and the LWV moderators. She commented, "The event was a bit of a challenge since it was the first time we held this virtually. We had to be sure each candidate, the moderators, and myself were able to log in and navigate the process.  Lucky for us, we have a terrific IT department that has done similar platforms for the Board of Education meetings. We had very minimal technical issues and everything went very well." Squitieri also discussed that there were positive and negative aspects of the virtual forum. The negative aspect was the technical difficulties that could happen, but she commented, "We had a couple of glitches in the set up, but overall, I feel it went very well." The positive was that without the constraints of having to physically go to an event, they had a large number of attendees, having 300 people viewing at one point. Squitieri shared, "That is the most people we have ever had in attendance at one of these events."  
The process of the event also was not much changed. As per usual, the event was introduced by Squitieri, Thomas, and Rosenthal; candidates gave opening statements, going in alphabetical order since they could not draw straws; moderator Thomas read questions that had been submitted through email for the candidates to answer in rotating order; and the candidates finally gave their closing statements. Statements and responses to questions were timed by Rosenthal, who raised signs to notify them of their time left. 
Each board member's seat comes up for election every three years. Two members' seats are contested at a time, so there are two seats open every year. This year, the seats of AliceMarie Bresnihan and Marcus are being contested. Bresnihan was a very dedicated board member who served on the board for 45 years. In the past, usually when her seat came up for election, nobody would run against her, as she was a revered member. Due to her unfortunate passing in May, her seat is now open and being contested, with three new candidates running, along with incumbent Marcus. Bresnihan will be remembered as a devoted and involved advocate for students, who could be seen at every meeting, building function, and student event. She was an impressive board member who other members could always look to as a historian for her great memory of everything that had happened in her time on the board. Marcus shared, "Everywhere you looked, she was there. Her presence will be missed. Whoever is elected to fill her seat has big shoes to fill. She was a huge advocate for the students, and we can't replace her years of experience." 
DeFrank was the first to read her opening statement. DeFrank emphasized the importance of long-term goals on which the town can thrive and using the key components of successful business plan of planning, preparation, and precaution. She hopes to bring changes to the curriculum that will make students more aware in many aspects. She believes that the district needs more philosophy classes to educate students on different ways of thinking and people and places they are not familiar with; early language classes that start at the elementary level and advance through grades and that include the same classes as top-tier districts- French, Mandarin, Spanish, and Italian; and elementary school health classes to prepare students for later health education and mental awareness, so that once in high school, students will be better equipped to understand things such as consent. While she is aware the high school already has an internship program, she hopes to open an internship with the board itself to be available to students to encourage participation in the community and leadership. She explained that she is a very unconventional candidate, having limited community experience as her child is in kindergarten and PTA starts at elementary school, but she was very involved in the kindergarten center. She wishes for people to give her a chance, however, and feels that the prioritization of already having experience is harmful, as she believes "We will never have the open mindset to re-elect new and up and coming board members if we stick to what is 'comfortable' and never experience new ideas and thinking from different point of views." She shared that she knows she is not a popular or well-known, but she is taking a big leap in running and believes that she has a lot to offer the community as a hard-working business owner, and she believes the board needs the diversity that she would bring to it. She hopes to be an inspiration to others in similar situations: "If one person walked away last night and said, 'I want to start early learn and grow with the community, if she can run with a limited platform I can too,' I would consider myself a winner." She cited Bresnihan as one of her inspirations for running, as she related to her thinking process and compassion, and believes in following the footsteps of great leaders and enhancing education. 
Next was Palleschi. He explained that he is focused on handling the important issues facing the district if elected. One issue he is concerned with is the possibility of Albany cutting state aid to the district while continuing to order the school to follow mandates that they may not have the funds to meet. Palleschi's proposed plan for this issue is to work with local politicians to ensure that funding is not cut. Another issue he wishes to address is the situation of distance learning. He plans to impose a crisis plan so that in the future, if a situation arises where the districts needs to return to remote learning, teachers and students will be prepared and trained to make a seamless transition from traditional to virtual learning. He believes he is a good candidate because of his "desire to maintain Lynbrook's high level of academic excellence and great sense of community." He has taught math and coached football at Lawrence High School for 21 years, and he explained that there, he created "one of the few Multi-Variable Calculus classes taught anywhere in the United States. Multi-variable calculus is a Calculus III course taken after a student is done with AP Calculus." He also worked at the KPMG public accounting firm before his career in education. He worked in auditing academic institutions and fiscal entities, so he understands the balance of a board member's fiscal responsibility to both taxpayers and students' educational needs. He commented, "I feel what sets me apart from the other candidates is my background in both business and education which makes me uniquely qualified for a position on the Lynbrook School Board." He explained that he chose to run because he's seen small decisions create large changes in his home district, and he hopes to make significant and impactful decisions to keep Lynbrook amazing. He shared, "My brother, sister, and two of my cousins followed me into Lynbrook over the last two decades. We all want to continue to see this community thrive and I believe the best way for that to happen is for the school district to thrive." 
Marcus is currently on the board and hopes to be reelected to her seat. She has served on the board for the past twelve years and feels that her experience is necessary to keep on the board at this time. She has held the board positions of vice president, secretary, and chairperson of the audit committee. She explained that there is a large learning curve that comes with being a new board member that takes years to truly understand how a district works. She commented, "With the passing of AliceMarie Bresnihan, I don't think this is the right time to have two new board members. Between losing Alice with her 45 years of experience, I have 12 years of experience, and with neither of us on the board, I feel that would not put the district in the best position to move forward." She feels that there are many issues that she and the board are working on, such as planning of remote learning and dealing with possible budget cuts, that she would like to continue working on and not have to get caught up as a new member would. One of her main goals is to make distance learning run as smoothly as possible and ensure that if needed, it can be transitioned to seamlessly in the future. She hopes the board can provide a full, balanced educational program should remote learning continue that includes both live and recorded learning sessions in order to create balance for students. The board and Marcus also are looking to strengthen communication between the school and families and introduce more small group instruction, especially for the elementary level. She first ran for the board 12 years ago because she was very involved in the school district, being a participant in the PTA of all of the buildings and having children in the Kindergarten Center, Waverly Park Elementary School, and South Middle School. She was on the board of the Juvenile Diabetes foundation for six years and felt she had good and valuable viewpoints as a lawyer, and she wanted to contribute to the community as she felt she had a lot to offer. She explained why she wishes to continue: "The reason I decided to continue was after my first term, I was really just getting going. For the first three years, you're really just wrapping your head around everything, and it just made sense to continue. I felt like I had a lot of input, and we were getting things accomplished. My youngest son is graduating this year, but I feel like I have unfinished business." She is glad to see others who are willing to be active and devote their time to the community, but she feels the board needs her at a time when they are dealing with so many serious issues. She commented, "I know how much goes into being a board member and it's great to see other people that are active and want to volunteer their time, but I just felt like I need to run for the board again and continue the work that is going on right now. I didn't feel like this was the right time for me to step down." 
Scholl was the final candidate to give her statement. She feels that she would be a necessary asset to the board because she believes they have been doing their best to serve the district and have managed it well, offered exceptional education, and worked to meet the needs of all students, but in a time like this, they need a different perspective. She shared, "The issue of safety, remote learning, and the emotional well-being of our students are issues that are important to me, and to the whole community." She aims to maintain the excellence of education in Lynbrook and ensure that students are cared for in terms of both their academic needs and social and emotional needs. She feels that the current situation of the pandemic and remote learning requires her perspective, extensive knowledge, and expertise as a nurse. She believes that with these assets, she can help ensure the health and well-being of students and aid the district in moving forward in bringing students and teachers back to school safely. She explained, "My qualities as a nurse make me well suited for this task. As a nurse I care. I promote health. I act and behave ethically and use critical thinking skills to make effective decisions." She elaborated that collaborating with board members would be second nature, as she does regularly in her job, and that as a nurse she advocates for those in her care and would also do so as a board member. She feels that her perspective as a nurse and critical thinking and problem-solving skills would make her an asset to the board. She commented, "I took an oath to devote myself to the welfare of those committed to my care. If given the opportunity to serve on the Lynbrook School Board I would be prepared to continue this devotion to my community and help ensure the district's continued excellence and quality." 
Overall, the candidates felt the virtual forum worked well and successfully allowed them to share their viewpoints with the community. Palleschi shared, "I believe Meet-the-Candidates Night went well. I tried to get my point across clearly and concisely. Hopefully people know I was being honest and forthcoming about my intentions if I am elected. I truly just want what is best for this community." Scholl also had a positive review of the experience: "As with anything remote, there were few glitches. Overall, I think it went well. I always try to find the positive in anything that I do. There was a very large turnout, since people were able to access from home. Perhaps in the future, even after the COVID crisis is over, they should offer a virtual way to watch, so more people can make an informed decision about the school board election." Marcus added, "I thought that it went really well. It was a new way of doing things. I believe this is my third meet the candidates night, and the other two were live and in person, so it was definitely a different experience. There were a couple of technical glitches, but that's to be expected these days. Everybody was understanding and we worked through them. Overall, I would say it worked and was a good forum, and it was recorded, so if anybody wasn't able to watch it, there is a link on the Board of Education website. I also wanted to thank the PTA council and the League of Women Voters for hosting it and moderating it."  DeFrank also felt it went well, but felt the time limit was a disadvantage, and that the new candidates needed more time to get their new points across and introduce themselves to the public, which an incumbent does not have to do. She commented, "I hope that for the next election we have a higher turnout rate of viewers, and I would like to see new faces running. I would like to see new parents, business owners, entrepreneurs, and maybe even a recent graduate that is of age to run." 
About the Contributor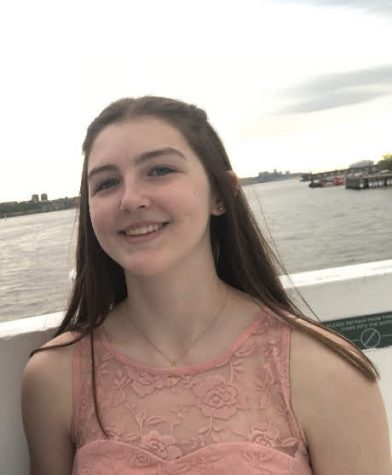 Emily Bergin, Online Editor-in-Chief
I am the editor-in-chief for Horizon.com and a member of the Class of 2021 at Lynbrook High School.  In my free time, I like to swim, run, and play music.