NHS Inductees Celebrated Via Virtual Ceremony
Each May, LHS's high-achieving students are inducted into the school's chapter of the National Honor Society (NHS). The induction is typically a ceremony that celebrates students' commitment to the club's four pillars—scholarship, service, leadership, and character—and recognizes their hard work both inside and outside of the classroom. Unfortunately, given the global outbreak of COVID-19, an in-person celebration of this year's inductees was not possible; however, this setback did not stop advisor Lenny Bruno, and the entire board of NHS, from recognizing the members' hard work.
Drawing inspiration from the movement of virtual graduations, and guidance from Principal Joseph Rainis, the NHS decided to upload a virtual ceremony video on YouTube. The video, totaling nearly 33 minutes and featuring speeches from Bruno, Rainis, and NHS President Sara Bahri, was uploaded to YouTube on May 14. The recording pays tribute to all 305 members, calling each out by name, and, as Bahri explained, "[It] will be there as a legacy for the Class of 2020 in the future."
"
Even when you think you know what is going to happen, life throws curveballs and you will grow from them using the skills that you learned throughout the years. I wish you all the best and to stay safe, thank you and miss you all."
— Sara Bahri
Producing the video took considerable effort from all parties; however, the board of NHS saw it as an absolute necessity. "There is definitely something special about having a large portion of the hard-working students at LHS be recognized for their efforts throughout the academic year, and in a way, cancelling the ceremony entirely would seem as though this honor has been diluted to say the least… I am very grateful that we were able to host it in the end," explained Bahri. Bruno elaborated that the "induction ceremony is perhaps the most elegant event and recognizes our membership, which is considered the powerhouse of Lynbrook High School, and is worthy of every recognition for their academic excellence, service, leadership, and good character… the administration and I felt that something had to be done this year to honor our members and to pay accolades to our senior members who would be graduating this year."
Although the cancellation of an in-person ceremony was not ideal, many members are just grateful for the effort of NHS to facilitate normalcy. "Of course I was sad that we would not be able to have this ceremony in person; it is an event that many students, families, and Lynbrook staff look forward to attending. But I am thankful that the NHS worked hard to recognize us anyway," commented senior NHS member Camden Hetrick.
In regard to the cancellation of an in-person ceremony, Bahri urges members to remember their hard work has not gone unnoticed. "This idea that people have that 'all my hard work was done for nothing' is so inaccurate. [To all members,] I hope you all continue to push yourselves to get work done and to accomplish your goals despite any notions you have about the future." Bruno, in the same spirit, stated, "Whether we honor our membership at a traditional or virtual ceremony, I wish our newly inducted members and current members to always pledge themselves to seek the light of truth, hold scholarly habits, and to engage in worthy services and to lead in all ways that will advance the welfare of our society."
In the true spirit of NHS and character, the club hopes to persevere beyond this setback and expects to resume function as normal, whether it is in person or from afar. 
About the Writer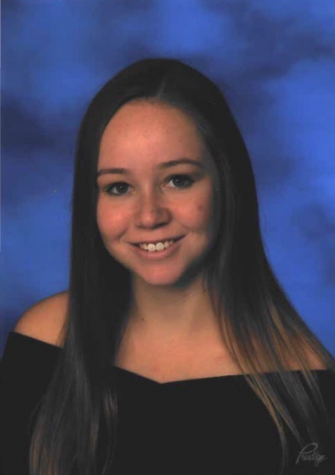 Jane Hoeflinger, Editor-in-Chief
I am a member of the Class of 2020. In my free time, I write articles for Horizon. I am the editor-in-chief for the print edition for 2019-2020.