Giants and Jets Mock Draft
With the NFL draft being just a day away, the New York Jets and New York Giants both are looking to make big splashes this year. Both teams could be just pieces away from being contenders for their respective divisions. This mock draft will go through all seven rounds for both teams, and what they should do. This mock draft is simulated using Pro Football Network's mock draft simulator, so some players may already be off the board.
Round One
Giants (Pick 4): LB/S Isaiah Simmons, Clemson – The Giants have plenty of needs on both sides of the ball. Many fans will want to take offensive line here to protect their franchise QB Daniel Jones. But it's not every day that a player with this kind of versatility becomes available through the draft. Simmons not only can play safety and linebacker, he has also lined up at defensive end and cornerback during his time at Clemson. He projects to be either a LB or safety at the next level, but no matter where he plays, he will make a difference with his skills and versatility, and allow the Giants to take a lineman later in the draft.
Jets (Pick 11): OT Mekhi Becton, Louisville – The simulator had three of the big-four offensive tackles off the board by pick 11, along with stud wide receiver Jerry Jeudy off the board. That leaves the Jets with four options: CeeDee Lamb, Henry Ruggs, Mekhi Becton, or trade back. But the more you look at his draft, the easier it is to realize that after the big four, the OT class is weak, whereas the WR class is extremely deep. So in order to fill a big need, the Jets go Becton here, filling a big hole on the left side of the line, with a mammoth of a man, with unbelievable potential, and leaving their need of WR for the second round.
Round Two
Giants (Pick 36): OT Josh Jones, Houston – The Giants return to their biggest offensive need and give Daniel Jones protection for the future. Josh Jones is a first-round talent, but with the plethora of OTs in this year's draft, he slide to early in the second round. This pick will solve a big issue for the Giants, while also allowing them to draft the best player available in the first round. The fact that the Giants are able to get a talent like this in the second round is something that Giants fans should be very excited about.
Jets (Pick 48): WR Tee Higgins, Clemson – Another firs- round talent that has seen his stock drop over the past few months, Tee Higgins is the rare combination of size and speed, with poor technique at times. He has struggled against some of the better teams in college football like LSU. However, size and speed cannot be taught in the NFL, whereas technique is teachable. Higgins will give Sam Darnold the weapon he needs on the outside, and he brings in the potential to become a top-tier WR in the league if the Jets can improve his technique.
Round Three
Jets (Pick 68 via Giants): CB Damon Arnette, Ohio State – This pick is the pick the Jets received from the Giants in the Leonard Williams trade. With it, they fill another need with Damon Arnette. Arnette is the definition of tough. He played most of this season at Ohio State with a broken wrist, and he still played very well. He was opposite Jeff Okudah at OSU, so he had his fair share of action and still fared well. There is a concern about his age because youth is so valued in the NFL, and he was a graduate student this past year, but this gives the Jets a potential future starting cornerback. Arnette is probably one of my favorite mid-round prospects in this year's draft.
Jets (Pick 79): Center Tyler Biadasz, Wisconsin – Another player who had first-round talent before a poor showing at the combine, and poor measurements, Biadasz has shown that he is more than capable of being a serviceable center at the college level. But the concern is if he can do the same with the talent at the NFL level. That is probably the biggest reason he is dropping. Think of this pick as a boom or bust pick because if it booms, he could be an excellent center, but if he is a bust, he may be out of the league quickly.
Giants (Pick 99): CB Troy Pride Jr., Notre Dame – The later you get in the draft, the less likely you are to find a potential starter. Troy Pride Jr. is probably the last player in this mock draft who will be anything more than a depth pick year one. Pride will join a Giants CB group that struggled but is still very young. They drafted DeAndre Baker last year in the first round, so adding Pride Jr. can give the Giants a young duo at corner that could be successful for years to come.
Round Four
Giants (Pick 110): Safety Terrell Burgess, Utah – Burgess is someone who has reportedly been rapidly raising up draft boards. He had a fantastic senior year this past year in Utah, which shows he has the talent. This pick gives the Giants a project to have for a few years to groom him for the NFL. He will be a backup for the first few years of his career, but he is a potential starter in the future.
Jets (Pick 120): WR Collin Johnson, Texas – The Jets are expected to double up on WR in this year's draft, and here is where they do it, drafting another big receiver in Collin Johnson. Johnson stands 6'5" – 6'6". He struggled a bit this past year, but as I said earlier with Tee Higgins, you cannot teach size in the NFL, so this is a perfect WR to take a flier on if he is available at this point in the draft.
Round Five
Giants (Pick 150):TE Thaddeus Moss, LSU – A depth pick. This gives the Giants an out if they want to trade Evan Engram as has been rumored. Also, this gives them a polished receiver with a pedigree. He was a favorite target of Joe Burrow at LSU, not to mention his father is one of the best WRs of all time in Randy Moss. Again, you are not getting a guarantee in the fifth round of the draft, but this is a good pick the Giants could make nonetheless.
Jets (Pick 158): RB/WR Antonio Gibson, Memphis – Gibson is a versatile player who has played WR and RB during his collegiate career. This pick gives the Jets a backup to Le'Veon Bell as well as someone who can be a return man or WR. He reminds me a bit of Danny Woodhead when he was with the Jets because he, like Gibson, played both WR and RB while also returning punts and kicks. Not a flashy comparison, but a solid player.
Round Six
Giants (Pick 183): OG Tremayne Anchrum, Clemson – This pick gives the Giants some depth on the offensive line. Nothing special here, purely a depth pick. One positive is that he played for a winning university at Clemson, so he knows what it takes to be at a big program as well as a winning program.
Jets (Pick 191): Kicker Rodrigo Blankenship, Georgia – This actually fills a need for the Jets, who could not find a good kicker no matter what they did last season. They take Blankenship here to hopefully fill in the kicker position for the coming years. He does not always lift the ball well, which could lead to blocked kicks, but he has a phenomenal leg and is exceptionally accurate.
Jets (Pick 211): QB Cole McDonald, Hawaii – This pick gives the Jets a long-term backup with potential and allows the Jets to have a backup plan for Sam Darnold, who has had his share of health and injury issues in his first two years in the NFL.
Round Seven 
Giants (Pick 218): Center Calvin Throckmorten, Oregon – He probably will not make the Giants' roster, but Throckmorten gives the Giants someone to put on the practice squad and gives the team depth on the offensive line.
Giants (Pick 238): OLB Tipa Galea'i, Utah State – Again, he probably will not make the roster, but this pick just gives the Giants a practice squad player and depth at linebacker.
Giants (Pick 247): CB Lamar Jackson, Nebraska – He had third-round stock at one point, so this is an upside pick that could be boom or bust.
Giants (Pick 255): WR Austin Mack, Ohio State –This year's Mr. Irrelevant, Austin Mack, can be a depth piece for years to come, but he will more than likely never be anything special.
About the Contributor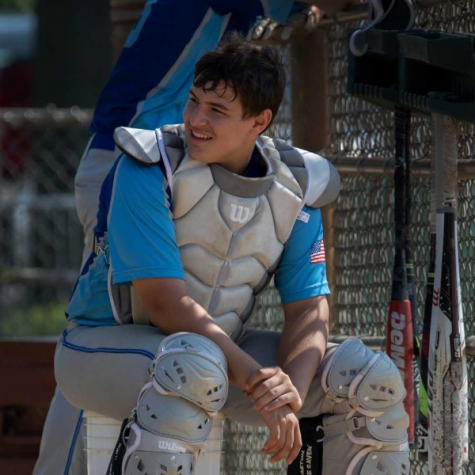 Dylan Burfield, Managing Editor
I am a student in the class of 2020. I have been writing for Horizon, both online and print, since my freshman year. I am now a managing editor on the...