A Look at School Security
In the span of 16 seconds, two students were brutally shot and killed by their classmate when he pulled a firearm from his backpack and opened fire at Saugus High School in Santa Clarita, California, on Nov. 14. Two lives were taken and countless others were forever changed by this tragic shooting. But it was one that could have been prevented, had the school taken sufficient safety measures. As tragic as this incident may be, a school shooting of this scale is unfortunately not uncommon.
As a response to the school shooting epidemic in this country, many schools have taken necessary procedures to combat this problem, including LHS. LHS prioritizes maintaining a school environment that is as safe as possible. Sophomore Joe Dolce stated, "I think the school security is good right now. We currently only have one door to go in and out, and I am satisfied with the current security."
In regard to school safety, some students have noticed an increased amount of police officers around the school. "Both inside and outside of the school, I have noticed that there have been a notable amount of police officers, mostly around the entrance," commented Sophomore Martin Lopez. 
Principal Joseph Rainis confirmed that the amount of police officers around the school has increased: "There is more activity by the police department. This deals with the Lynbrook Police Department (LPD) wanting to be comfortable with the layout of the high school. In the case of an emergency, officers who know about the layout of the school would be able to respond more efficiently."
In addition to the responsibility of the LPD to keep the school safe, Rainis also places his trust in the students."Lynbrook High School's security is everyone's responsibility. There is more responsibility placed on the student body, as their ability to notice someone who doesn't fit into our community is crucial. Security is a collective responsibility," commented Rainis.
These current expectations and standards placed on the students are an attempt to make LHS more safe and secure. Currently, there is a set of implemented drills and precautions that are in place. This includes fire drills, lockdowns, and lockouts. In order to prevent intruders, students are only allowed to enter and leave through the front door. Student identification cards are required every day when entering the school, as well. These are only some of the precautions put in place to promote safety. 
Front-door monitor Ben Ferrante explained that his job to promote school safety consists of "checking IDs, signing in visitors, and checking for appointments that is required for every visitor." Ferrante also agrees with the measures implemented for increased security since "you need to be aware of who's coming in and out."
Undoubtedly, increasing security as a response to the world around us is one of the biggest priorities at LHS. With the LPD helping out, LHS aims to only get safer from here.
About the Contributors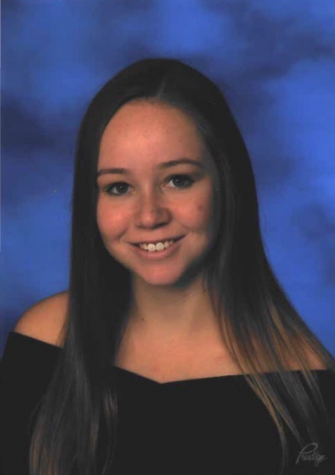 Jane Hoeflinger, Editor-in-Chief
I am a member of the Class of 2020. In my free time, I write articles for Horizon. I am the editor-in-chief for the print edition for 2019-2020.