The Gal's Boutique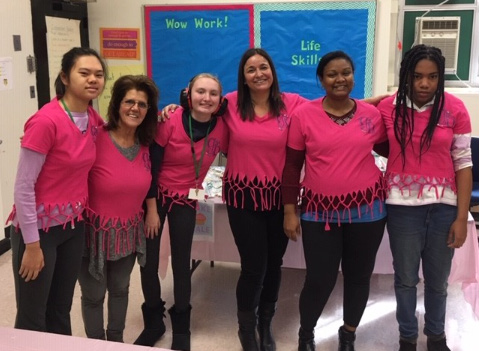 The girls from LHS's Career Development Program (CDP) held the Gal's Boutique on the third floor from Tuesday, Dec. 3 through Thursday, Dec. 5. Led by Special Education Teacher Ellen Restivo, with the help of aides Debrah Geiser and Ameisa Hariprashad, the boutique sold various donated items to selected faculty and students.  
At the boutique, tables were set up full of various goods including stuffed animals, t-shirts, silverware, and other miscellaneous items. The class sent out invitations to staff members and students who signed up for time slots to shop at the boutique. Each participant shopped at his/her scheduled time, and upon arriving, each was greeted by student Katie McHale and received a basket and a wallet consisting of a small amount of fake money. Shoppers were told to pick three items, which they then paid for with the money given to them in the wallet. Shoppers checked out with cashier and student Coralie Germaine and had their items bagged by student Rebecca Yu. 
Each participant had a role, which included setting up baskets, welcoming customers, ringing them up, giving them their bags, and setting up and cleaning up after the whole boutique. Restivo said "Katie was very pleasant and welcoming, and she told everyone to have fun shopping. She provided a warm, welcoming entrance for all the customers." Germaine, the cashier, added up customer totals, counted the money they gave her, and provided them change. She also responded to RSVP emails sent by customers saying they would be attending and created the poster advertising the boutique that hung outside the CDP classroom. Germaine said of her experience: "I was the cashier. I found it a little complicated, especially when there were a lot of people on the line. I did have fun."  Restivo commented, "Coralie found it a little stressful when there were too many people waiting, but she managed it well, and she showed her personality, especially to the people she already knows and likes. She didn't follow any script; she was herself. It was great." Yu, the bagger, waited until Germaine was done with customers, then she put their items in a bag and told them to have a nice day. All the girls and teachers worked together to make the boutique a success. They wore pink t-shirts created by Clothing Teacher Karen Goulet and Art Teacher Michael Kunz as uniforms. Restivo was overjoyed with the outcome of the boutique: "I would rate it a 10. It was so much fun; all the girls were very happy, productive, and successful, and they were proud of themselves. Everyone looked awesome in our matching t-shirts. It was a very unifying experience because we all had our uniforms on, and we were like a team."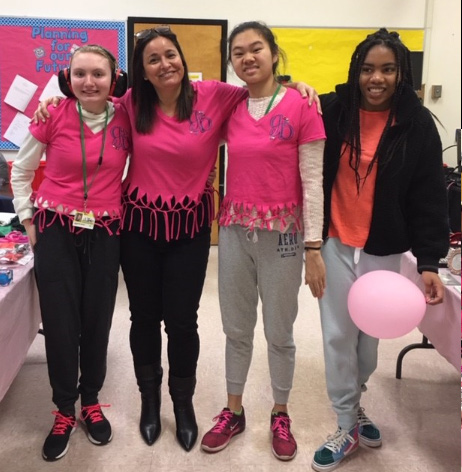 Restivo explained that she had the idea for the boutique from the need to clear out things she had in her house. She said, "I thought it'd be a good idea because I needed to declutter my house, and we were doing math on handouts. They had wallets, and were counting money, and we were thinking of practicing by selling items from my house, but then it expanded into me asking my teacher friends on the third floor if they wanted to participate and donate their clutter, like a garage sale, and a lot of them did donate. We got a lot of donations and sold a lot." The donations from teachers covered several tables. Customers got to take home the items they chose.
The boutique helped the students in the CDP class to work on many skills, especially math and communication. Through determining prices for items, counting money, talking to and greeting customers, and helping customers shop, these skills were perfected. Restivo elaborated, "I chose to do this activity because there are so many different skills involved in it. A lot of math skills are used, like adding, subtracting, and counting. Communication skills are also used, like emailing and socializing skills. Organizational skills were also a big part of setting up and running the business, so it was good to practice all of these skills in a fun way."  
Restivo praised the help of staff members: "Mrs. Geiser was amazing, she was such a big part of it; we really couldn't have done it without her. It was funny, she got 'fired' because she showed up without a uniform, but I rehired her. [Hariprashad] was also very helpful. She was the manager, and the only one to get promoted. Mrs. Sanders was a big help, too. She had so many great ideas; she brought in the balloons, and she had the idea for the posters. She was a huge part. She also helped organize the items. Both the students and the teachers clearly had a lot of fun running the store. The girls learned important skills, and many teachers were able to eliminate clutter that became another person's treasure. 
About the Contributor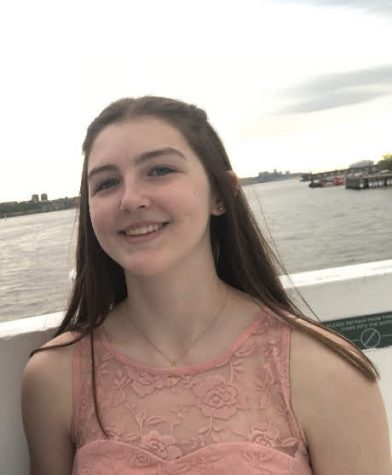 Emily Bergin, Editor-In-Chief
I am the editor-in-chief for Horizon.com and a member of the Class of 2021 at Lynbrook High School.  In my free time, I like to swim, run, and play music.