A Grand Homecoming for Junior Aidan Slattery
Spirits were high as student and staff lined the streets of Union Avenue on Oct. 14 to welcome junior Aidan Slattery back to school after his brief absence following his two open-heart surgeries, the most recent of which was for a heart transplant.
Hoping to provide Slattery with an unforgettable homecoming, the student-government association greeted him at the front of the school with posters and balloons as the marching band played a welcome home hymn. The cheerleading and kickline teams even came equipped with their uniforms and pom poms to welcome Slattery back in style. The crowd cheered as he walked through a pathway paved with fellow classmates and staff starting from the front of the school, to the lobby, to the cafeteria, and throughout the main hall. A mix of emotions filled the air as Slattery entered the high school for the first time in over four months after receiving a successful heart transplant.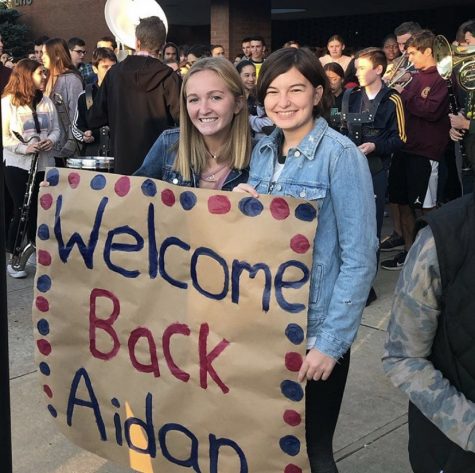 When Slattery was only six weeks old, a virus attacked his heart, resulting in a diagnosis of dilated cardiomyopathy, which is essentially an enlarged heart. Prior to April of 2019, his condition was managed well; however, as time went on, the issue appeared to be more pressing. During the month of April, an MRI reported that Slattery's heart function was down 20% and that he should be on high alert for any episodes of severe pain. Shortly after, he was hospitalized at the Children's Hospital of Philadelphia, and on May 20, he received his first of two open-heart surgeries. Slattery lived with a pump through his left ventricle for five weeks as he was placed on a waitlist for a new heart. Practically defying all odds, he received a call for a new heart in less than one month, and the transplant was completed on June 29, 2019.
With two major surgeries behind him, Slattery is now well underway on the path to recovery, which has proved to be both a physically and mentally challenging process. As Slattery explained, "In addition to all of my physical therapy, I have had to do a lot of realization, understanding what was happening. I have learned that you have to focus on what you have to do now, not what is going to come up in the future or what could happen."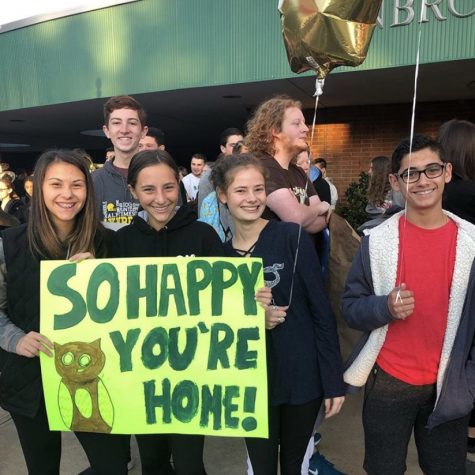 As a part of this recovery process, Slattery has been able to return to his regular functions, one being school. Although slightly nervous, he was excited to return to LHS. "I was excited but nervous about staying healthy. I was excited to see everyone again and feel normal," commented Slattery. Likewise, members of the school community were certainly excited for his return as well. As Principal Joseph Rainis explained, "Because we have such outstanding students and staff, everyone agreed that we should give Aidan a great welcome back… We wanted to make sure that Aidan understood that we appreciate his presence here at Lynbrook High School."
With these goals in mind, Rainis developed the plan to celebrate Slattery's long-awaited return. "I spoke with the varsity cheerleaders, and they said yes. I spoke with the varsity kickline captains, and they said yes. I spoke with Mr. White and members of the band, and they all said yes. And when I spoke to Mrs. Kirby and the SGA, they said yes as well. I had the key elements [in place] and then the rest was emailing the staff. Fortunately, everyone loved the idea," explained Rainis.
After receiving an overwhelming amount of support for the event, Rainis came on the school PA system during the morning announcements on Friday, Oct. 11 to announce the schoolwide function. Despite this announcement, the event still remained entirely a surprise for Slattery. "I was very surprised. Everyone was just telling me, 'You have to get ready to come back; I hope you're ready for this. But I was definitely not expecting anything like that. But it was great to see everyone come out and support me and to see how many people cared," commented Slattery.
The event was meaningful for more participants than Slattery. Senior and SLATE Vice President Caroline Ridings,who played a key part in organizing the event, described the occasion as unforgettable. "The warm welcome to Aidan was an event that, I believe is safe to say, students, faculty, and community will never forget. The event as a whole was better than anyone could have imagined. It was so heartwarming to see everyone come together to support a classmate," stated Ridings.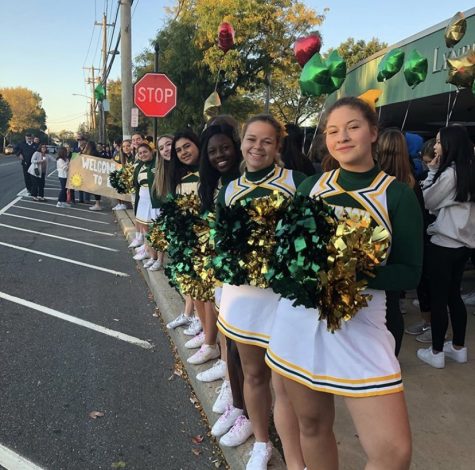 Slattery communicated that his homecoming will always be something he will hold dear to him. Additionally, his medical experiences will not go unspoken and they will serve as an inspiration for his future discourses. "I would like to say that organ donation is something I will be advocating for a lot in the future. It really saved my life, and it definitely can save a lot of others. It is a great thing to do. It might be scary to think about, but everyone should know that it is a great service," Slattery explained. Slattery hopes his story will inspire other "heroes," like the anonymous donor who saved his life, to sign up to become organ donors.