A Chorus Line Shatters Expectations
Hands clapped with vigor, faces smiled with rapture, and tears rolled down from the eyes of the audience. LHS's spectacular production of A Chorus Line was a great success and captured the hearts of its viewers. A Chorus Line, the second longest running show in Broadway history and one of the world's most beloved stories, is a nine-time Tony award winner and made its LHS debut the weekend of Nov. 1-3.
The musical, known for its satirical humor and compelling drama, tells the story a Broadway director and a group of dancers auditioning for his show. It is truly a roller coaster of emotions and presents a wide array of personalities within the characters: the hilariously seductive Sheila, played by Zoe Mevorah; the tragically heartbroken Paul, played by Zack Cohen; and the creatively frustrated Diana, played by Ricki Rizzo, to name a few.
This was one of Rizzo's many major roles in a musical, both on and off the stage of LHS, but she felt as though this production was unique and special. Rizzo commented, "I was able to connect with the character the most, and just the bond that I was able to make with the rest of my cast members is something that I'm going to cherish forever."
The production could not have been possible without the direction of Joni Russo and Janet Russano, Vocal Director Barry Wyner, and Stage Manager Senior Katja Rabus. The beautiful musical ensemble was led by Orchestra Director Joseph Pallotta and Orchestra Manager Kaylin Tephly. And, of course, the dance-oriented show could not have gone on without the amazing work of Choreographer Jessy Gill.
Wyner stated, "This show was special for a few reasons. The fact that it dealt with real people, whose dreams and issues were relatable, made it very moving to watch. Also, it is an ensemble piece with 18 lead roles, which is different from shows we have done in the past where there are a handful of lead roles and everyone else [acts as background characters]. This led to more students having a chance to shine, which made me super proud as a teacher. Our students really rose to the acting, music, and dancing challenges of the show, and they performed their hearts out!"
Set on the stage of a Broadway theater, Zach, the director in the show who is played by Conor Ryan, asks each character to share a bit about themselves, perhaps about his/her childhood or hopes and dreams. Solo performances and dance sequences tell the background of every character, each with a story as unique and beautiful as the next. While some characters choose to discuss their family life growing up, others sing about their desire to be in showbusiness and their long journeys to Broadway.
The cast goes down the line, revealing some of their deepest emotions and sharing comical anecdotes, while those awaiting their turn frantically search for what they are going to say. Amid one character's backstory, a million other thoughts are shared through musical and dance numbers, both entertaining and truly telling of the characters' inner thoughts.
A particularly funny moment in the show is when the scatter-brained Kristine, played by Meghan Ryan, steps forward to speak about herself and her preposterous lack of musical talent. Her husband, Al, played by Luke Zaromatidis, must finish her phrases in the catchy tune, "Sing." Together, they tell the story of Kristine's awful singing voice, but shockingly beautiful dancing abilities.
After many similar stories of awkward childhoods and even more awkward teenage years, the cast breaks into song about their journey through puberty with a tune called, "Hello Twelve, Hello Thirteen, Hello Love." It is an uplifting moment, as not only the cast, but also the audience is able to recognize the similarities that all adolescents share and the common experiences that all people have been through.
The chemistry between the actors emanated in the show and was one of the main contributing factors to the show's warm and joyous spirit throughout. Zoe Mevorah, who played the role of Sheila, can attest to the actors' tight bonds that were formed during the musical's preparation: "I really enjoyed being able to get close to a cast and make new friends, and I enjoyed the energy that was in the room at rehearsal. We are all very close and still continue to spend time together after the show."
After many of the characters introduce themselves, they are sent downstairs to learn a new song for the audition. Meanwhile, Cassie, played by Alicia Villadiego, stays onstage to talk to her former lover, Zach. Zach tells Cassie she is too talented to be in the chorus and he begs her to leave the audition and find a solo role. The audience learns a bit about their past romance and rocky history together.
Zach then calls Paul onto the stage to recant a story of his past, something that Paul seems very reluctant to do. After some persuasion, Paul tells the heartbreaking story of his experience in a drag show and coming to grips with his sexuality. He, and the audience, were moved to tears by his stirring monologue.
After spilling his heart out to Zach, Paul falls and injures his knee. This prompts a revelation within the remaining cast members: their careers could potentially end at any instant. From this, Zach poses a question to his cast, "What will you do when you can no longer dance?" They reply that whatever happens, they will be free of regret when the time comes.
Now, Zach must select his final eight dancers. Mike, Cassie, Bobby, Judy, Richie, Val, Mark, and Diana are chosen for the chorus line. Their faces fill with joy as they reach out and hug their mutual cast members. The show closes with a spectacular dance number of the show's most famous song, "One," with each character in vivacious gold sequined costumes.
All in all, LHS's production of A Chorus Line was very impressive, entertaining, and heartfelt. The acting, music, and dancing were captivating, and I cannot wait until next year to be wowed once again by the talented students of the drama department!
About the Contributor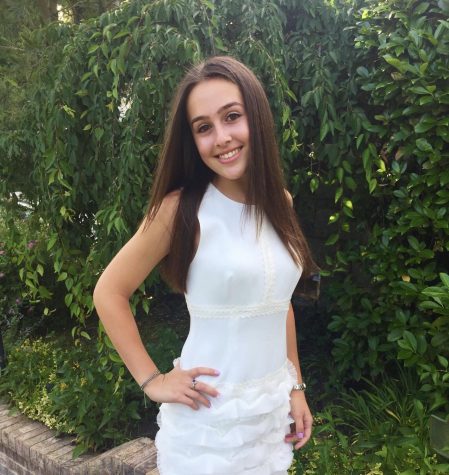 Julia Swerdin, Staff



Hi, I am a member of the class of 2022. I am on the school kickline team, and I love to read and write.