Essential Oil Diffusers Present New Vaping Alternative
E-cigarettes, wax pens, vapes, and other nicotine or marijuana-infused pens are continuing to become popular amongst teens. Most teens feed their addiction by buying these devices illegally. Some shops, local delis, and convenience stores sell these devices to minors to make money despite the fact that this is illegal. Teens seem to becoming more inclined to try using these devices and consuming these drugs since it has become more accessible to them. Gianna Jean, a junior, observes, "Vaping is unhealthy and is affecting teens' ability to focus. Teens are becoming more and more addicted."
Students even sell these devices and accessories for them to their classmates to make money. Instead of getting jobs and working for their money, teens buy and sell these devices and raise the price to make a quick buck. Students have gotten caught vaping in locker rooms and on school premises. Vaping and smoking marijuana has become a large issue among minors. Vaping can cause long-term lung damage and a serious condition known as "popcorn lung." Popcorn lung is a disease caused by vaping, which causes lung tissues and airways to narrow, causing breathing difficulties. According to New York officials, there have already been 19 deaths caused by vaping in the U.S.
The brand MONQ has presented an alternative approach to vaping. MONQ has created an essential oil diffuser that contains no nicotine or tobacco and no harmful substances. The brand has refused to associate itself with vapes since their product do not contain any of the substances used in vapes. The diffusers come in 10 different flavors, which all have different effects. One flavor is "sleepy," which contains the ingredients chamomile, lavender, and kava. MONQ states that the "sleepy" diffuser allows customers to "ease into a peaceful slumber with natural relaxants enjoyed by Greeks and Romans in antiquity and used in sleep-aid teas in modern times." Each diffuser costs around $20.00 and contains about 150 puffs.
The purpose of MONQ is to give customers a new experience with aromatherapy. MONQ stands for Modifying One's Natural Qualia or Modified Observation of Natural Qualia. MONQ is not intended for people under the age of 18 or pregnant women. It is also not recommended for patients diagnosed with respiratory illnesses or who are allergic to essential oils. When Sophomore Alana Scrugs was asked if she would use a MONQ diffuser, when she is of age, she responded, "I would use one if it has beneficial values since it claims it does not harm your lungs and is safe to use."

Loading ...
MONQ diffusers are made from non-GMO plants and are derived from plants grown in the U.S. Most of the oils are produced by steam distillation, known as CO2 extraction, without the use of alcohol. The brand claims it produces no harmful substances. Although the product may seem safe, it is not FDA approved. Julio Torres, a junior, commented, "Even though they consider themselves a diffuser, I still would not use their product since it is not FDA approved, and I would not vape in general."
The company recommends that consumers use their product 2-3 times a day and take around 2-3 puffs each time. The product is not intended to be inhaled into the consumer's lungs. To use the product, consumers are supposed to breathe in the product through the mouth and exhale through the nose immediately after inhaling. The effects of the product should occur 5-10 minutes after use. "I think that MONQ is a safer alternative for teens if they were going to do something," noted Gianna Jean. MONQ is a new alternative to vaping that is likely safer and healthier than other options.
About the Contributor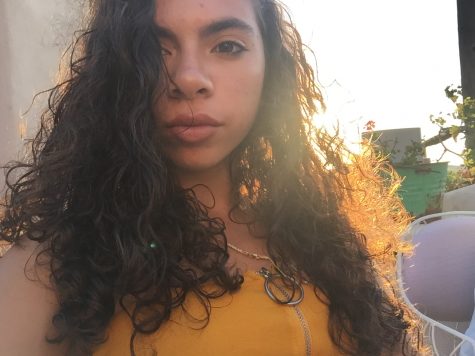 Amintta Ragavanis, Editor
I am a member of the Class of 2022 at LHS. I love to draw and paint. I look forward to contributing and writing articles for Horizon.