A Groundbreaking New Coffee Shop
This past summer, many students were disappointed to hear that the Starbucks in Philips Plaza, which students frequented on off periods and after school to study and hang out, would be relocating. However, it was soon announced that a new cafe, Ground Central, would take the place of Starbucks, and on Jan. 7, the long-awaited coffee shop opened its doors.
With four other locations in Manhattan, the Lynbrook Ground Central marks the first of the trendy cafe's locations on Long Island. It provides a place for students and members of the community to convene. As senior Sam Cohen states, It's definitely a great place to meet people or get some work done." While Ground Central serves the same purpose as the Starbucks that came before it, the ambiance of the new cafe is unparalleled. The walls are filled with books of all genres, along with a collection of vinyl records, and instead of the generic tables and chairs, there are leather couches and big textile lounge chairs. Junior Djellza Pulatani describes the atmosphere of Ground Central as "quite adorable."
As for the products available at the new establishment, the menu ranges from coffees and teas to yogurts, pastries, and sandwiches. In addition, Ground Central's products are often a modern take on what one normally finds in a cafe, such as chia pudding and matcha green tea products. So far, students seem to be taking to Ground Central, and appears to have already established itself as a great addition to the Lynbrook area. Sophomore Sammi Feldman agrees, stating, "I love Ground Central because it's a really fun place to hang out on an off period. It makes me feel refreshed and relaxed before I head back to school."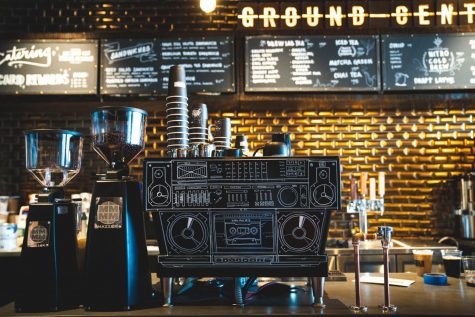 Whether you are in the mood for a chocolate croissant or an herbal tea, it is definitely worth trying out the new Ground Central. The atmosphere and high quality of products make it the perfect place to get work done, grab something to eat, or just hang out with friends.