Is It "All We Ever Wanted"?
Hang on for a minute...we're trying to find some more stories you might like.
Everyone loves a good book at the beach–an easy read, relatable, thought-provoking, exciting, and maybe even sexy–something to complement a fun day in the sun. This winter break, I set out for just that: a recommendation from my aunt, a few clicks on Amazon, and a plane to Aruba. Later, I found that my purchase All We Ever Wanted by Emily Giffin is really all I ever wanted to read and more.
In All We Ever Wanted, New York Times best-selling author Giffin tells the story of two Nashville families from two very different sides of the Cumberland River and the unfortunate scandal that unites them. At a party, Finch Browning, a privileged, handsome senior at the elite, private Windsor Academy, inappropriately photographs passed-out-drunk Lyla Volpe, a Latina sophomore on financial aid. When the picture and its racist caption circle around the school, Finch's recent acceptance to Princeton is put in jeopardy. In the days before Finch's trial with the honor council, tensions are high and relationships are tested, sometimes to a breaking point. Through the relationships that develop and change between individuals of the Browning and Volpe families and the school their children attend, Giffin teaches valuable lessons about family, privilege, and justice in a contemporary, authentic, and honest manner.
The most important takeaway from All We Ever Wanted is the extent to which a parent must sacrifice to do right by his or her child. Thomas Volpe, Lyla's father, is a perfect example. As a single parent working multiple jobs to support his family, he has it tough enough before his daughter is photographed drunk and naked. He is then tasked with balancing Lyla's wants with the justice he desperately seeks to find. He risks Lyla's reputation at school to ensure Finch receives real consequences for his action, but in doing so, he teaches her the value of her own self worth, which she grows to learn is much more important.
Nina Browning, Finch's mother, parallels Thomas Volpe in the sacrifices she makes for the well-being of her own son. Her willingness to face anger and resentment from her own family to teach her son right from wrong is as admirable as it is heart wrenching, but it earns her a clear conscience and the respect of Thomas, the two eventually becoming a dear friends. Although the narration changes each chapter, it is clear Nina is the true protagonist, and the reader can learn a lot about altruism, parenting, and living with privilege from her struggle through the novel. But, Nina's journey is as much about learning to stand up for herself as it is doing the right thing. The novel offers a very personal perspective on sexual assault and rape, especially illustrating how easily a victim can feel pressured to remain silent by society. Nina's past mirrors that of Lyla's experience with her son, but both characters–with some guidance–eventually learn to accept and vocalize their horrific experiences, finding solidarity in one another.
All We Ever Wanted also explores the impact that wealth and status can have on one's character. This is evident through Nina's husband, Kirk, who, as Nina learns, cannot accept when things do not go his way because he believes his success puts him above the rest of society. Giffin explores the difference between the good fortune of getting what one wants because one is wealthy and successful and the exploitation that wealth and success to ensure things can not happen any other way. Unfortunately, Kirk's attitude rubs off on Finch, as he begins to see himself as his father does, much to Nina's dismay. In the end, both Nina and Kirk have their own idea of the "right way" to parent Finch, but you'll have to read to find out how he ends up!
Overall, All We Ever Wanted is touching, thrilling, and poignant, cross-sectioning all facets of life, and touching on many difficult and controversial issues in the most accessible manner. So, when next you find yourself looking for a read, consider Giffin's All You Ever Wanted; it will not disappoint.

About the Writer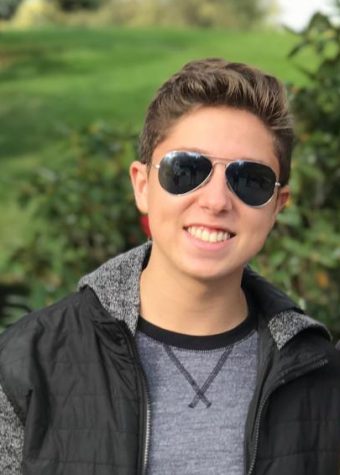 Sam Cohen, Editor-in-Chief
I began participating in Horizon as a writer in my freshman year, and I was editor for A&E as a sophomore. As editor-in-chief of the website my junior...