Reduce, Reuse, and Refuse: Marine Club's Attempt at Making LHS Eco-Friendlier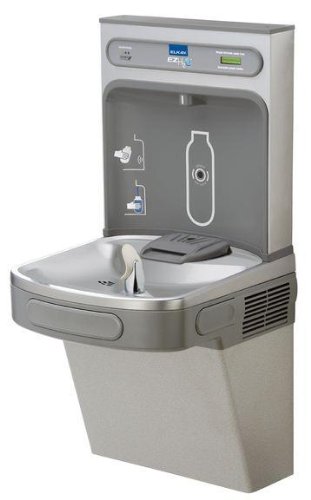 Hang on for a minute...we're trying to find some more stories you might like.
The pollution of Earth's waters has been a major concern of environmentalists and ordinary citizens for decades, which has led to increased efforts for preservation of nature and marine species. Right here in Lynbrook, students have taken their own initiative by founding the Marine Club. To combat the plastic pollution crisis sweeping the planet, club representatives Kai Beattie, Sam Cohen, and Danny Neri spoke in front of the Board of Education (BOE) on Nov. 14. The club pitched a campaign to upgrade LHS's water fountains, allowing them to function as a hands-free bottle refilling station with a tracker used to calculate the number of plastic water bottles saved by those refilling reusable bottles with the fountain. They argued that having new, filtered fountains would incentivize more students to carry reusable water bottles as opposed to buying plastic ones, reducing Lynbrook's contribution to plastic pollution.
Beattie spoke to the BOE about the harmful effects of the community's plastic waste footprint: "It is estimated that by 2050 the ocean will contain more plastic by weight than fish, and much of the plastic will not break down for hundreds of years to follow."
Several club members have expressed their concerns that LHS could be doing more to fight against this already deadly endeavor. "It needs to get better, and using less plastic is not at all difficult to do," stated Sam Cohen. As he further explained at the Nov. 14 BOE meeting, between failing to have already installed these bottle-refilling fountains and only having recycling bins located in the cafeteria, only a fraction of the likely hundreds of water bottles disposed of each day at the school are currently being recycled, which puts Lynbrook lagging behind other local districts like Hewlett, Valley Stream, East Rockaway, and Rockville Centre, who have already made use of these fountains. The club has used this information to further its opinion that Lynbrook must do more, and soon.
Club members also spoke with a representative from ELKAY, the manufacturers of the water fountains currently used at LHS and the majority of high schools in the area, who suggested purchasing a retrofit kit, which attaches to existing fountains and adds the same filtering and functionality of a new fountain at a fraction of the cost; the kits would cost around $460 each. The Marine Club has offered to fund the purchases for the first fountain, which will hopefully be located in the cafeteria, where the school sees the most traffic on a daily basis, and it plans to initially donate $580 to the cause. The degree of success of the first "new" fountain will likely determine whether the BOE decides to install the fountains throughout the district.
Despite their persistent efforts to improve the high school's efforts to prevent excessive water pollution, the club's wishes to extend its reach much further. "We would like to see the remaining fountains at the high school converted and to eventually have every school building in the district replaced with bottle-filling fountains. Our hope is that underclassmen will recognize our efforts and continue to advocate for the implementation of these fountains after Danny [Neri], Sam [Cohen], and I graduate," commented Beattie.
Board President Billy Belmont commended the members for their well-thought-out demonstration and motivation to self-advocate change, stating that he found the club's pitch "… so convincing that [he] is going to ask Dr. Burak to begin to phase it in, maybe even at Marion Street [Elementary School]." Dr. Burak, too, admired the proposal, joking, "It was so good that in the time we were sitting here, two may have already been installed at Marion… and we have a lot more to do."
However, Marine Club was not quite content, according to Cohen: "After our success at the BOE meeting, we wanted to make sure that the idea would actually be put into action. We met with Mr. Rainis, and he explained to us the complexity of the process, but we are very grateful that he was willing to support our mission and handle some of the administrative requirements we are unable to do ourselves. In the end, he told us that the BOE is going to finance the purchase of the new fountains for the entire district. We are extremely grateful to the BOE for recognizing our cause, and we still plan to donate our $580 towards funding the fountains."
Members are excited that this long-anticipated and largely overdue change will finally be implemented at the high school. Beattie, Cohen, Neri, and the entire Marine Club would like to remind students of the importance of making use of reusable bottles at LHS and encourages everyone to lend a hand in reducing our community's consumption and waste of single-use plastic items.