Trump's Tariff
In a move that made headlines across the globe, President Trump commenced the most intense trade confrontation with China in nearly 25 years on Mar. 1. Trump announced his intention to implement a 25% tariff on steel and a 10% tariff on aluminum imports, along with plans to limit China's freedom to invest in the U.S. technology industry. The announcement rattled the stock market, as it raised concerns about a global trade fight that could potentially disrupt the global economy, a fear that the Trump Administration has repeatedly dismissed.
Administration officials say the tariff would affect $50 billion to $60 billion of Chinese imports, as it is also being applied to nearly 1,300 other products. In response, just hours later, China's commerce ministry announced a list of U.S. products that can be affected by its own tariffs. The list included fresh fruit and wine, along with 118 other products, worth nearly $1 billion dollars. The ministry threatened to impose a 15% tariff if the two countries fail to resolve their trade differences "within a stipulated time," according to The Washington Post. China's Commerce Ministry reportedly said in a statement issued Mar. 2, "China does not want to fight a trade war, but it is absolutely not afraid of a trade war… We are confident and capable of meeting any challenge. It is hoped that the U.S. side will be able to make a swift decision and not to drag bilateral economic and trade relations into danger."
Sophomore Ethan Renz expressed both satisfaction and concern with Trump's new tariff: "I'm undecided about Trump's new tariff. This will greatly help American steel companies by providing more jobs and allowing growth, ultimately fueling the economy. On the other side, I do understand the fears of the trade war and am concerned about them myself." Freshman Jillian Swanson agrees: "This new tariff is risky. It can either be a huge success in the sense that it will help the American economy or be a dangerous failure as it can potentially start a trade war."
Trump's decision to limit China's ability to invest in the U.S. technology industry can be partially attributed to a government finding that China had treated U.S. companies unfairly by pressuring them into capitulating trade secrets for market access. Furthermore, China's unfair trade practices are also at part to blame for the U.S. Chinese trade discrepancy, which has reached a record high of $375 billion. In addition, Trump also blamed China for the loss of six million jobs along with the loss of 60,000 factories. Sophomore Emma Lenz stated, "While Trump justifies his tariff with China's un- fair behavior, I still think imposing a tariff was not the right move. This has almost guaranteed a trade war, which will only hurt the economy. While the president's intentions seemed good, his plan was poorly executed." Junior Aidan Tuosto also expressed his concern with the new tariff: "Trump's steel and aluminum tariffs were a decent response to the China steel dumping into the United States, but there are better methods than steel tariffs to get China to stop dumping its steel in the U.S. The last two presidents have tried to impose tariffs on steel with the hope of having the country gain jobs, but it actually resulted in a decrease of jobs after the tariffs were imposed."
The President also weakened a new tariff meant to protect U.S. production of industrial metals, which can possibly excuse the European Union along with other countries who together account for two-thirds of steel imports and over half of foreign-made aluminum. Trump has already excluded Canada and Mexico from the import taxes, as he is currently renegotiating the North American Free Trade Agreement.
After Trump's announcement the Dow Jones Industrial Average plummeted over 700 points, nearly three percent, as investors fear the impacts of a trade war between the world's two biggest economies. Despite this, the White House predicts the new taxes will have "minimal impact" on consumers, according to their media release.
About the Writer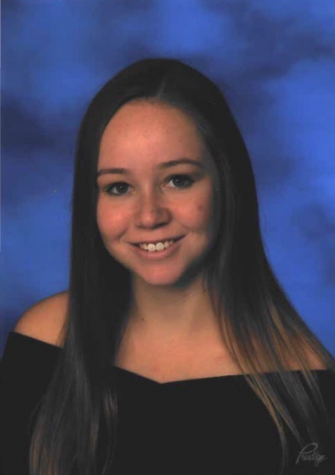 Jane Hoeflinger, Editor-in-Chief
I am a member of the Class of 2020. In my free time, I write articles for Horizon. I am the editor-in-chief for the print edition for 2019-2020.