Victory for Varsity Volleyball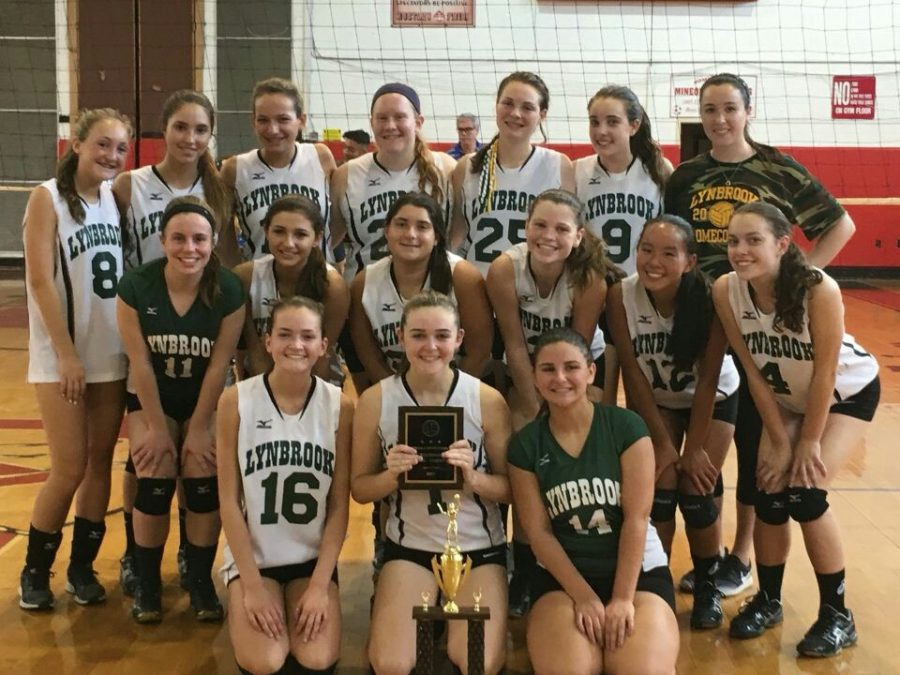 This year, the girls' varsity volleyball team made it to the quarterfinals of the playoffs utterly undefeated, and ultimately ended its season with 13 wins and 1 loss. Players credit their success to the tight-knit bond of the team, the phenomenal skills of individual players, and the expertise of their new coach. The team included players from all grades, and all girls, from freshmen to seniors, showed immense talent and drive.
Every individual on the court excelled in her position, and it truly showed as the team claimed victory after victory. When asked what she believed attributed to the team's success, sophomore Ami Carey stated, "I think it was our ability to never give up on a ball, especially when we were going down." She then continued, "Our perseverance allowed us to come back from another team's lead."
Aside from visible athletic prowess, much of the team's success was derived from their ability to work together, which came naturally since the team was so close. "We all bonded very quickly and we had so much fun together every day, even when the team was having a bad day all the girls would lift each other up," explains junior Tori Strife. She continues, "The seniors made it really special for everyone on the team and the new sophomores had a very big impact on our success." Senior and co-captain Crista Esposito attributes the success of the team to the coach, Allison Glass, stating, "We had an amazing coach who was just as eager as us to win and be the best we could be." Strife agrees, stating, "Her coaching skills definitely had a big impact on our success; the team was very talented, but the drills we did every day helped us continue to improve."
The team's last game, which was played against Manhasset, gave the girls a chance to leave their hearts out on the court, and was a riveting end to the season. "We played the number one seed in the county, and no one expected us to go to five sets," states senior and co-captain Grace O'Dwyer. She continues, "We played the best we have ever played that day, and I don't think we could have ended on a better note." The end of the season was emotional, and some tears were shed as many girls experienced the last game of their high school careers. Esposito shares, "At the end, all us seniors were sad that it was our last game, but we were all so grateful and happy that it was spent with such an amazing team, a team that was undefeated during its season and had so much fun and many good memories." The season was an overall success, and the remaining juniors, sophomores, and freshmen look forward to the next season, confident in one another and the strength of their team.