Cabaret Night '23: Entertainment Returning to Normalcy
The 22nd annual Cabaret Night was a special one, as its original traditions were finally brought back after being modified due to the COVID-19 pandemic. Hosted by the Tri-M Music Honor Society on Friday, January 20, audience members enjoyed complimentary dessert as they sat together at tables in the cafeteria, a luxury that was not allowed during the previous two years. Auditions held prior to the event determined who would fill the fourteen performance spots. 
"This Cabaret Night was really exciting because this was the first normal one in three years," sophomore Gianna Longo explained. "The last time we had a normal Cabaret Night was in 2020 because in 2021, it was recorded and streamed online. Last year, in 2022, we still had to wear masks, and there were limited tickets and different seating. This year, we had round tables and snacks, and it just felt normal again," she added. The event was hosted by senior Jaiden Moreno, who kept the mood light and cheerful. "It was definitely one of the best-hosted Cabaret Nights ever," said sophomore Eric Reilly.
 The first number was sung by senior Mia Rinaldi, who is admired in the music department for her stunning voice. She performed the song "She Used to be Mine" from the popular musical Waitress. "It's this beautiful song about reflecting and 'what was' and what's happening now, and I think it was such a perfect song for her senior year. It made me tear up hearing her sing it," Longo said.
Longo performed "A Thousand Years," a song by Christina Perri. She was accompanied by junior Simon Yu, who played the piano, and Reilly, who played both the violin and the oboe. She reflected on the positive experience she had dueting with Reilly: "I love doing duets for Cabaret. I did a duet last year, too, and I think they are special because you get to share that fun experience with another person!"
Additionally, Reilly wrote a violin compilation from the Broadway musical Phantom of the Opera, which he performed with senior Kate Chiulli and junior Parker Sloan. Reilly devoted eight hours to making the arrangement, taking parts of songs, including "The Overture" and "Phantom of the Opera," from the show and bringing them together. For time purposes, the arrangement was cut down to four minutes, although Reilly hopes to perform and record the original eight-minute version sometime in the future.
Other acts included sophomore Liam Mylan singing "When I Was Your Man" by Bruno Mars and junior Zachary Buxton and sophomore Jack Ceglie singing "Agony" from Into the Woods. Junior Madeleine Malinka and her brother Andrew, a sophomore, performed Billy Joel's "Piano Man," where Andrew showcased his harmonica skills. 
After the unique skit they performed last year, for their final Cabaret act, Moreno and senior Lola Sokolskiy returned with another sarcastic "quarrel," where Moreno pretended to have accidentally forgotten to learn his part of the performance. After settling the dispute, he quickly interrupted Sokolskiy's number by rushing her off stage when her time was up, much to her annoyance. "I sang for less than a minute, and our act was still over three minutes, but I loved it! It was a great conclusion to the Cabaret trilogy!" Sololskiy commented about her final performance.
Overall, it was exciting to see the return to normalcy that this year's Cabaret Night brought, although bittersweet for seniors and their close friends who performed in their final Cabaret Night together. Longo, who sees many of the seniors as role models, was feeling emotional at the end of the night: "They're just so talented, and it's very bittersweet to see them go because I know they're going to do such amazing, wonderful things in college." She continued, "I can't wait to see where some of them end up. They've passed their knowledge, expertise, and their love down to the underclassmen like me, and I hope that I can carry what they've shared with me through the rest of high school!"
About the Contributors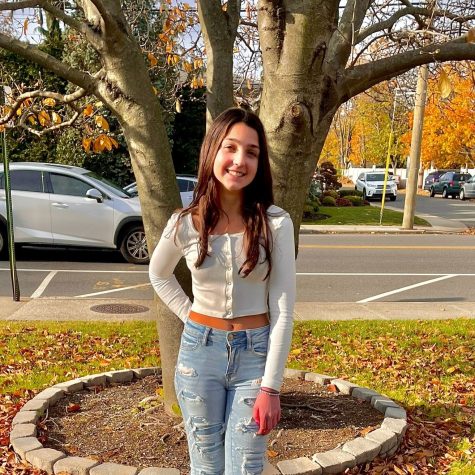 Emily Franklin, Editor
My name is Emily Franklin, and I am a member of the Class of 2025 and an editor for Horizon. I am part of the Key Club, Birthday Wishes Club, and Mathletes....