"Matilda the Musical": Stream It or Stick to the Original
Matilda Wormwood is back! Netflix recently dropped a remake of the original 1996 rendition of Roald Dahl's widely beloved 1988 novel, Matilda. Director Matthew Warchus and writer Dennis Kelly, who have adapted Matilda for the stage on Broadway and the West End, are now reimagining Matilda Wormwood, a telekinetic girl genius, for the screen. The 2022 production stars child actress Alisha Weir, rising star Lashana Lynch, and veteran actress Emma Thompson.
The film starts off in a maternity ward where mothers, fathers, and their babies sing about how newborns are wondrous miracles. Mr. and Mrs. Wormwood do not agree with this sentiment. Mr. Wormwood had wanted a boy, and Mrs. Wormwood had been in denial that she was even pregnant to begin with. The Wormwoods are in disgust after finding out that they have delivered a girl and neglect Matilda throughout her childhood. In consolation, Matilda spends most of her childhood reading or seeking solace with a traveling librarian, Mrs. Phelps. Matilda narrates her surreal, whimsical, and imaginative story of the acrobat and the escapologist to Mrs. Phelps. Matilda's parents are eventually forced to send her to school at the age of six. There, Matilda develops an instant bond with her sweet teacher, Miss Honey. However, Matilda must also withstand the evil headmistress, Agatha Trunchbull, a former Olympian who hates children and immediately develops a very resentful grudge against Matilda. As the film progresses, Matilda's tale of the acrobat and escapologist in a circus-set love story is reflected in her experiences with Miss Honey and Miss Trunchbull. At Crunchem Hall, Matilda experiences massive showdowns between the tormented children and their wicked headmistress. One young student, Amanda Thripp endures a haunting confrontation with Miss Trunchbull when she takes her by her hair, swings her around, and launches her over the fence after Amanda had refused to cut off her pigtails. Trunchbull forces Bruce Bogtrotter to consume a gigantic chocolate cake in front of the entire school. And worst of all, some unfortunate students are sent to the chokey, where they are forced to stand in a tight space with nails jabbing into them. Throughout the film, Matilda must stand up for her fellow classmates, overcome obstacles within both her school and her family, and help her nurturing teacher reclaim her life.
As someone who has previously seen the 1996 rendition and Broadway production, the Netflix adaptation did not fall short of expectations. Right off the bat, I loved to see so much diversity within the movie. It is great to see that more production companies are gearing toward having more racial representation in the spotlight. Sophomore Miranda Mangru said, "I think it is wonderful that the ethnicities of the characters in the Matilda musical are diverse. It is always a joy to see different people being represented in films or musicals. However, while watching the musical, it was most important to me that the actors deliver a superior performance that still respects the original and beloved film, regardless of skin color or cultural background." I also enjoyed seeing Emma Thompson portray Miss Trunchbull. Seeing her 'shapeshifting' abilities as she has transformed from Professor Trelawney in the Harry Potter series, to Nanny McPhee, and most recently, to Agatha Trunchbull, is remarkable. Mangru added, "I thought Emma Thompson's take on this role was near perfection. She [conveyed] the essence of the Agatha Trunchbull many grew up with yet was still unique and horrifying at the same time. I hated her, which is how nearly everyone feels about Trunchbull; this tells me she did something right." Although Matilda the Musical is era-non-specific, I love that no cellphones or computers are in sight in the film, which better encourages reading. The film also presents several meaningful messages. Matilda the Musical illustrates the idea that both Matilda and Miss Honey want to change the endings of their stories but cannot do it alone. They learn that often, one does not need someone to fix everything for him or her; rather, one needs someone standing by his or her side, just holding his or her hand and not letting go, no matter what. Mangru said, "I think the message is beautiful, similar to the one delivered in the older film. See, Matilda and Miss Honey were too used to their older situations; they were afraid to break free from the chains holding them back from what they truly deserved. Meeting each other unlocked a connection that helped them yield the strength to 'fix' their problems. The same thing can be applied to other characters in the movie, like Lavender or Bruce." The 2022 adaptation also adds a totally new storyline about the stories Matilda imagines, which are not as widely evident in the 1996 production. I feel that Matilda the Musical is the best family film of 2022 and overall, one of the best musical movies ever.
Armed with a crowd of revolting children, an accomplished grown-up cast, and a brilliant, young lead, Matilda the Musical is arguably one of the best adaptations of Dahl's beloved book and is truly a must-see. Stream it.
About the Contributor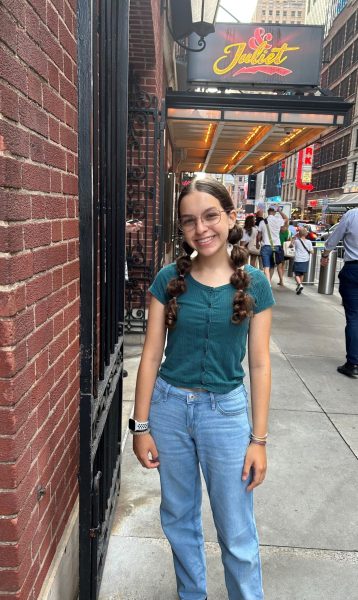 Stacey Krivitsky, Editor
Hi! My name is Stacey Krivitsky. I am a member of the Class of 2025 and an A&E Editor. Aside from Horizon, I am in Science Bowl Club, Women in STEM...