Athlete Spotlight: Rebecca Marzari
Senior Rebecca Marzari has run year-round for her entire high school career, and she shows no signs of slowing down. Participating in cross country, winter track, and spring track, Marzari has been on the varsity teams since she was a freshman and said, "Running, like many other sports, is a mental challenge. [Through it,] I have learned dedication, diligence, determination, and have experienced the wonderful feeling of achievement." The members of the varsity cross country team were division, conference, and county champs in 2019, and they were division champs again in 2020 and 2021. Marzari made all-conference in 2019. She considers "every personal record to be a great achievement!"
Over the course of her four-year running career, Marzari has worked closely with coach and teacher Joseph Beyrer, who coached her in all three seasons. Beyrer commented that after coaching for over twenty years, working with Marzari has shown him that above all else, the individual and collective growth of his players and team are the factors that contribute to a successful unit. He explained how Marzari would take younger runners "under her wing" and assist them in becoming better athletes.
"Becky is someone who leads by example. She is the first to get started and usually one of the last to leave. She strives to do more and works very hard," Beyrer elaborated. Marzari also spoke on Beyrer's influence on her performance as an athlete. "He has been my biggest encouragement and knows my limits yet pushes me past them to help [me do] more than I thought I could achieve," she said.
Marzari has made many special memories and close friends through track. She recalled the big track meets and end-of-the-season pasta parties as her favorite memories. The light-hearted and fun chats among players and coaches were also very enjoyable for her. Delia Kirkpatrick, an eighth grader at North Middle School and on the varsity cross country team, agreed. Kirkpatrick expressed her closeness and appreciation for Marzari as a teammate: "Running with Becky is so much fun; she is a fierce competitor with a nice heart and compassion. She always pushes me to do my best and always kept me on my toes!" 
Beyond high school, Marzari sees running in her future. Whether in college or for leisure, she will continue the sport. She has ran two half-marathons with an organization called Team World Vision, which raises money to provide clean drinking water around the globe. She hopes to continue running half marathons and perhaps complete her first full marathon with the same organization in the future.
About the Contributor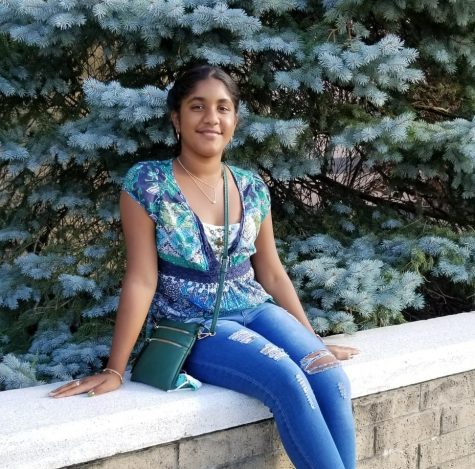 Miranda Mangru, Online Editor-in-Chief
Hi! My name is Miranda N. Mangru. I am a member of the Class of 2025 and an assistant editor for the Horizon newspaper. I take pleasure in listening to...