Winter Fashion Forecast
It is officially winter, and a new season calls for new fashion trends. These are some of the fashion favorites and most popular trends for this year's winter season. 
Ski Chic
Wearing parkas and puffer coats is a great way to be comfortable, stay warm in the cold weather, and add a pop of color to one's outfit. Coats are multifunctional, as they are perfect to wear in the snow or to look stylish on city streets. 
Faux Fur
A faux fur coat is a staple piece to spice up a plain outfit and can be used in layering. Wearing faux fur can dress up a casual outfit, and some of the most fashionable celebrities like Kendall Jenner, Bella Hadid, and Lady Gaga have been seen sporting the style. The benefit of wearing faux fur, as opposed to real fur, is that no animals are harmed in its manufacturing.
Plaid and Pleated Skirts
More popular items for this winter are plaid and pleated skirts. Plaid print adds a touch of flair to one's wardrobe, while pleats work for any time of day, whether it is working at the office or an outing with friends. Plaid skirts can be worn in the fall or can be adapted into the winter season when dressed up with tights or a coat for warmth. Pleated skirts can be worn in all seasons and are a statement piece, coming in a variety of colors and styles. Skirts, especially plaid and pleated, never disappear from the trend list, and one can even mix 1960s-style pieces into his/her wardrobe for a vintage look.
Textures
This winter, it is all about adding depth with textures rather than prints, patterns, or designs. Try wearing a knit dress, handmade sweaters, or feathery, thick materials to look comfortable yet sophisticated. This look can also be achieved by wearing monochrome: either sticking to all neutrals or bright colors. 
Monochromatic Styles
Monochrome fashion has been spotted on runways for the most prestigious fashion brands, and the high fashion style can be achieved easily. A freshman in teacher Karen Goulet's Clothing and Textiles class shared, "We all take part in the current winter fashion trends. We love wearing neutrals and leggings."
Vintage and Faux Leather
Leather items from the '70s and faux leather are making a comeback this winter season. Whether it is a classic leather jacket, leggings, or flare pants, they are all statement pieces that can add some pizzazz to one's closet. Leather comes in numerous colors that can be styled for any occasion, or one can always stick with classic black. Leather has been everywhere: supermodel Gigi Hadid was spotted rocking a leather jacket and leather leggings, and actress Sophie Turner was seen wearing fiery red leather pants. Leather is back and here to stay this winter season.
Flare and Bootcut Pants
Flare and bootcut jeans, leggings, and trousers have taken the fashion world by storm. The most popular are the Aerie "Flare Crossover Leggings." The leggings are difficult to purchase because of how quickly they sell out; they gained immense popularity, and Aerie has everyone rocking its leggings. The crossover waist gives the illusion of a smaller waist, while the flare bottom accentuates the legs and gives the illusion of longer legs. Leggings are stretchy, cozy, and can be dressed up or down. Freshman Gillian Greenberg, a student in Goulet's Clothing class, said, "Flare pants are my favorite trend this season. I tried for so long to snag a pair of leggings before they sold out, and I am so happy I was patient. I love the look of them, and I can style them in so many different ways." 
Sweat Sets
Lastly, sweat-sets are perfect for winter, as they are comfortable, cute, and functional. With fun designs, colors, prints, or even monochrome, they can be worn anywhere for a casual and fashionable look. This is freshman Alexa Levine's favorite winter fashion trend. "I love the look of a matching set and it is an easy way to look fashionable while being comfortable," Levine said. "I have so many sets in different colors and some even with rips." 
Dressing fashionably can become difficult in cold weather, but these trends allow people to look chic while staying warm. Spring is right around the corner; who knows what the fashion world will bring next season.
About the Contributor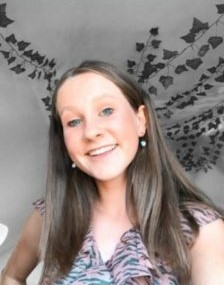 Katy Gottlieb, Staff
Hi, my name is Katy Gottlieb, and I am a member of the Class of 2025 as well as a staff member of Horizon. I am also a part of the school soccer team...