Parading Around A Homecoming Victory, 28-0
  Following Principal Joseph Rainis' advice to "Build Back Better," students and staff organized exciting homecoming and pep rally festivities to ring in the new school year. 
     "There are no words to describe how excited I was to find out that we were having a pep rally and homecoming like years before," said senior and Student Government Association (SGA) Slate President Emma Leighley. 
     Leighley said her favorite part of the homecoming week was seeing the fan-filled bleachers at Marion Street Elementary School during the big football game.
"I loved how everyone came together," Leighley said. "We haven't had something like this in a really, really long time, and it just made me the happiest I've ever been."
     Spirit week took place from Oct. 12 to Oct. 15, and students dressed to impress. The themes were as follows: Black Tie Tuesday, Walt Disney Wednesday, Throwback Thursday, and Green and Gold Friday. Members of the SGA made sure the cafeteria and school entrance were decorated for each day; the seniors decorated on Tuesday, the juniors on Wednesday, the sophomores on Thursday, and the freshmen on Friday. The seniors started the week off strong, setting up a red carpet and photo booth in the cafeteria.
     Friday's pep rally was highly anticipated since last year's was cancelled due to COVID-19. As per usual, Social studies teacher John Cornicello and heath and physical education teacher Jennifer Kramer hosted the event. Both Kramer and Cornicello said they were excited for the pep rally. 
     "Last year was a rough year, and it is awesome that we get to bring some school spirit back into the building," Kramer said. "We all need and deserve it."
     At the pep rally, seniors from each fall varsity sports teams introduced themselves. Since LHS did not have Sports Night last year, four students from each grade, along with four teachers, participated in a basketball relay race. Both the kickline team and cheerleading squad performed special homecoming routines. 
     The rally concluded with the reveal of the 2021 homecoming king and queen. The nominations for queen were seniors Grace Bodian, Lexi Capitali, Emma Leighley, Emily Paladino, Emma Ward, and Sophie Ward. The nominations for king were seniors Jaden Harvin, Harrison Kirby, Patrick LaBarbera, Christian Meszaros, Matthew Sollitto, and Vincent Sullivan. Leighley was voted homecoming queen, and Labarbera was voted homecoming king. 
     Before the football game, students marched through the town in their green and gold spirit wear. The procession was led with the members of the court in cars, and they were followed by the senior class with their homecoming banner. The seniors were awarded Classnight points for having the most students march in the parade. 
     "We got our inspiration for the banner from Dr. Seuss's book Oh, the Places You'll Go!" Senior Manaka Oguara explained, "Since college application deadlines are fast approaching, it's important we let people know that as long as they try new things and seize new opportunities, they can go anywhere in life." 
     The juniors, sophomores, and freshmen followed next in line for the parade. "We got inspiration from the marching band," said junior class President Gabi Geller. "We realized that most homecoming banners in the past focus on football, and we wanted to focus ours on the marching band since it plays such an important role in the parade and homecoming overall," added Geller. 
     Kickoff for the homecoming game, which was played against Bellmore-Merrick's JFK High School, took place at 2 p.m. The owls were victorious, winning 28-0. 
     Senior and captain Tyler Ippolitto discussed the team's excitement leading up to the game: "We had the 2010 Long Island championship team in the locker room hyping us up. This game was a must-win, knowing everyone was watching."
About the Writer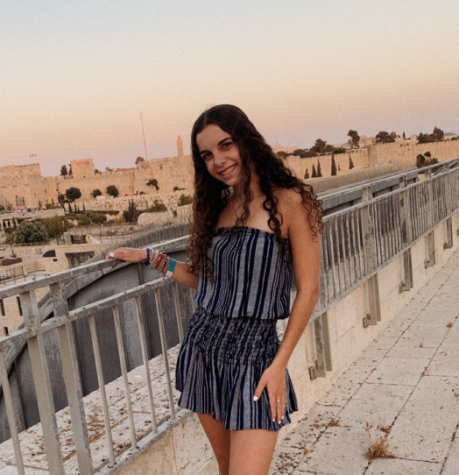 Emma Ward, Managing Editor
I am Emma Ward, and I am the News and Opinions online editor for Horizon. In my free time, I enjoy playing tennis, working out, and hanging out with my...