New York Football Offseason Preview
After disappointing seasons for the hometown New York Jets and New York Giants, both teams are looking forward to the draft as well as the offseason, where they look to turn their franchises around towards their ultimate goal: a Super Bowl victory. Both teams have young cores that are soon to improve and will hopefully become significant contenders in their respective divisions. The Giants will go into the offseason primarily looking for a franchise quarterback to replace the aging and declining Eli Manning; whereas, the Jets will look to build around superstar safety Jamal Adams and their young phenom quarterback Sam Darnold, which they can do with nearly $100 million in cap space and the third overall pick in this year's draft.
The Jets go into the offseason after a disappointing 4-12 season, which saw the end of Todd Bowles' tenure as head coach. In a major coaching overhaul, the Jets brought in former Dolphins head coach and young offensive guru Adam Gase, along with the fantastic defensive mind of Gregg Williams. With two new coaches at the helm, the Jets will look to use their cap space and draft picks to completely revamp the team into one that can compete sooner rather than later. And with this year's Super Bowl marking the 50th anniversary of the Jets lone Super Bowl win, sooner can not come soon enough, especially with Tom Brady out the door in the coming years.
Williams, who has used a 4-3 defense previously in his career, will switch to a 3-4 defense with the Jets, who have used the scheme ever since Rex Ryan was hired as head coach in 2009. The Jets are also looking to give Defensive End Leonard Williams help on the defensive line this season, as Williams is known to be double teamed at times, which has not let him fulfill his full potential of being called one of the best players in his draft class. Potential fits could be former New England Patriot DE Trey Flowers, former Jacksonville Jaguar and Los Angeles Ram Dante Fowler, and former Detroit Lion Ezekiel Ansah, who has had a long injury history. Potential draft selections include Ohio State product Nick Bosa, Josh Allen out of Kentucky and Alabama Defensive Tackle.
After acquiring an defensive lineman, the Jets could and most certainly should look to acquire at least one major weapon to assist the development and growth of Sam Darnold and a typically woeful Jets' offense. One possibility is former Pittsburgh Steeler Le'Veon Bell. The Jets have the money to throw at Bell, as he is looking to receive a deal that will shatter the previous record for a running back (Todd Gurley signed a four-year, $57.5 million deal last year, the current highest-ever deal for a running back, with $45 million guaranteed). Jets Safety Jamal Adams has been publically recruiting Bell for the past few weeks, which could eventually pay off, as the Jets have been considered early favorites to land the superstar running back. Overall, while it is not likely the Jets will make a run at the Patriots and their 12 consecutive AFC East division titles, next year could certainly be a step in the right direction.
The Giants are in a very interesting situation, as the team has young stars in running back Saquon Barkley, who was recently named Offensive Rookie of the Year after becoming only the third rookie in NFL History to accumulate 2,000 yards from scrimmage in their first campaign (Eric Dickerson and Edgerrin James) and wide receiver Odell Beckham Jr., who has arguably the best hands in the league. Yet, the team has lacked stability at the quarterback position for quite some time, as the once great Eli Manning has declined and has been widely scrutinized for years.
It seems like the Giants are finally ready to begin the process of moving on from Manning, and the draft is where they will do it. At the very least, one of the top tier quarterbacks will be available come the Giants' selection in the sixth draft spot this year. Potential draftees include  Ohio State's Dwayne Haskins, Duke's Daniel Jones, and Oklahoma's Kyler Murray, the reigning Heisman trophy winner. Out of the three, Haskins is widely regarded as the most complete and strongest passer. Many fans here at LHS, such as senior Jake Wynn, are heavily in favor of a new start at quarterback for Big Blue: "I want the Giants to draft Haskins because they need to move on from Manning. Haskins is the best option available in the draft."
No team in front of the Giants are in need of a quarterback, but multiple teams, such as the Jacksonville Jaguars and Washington Redskins, whose quarterback situations may be even worse than the Giants', may try to trade up for a better pick, meaning the Giants might end up limited in their choice come their sixth pick. Jones and Murray are considered a slight downgrade from Haskins, but they are far from liabilities. Both had fantastic seasons in college, and Murray clearly has the best upside as a dual-threat quarterback. Although this year's draft is a bit of a letdown for quarterback-needy teams (last year's draft saw five quarterbacks taken in the first round, with the Giants opting to pick Barkley with the second overall pick), the Giants still have multiple options that could further their chances of winning a Super Bowl in the coming years.
This offseason in the NFL looks to be an exciting and pivotal one for New York football fans, as both the Giants and the Jets have legitimate chances of revamping their teams enough to make some noise next year. Can the Jets land any big names in free agency? Who will the Giants draft as their next quarterback? If the past is any indicator, fans may want to hold their breath for a while before taking a sigh of relief because anything can happen.
About the Writer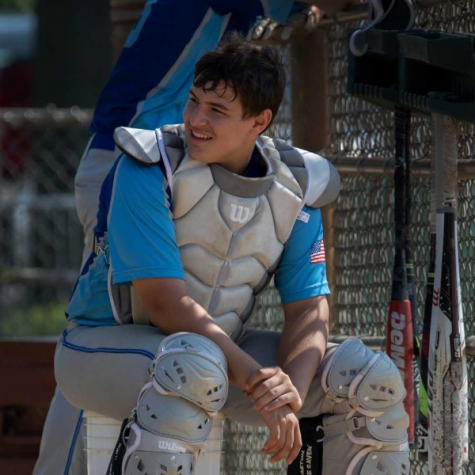 Dylan Burfield, Managing Editor
I am a student in the class of 2020. I have been writing for Horizon, both online and print, since my freshman year. I am now a managing editor on the...