What's Popping for LHS's Prom?
Summer is on the horizon, and with it, finals, Regents exams, graduation, and most are all fast approaching. But what some might be most looking forward to is prom. To celebrate the highly-anticipated event, here are some of LHS's favorite prom trends this season. 
Primarily, green is the "it" color for prom dresses this year. Senior Sofia Yaker commented, "I've seen a lot of green dresses this year. I've always wanted a green dress for prom, so I think it's pretty funny how this year they are making a breakthrough and becoming very popular." Forest green has been especially popular, since it complements any skin tone or hair color. Along with green, red has been very popular this year. Senior Jessica Fowler mused, "I've noticed red is definitely the color this year. Lots of people got that, along with a high slit and something simple. Red is a nice color; I like it!" Senior Kaelynn O'Brien added, "Certain trends I have seen on social media are open backs and a slit in the front." 
Additionally, criss-cross-style dresses have been spotted in stores. Senior Tyla Vuotto remarked, "I noticed that on most of the backs of the dresses the strings criss-cross. My prom dress criss-crosses in the back, so I really like this trend." O'Brien agreed, saying, "I like these trends because I've always wanted an open back for my prom dress, and I really like the look of it, especially with [a] bright pink color!" 
Furthermore, sparkly dresses have been very popular this year, specifically the Jovani sequin dresses as mentioned by Vuotto. Sequins seem to be making a big comeback. In contrast, the silk dresses from last year are out. Senior Alexi Deninno noticed the following trend:  "The more common silk dresses are less popular this year. I have noticed that more people are getting sequins or beaded dresses. I like the new trend because I feel like each person has a unique and different dress, and they are generally less similar." 
Trends are being posted on various social media platforms, including TikTok, Instagram, Snapchat, and Facebook. It seems almost  everyone is influenced by the media to follow fashion movements. Senior Hailey Samelson said, "I think every trend that is shown is better than the next. I love how everyone follows one another, and how other people inspire me to wear a specific outfit, such as my prom dress." However, just because you see these trends does not mean you have to follow them. It is absolutely okay to dress uniquely and to be a trendsetter by establishing your own style. Samelson added, "Prom is a day to express yourself through a dress, and basically create your own trend. I am very excited to see everyone's dresses and can't wait for prom!"
About the Contributor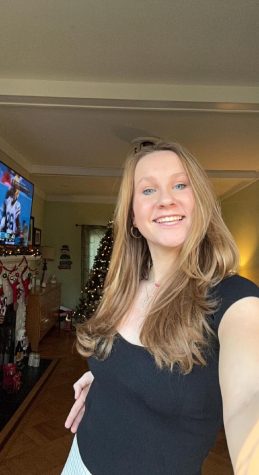 Katy Gottlieb, Editor
Hi, my name is Katy Gottlieb, and I am a member of the Class of 2025. I am currently the A&E section editor for Horizon and I am also a part of the...