Getting in the Hours: Summer Community Service
Summer break is a time to sit back and wind down after a strenuous school year filled with tests, projects, essays, and other school-related pursuits. However, the work does not end there; students still need to complete community service hours. While summer community service may not be a school requirement, getting hours over the summer is something guidance counselors highly recommend for their students to do.
"What a student does outside of school throughout the year or during the summer tells as much of the story to college admissions and employers that is often just as important as the academic aspects," explained Director of Guidance Laurie Mitchell. She continued to explain that while good grades are a very essential component of getting into one's dream school, partaking in activities that go toward a greater good and show what kind of person a student is tends to draw the attention of college admissions. "The summer is a great opportunity to take advantage of time off, develop passion, become a leader, show initiative, deepen an academic pursuit, self-fulfillment, make new friends, and create memories," she continued.
Completing community service hours can help students get a Silver Cord at graduation. The Silver Cord program recognizes students who have completed 200+ hours during their four years at LHS.
Many wonder how to go about getting community service when there are so many opportunities staring them in the face. Generally, there is volunteering, internships, summer jobs, and pre-college programs, to name a few. Students may opt to volunteer with an organization or locally at community areas like the library. Consulting with one's local library about completing community services is one way to easily gain hours. They typically would have students complete tasks like monitoring children's crafts and activities or putting away books.
Students may also volunteer at camps, such as Camp Anchor. This provides students with the opportunity to learn valuable team building skills and form new relationships with campers or counselors. 
A common summer spot students have volunteered at and eventually worked for is Summer Playground. Summer Playground is a summer program where students spend their day at either South Middle School or West End Elementary School and take part in activities and field trips run by advisors and volunteers. Many Lynbrook students have volunteered there over the years. Sophomore Abigail Piazza volunteered there last summer and had a great experience. "I'm not really good with kids, but it ended up being fun. I enjoyed talking to the kids and being able to go on field trips," she said.
There are many local opportunities to complete community service; nonetheless, students should not stop there. Students can make use of family and friend connections to find other ways to complete their hours. Sophomore Catherine Christakos's mom works at a school for disabled children, so she has volunteered there over the summer to get her hours. Catherine emphasizes the importance of community service: "Completing community service, no matter what time of year, is important. Taking a day off to help your community is all worthwhile."
Despite community service opportunities being abundant over the summer, it is still significant to note students do not take advantage of completing community service as much as they should. Mitchell expressed, "Many students are active volunteers, while others may travel with their family, go to camp, take teen tours, are involved in summer athletic teams, take pre-college courses, work with a mentor for their research, have a part time job, or possibly have family obligations that preclude them from getting involved. Some students also spend the summer hanging out with their friends and that is a choice many make as well."
While Christakos agreed with Mitchell's statement, she also noted, "Kids have little to no motivation to do anything in the summer that requires work because, to be fair, it's their vacation. If community service was more appealing to students, I think more people would do it! Instead of making community service sound like a job they have to get done, the fun sides should be promoted, and the experience one can get out of it."
Summer community service may not be a major priority for all students, but it is very beneficial. It stands out on college applications, and the specific types of community service students partake in speak volumes to the kind of people they are.
In all, search for opportunities over the summer. Consult with nearby resources that can help you find activities suitable to your interests. The LHS Guidance Department is a great tool to jumpstart your summer. Furthermore, the internet is an elite tool to find other opportunities that may not be within the district. Do not be the student that goes for the minimum four hours every year; strive for more!
About the Contributors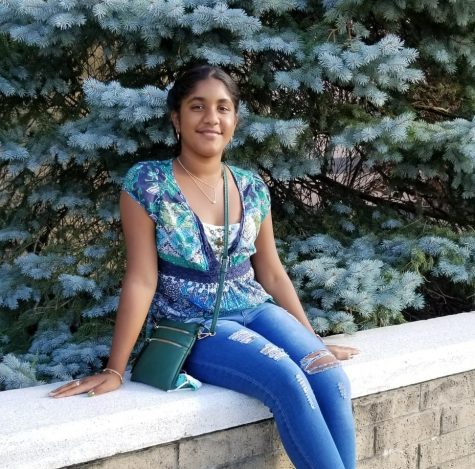 Miranda Mangru, Online Editor-in-Chief
Hi! My name is Miranda N. Mangru. I am a member of the Class of 2025 and an assistant editor for the Horizon newspaper. I take pleasure in listening to...