Class Night '23 Turned the World Right Side Up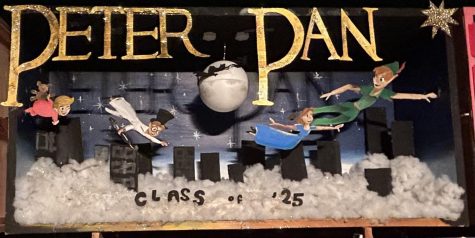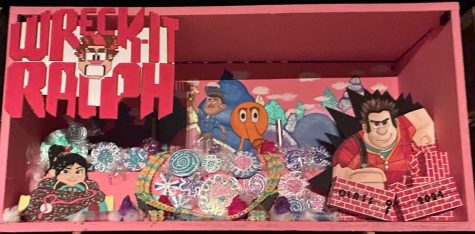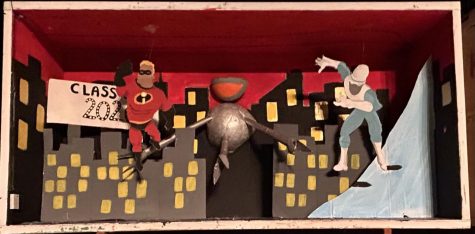 Class Night has been a tradition at LHS for 95 years. Every year, each grade is responsible for composing an original skit that includes four dance numbers–kickline, boys' dance, girls' dance, and couples' dance–and designing its own props, backdrops, banners, and boxes to complement a twenty-minute skit. At the end, an anonymous board of  LHS alumni votes on the skits and combines scores with points from the homecoming banner and Sports Night competitions to decide on the winning grade. This year's theme, chosen by the senior class, was "A World Turned Upside Down," and freshmen, sophomores, juniors, and seniors performed their own spin on the following Disney movies: The Incredibles, Peter Pan, Wreck-It Ralph, and Monsters, Inc., respectively.
The seniors were led by chairs Dylan Baltes and Jaiden Moreno and advised by English teacher Mary Kirby and accounting/Virtual Enterprise teacher Benedict Tieniber. As they headed into Class Night behind with 55 points from Sports Night, the seniors did not disappoint: The Class of 2023 is known for its winning skits, primarily because of renowned skit writer, Jaiden Moreno. This grade had won class night last year as juniors, which was the first time the junior class had won in five years. In their skit, framed as a comedy show by the Monsters of Monsters Inc,, they highlighted the importance of laughter. Dances featured hard-hat technicians, two-headed monsters, backup dancers in bedazzled purple ties, and a yellow-suited riot control team. Senior Andrew Schiller, who played Walter Wizazz, the new CEO of Monsters, Inc., shared, "I just enjoy coming together with people to make an entertaining and funny skit; some are my friends, but some are just acquaintances who I would never talk to if we weren't in the same grade. Regardless, we all have fun and laugh throughout the whole season." Tieniber added, "The seniors worked very hard, and I was proud to see them win two years in a row."
Bringing 56 points from Sports Night to the table, the juniors were led by chairs Zachary Buxton and Michael DeJoseph and advised by ENL and English teacher Karen Smith and guidance counselor Andrew Rosenberg. In this skit, Fix-It Felix had to work with the other characters to create a power source to save characters that vanished while traveling between games, including Wreck-It Ralph. Playing Wreck-It Ralph's sidekick and best friend, Vanellope von Schweetz, junior Aubrie-Lynn Wilkonski had a great experience. She explained, "I enjoyed playing the role as Vanellope Von Schweetz for the junior skit! I loved doing a voice to make the character come to life and performing with all the cast!" Featuring dances with hard-working contractors, Sugar Rush racers, and disco-suited players, the juniors aimed to teach their audience to not give up in destitute situations and trust that things will work out in the end. Junior Parker Sloan, who played Fix-It Felix, elaborated, "I enjoyed being able to collaborate with people in my grade on something I have never done before: acting. I liked being able to be a part of something that was fun and competitive for the school."
The sophomores were led by chairs Peyton Leighley and Liam Mylan and advised by art teachers Michael Kunz and Vincent Lentini. Having won Sports Night, the sophomores entered Class Night in the lead with 67 points. Their skit showcased a Peter Pan who wanted to stay in the real world–a Peter Pan who did, in fact, want to grow up. The sophomores aimed to send the message that growing up is not such a bad thing when you have a community that supports you. The students danced as lost girls and boys, high schoolers, and pirates. Leighley expressed, "It is definitely hard to get so many people to come together and finalize so much in such little time; however, it is amazing to see the show come together and see that our hard work really pays off." Lentini also added, "They had great peer leadership which definitely contributed to their successes. They are a great group of kids, and we are very happy to be their advisors. We are expecting great things from all of them in the future."
The freshmen were led by chairs Dani Zhanay and Kaden Rogers and advised by health teacher Brian Donaldson and English teacher Robyn Freiman. This skit featured a concerned Elastigirl who wished to continue being a superhero amid the emergence of AI robots who were taking over jobs, all while Mr. Incredible sought to retire. The moral taught by this performance was that even when things are hectic, it takes nothing more than working together to solve the problem at hand. The freshmen dances included scientists, female superheroes, an army of AI robots, and a final dance with all participating dancers. Freshman Timothy Neri, who played Mr. Incredible, enjoyed his first Class Night experience. He explained, "I enjoyed being able to hang out with my friends and new people after school during rehearsals. I took away [from the experience] the ability to work very well in teams and the ability to listen to other people's ideas." Freshman Ryan Dugger, who played Dash Parr, also enjoyed the rehearsals. "[They were] fun, but also, we were able to get the work done," he noted. "If you don't really know the people in the skit before, then you will definitely afterward," Dugger added.
The ecstatic energy that echoed from the audience and amongst all the classes made the evening one to remember. Yet, it all boiled down to the final scores. Winning first, second, third, and fourth places, respectively, were the seniors (161 points), sophomores (154 points), juniors (100 points), and freshmen (93 points). The seniors placed first in four class night categories–scenery and costumes, dances, backboards, and skit–while the sophomores won second in four categories and took first for banner. "It is not common for sophomores to get second place in Class Night, and I could not be more proud of my grade and how hard they worked," Leighley shared.
The Class Night skits and dances were, without fail, crowd pleasers. Principal Matthew Sarosy expressed, "I thought both the theme and the skits were right on target. Each skit had a story where something was 'turned upside down.'" For years, this event has been a way for the student body to showcase its artistic talents and form new friendships.
About the Contributors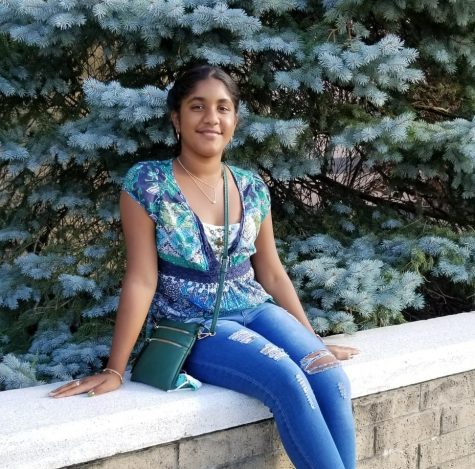 Miranda Mangru, Assistant Editor
Hi! My name is Miranda N. Mangru. I am a member of the Class of 2025 and an assistant editor for the Horizon newspaper. I take pleasure in listening to...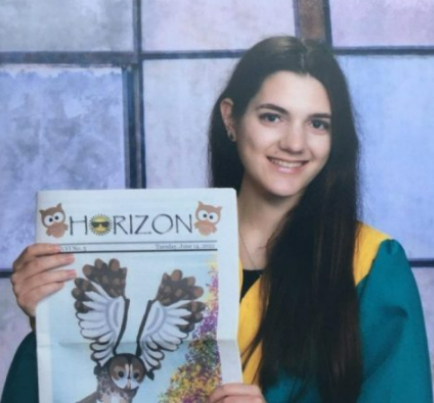 Kate Chiulli, Print Editor-in-Chief
I am a member of the Class of 2023 as well as one of the editors-in-chief of the print edition of Horizon. I enjoy reading, playing the violin, and using...