NFL Mock Draft 2.0
The NFL Draft is mere hours away. Things have changed a lot since my last mock draft, with some players skyrocketing up boards and others falling off of a cliff. Today, I will be making my final predictions for the 2020 NFL Mock Draft. I will not be going as in depth with the picks as last time; I will just to try to make this short and sweet.
Pick 1 Cincinnati Bengals: QB Joe Burrow, LSU – No need for any explanation here. Joe Burrow is going number one. It has been the worst kept secret in football. It will give the Bengals a true franchise QB and immediately make them sleeper playoff contenders with that exceptional offense.
Pick 2 Washington Redskins: DE Chase Young, Ohio State  – Again not much to say here. Young is the best player in the draft. He would be the number-one pick in most years. All of the "Redskins are taking Tua" rumors are complete smokescreens in an attempt to have teams trade up. No one is buying it. The Redskins will stay here and take Young, bolstering their young defense.
Pick 3 Detroit Lions: CB Jeff Okudah, Ohio State – This is where the draft really starts. There have been some QB rumors in Detroit, but I don't think Matt Stafford is done yet. Instead, they will replace the departing Darius Slay with a new young CB in Jeff Okudah, pairing him alongside Desmond Trufant and completely rebuilding the CB position in just one offseason.
Pick 4 New York Giants: LB/S Isaiah Simmons, Clemson – If you saw my 7-round Jets and Giants mock draft, you saw that I went Isaiah Simmons after the simulator chose the three others before him. I am sticking to that. Simmons gives the Giants youth and versatility on a defense that desperately needs it. The Giants are able to take a player with the versatility that you don't see enter the NFL very often. They can always address the need at o-line later in the draft or through free agency and trade.
Pick 5 Miami Dolphins: QB Justin Herbert, Oregon – This is the first big change from my previous mock draft. I have the Dolphins taking Justin Herbert over Tua Tagovailoa. Herbert is a tall QB with skills to be a top-three pick. He would have been considered a top QB in last year's draft had he chosen to enter. Instead, he entered this year, and he will be the savior the Dolphins need. The Dolphins will pass on Tua because of his unknown medicals and will rather take the QB with a similar talent level but no injury fears.
Pick 6 Los Angeles Chargers: QB Tua Tagovailoa, Alabama – Tua's drop did not last long at all. He just slides one more pick down to the Chargers, who have reportedly been thought of as a team to trade up to get Tua. They are still able to get him while staying where they are. They may want to give him a redshirt year behind Tyrod Taylor to make sure he is fully healthy, but, nonetheless, they have found their Phillip Rivers replacement as franchise QB.
Pick 7 Carolina Panthers: DT Derrick Brown, Auburn – The Panthers have rebuilt their offense this offseason, signing Robby Anderson and Teddy Bridgewater. Now it is time to do the same on defense. They start by taking Derrick Brown to replace the departures of Gerald McCoy and Dontari Poe. This gives the Panthers a player that, similarly to Quinnen Williams with the Jets last year, has all the talent in the world but still may take some time to develop at the NFL level.
Pick 8 Arizona Cardinals: OT Jedrick Wills, Alabama – Give Kyler Murray protection. That is the goal for the Cardinals this draft. They have already given him the weapons by adding DeAndre Hopkins; now it is time they protect him so he can use those weapons. They  will take Jedrick Wills as he can immediately fill in at RT and give Murray the much-needed protection. The Cardinals luck out and have the choice between all four of the big-our o-linemen, so they take the one who many people believe is the best out of the four.
Pick 9 Jacksonville Jaguars: OT Tristan Wirfs, Iowa – The Jaguars have a need at virtually every single position. Lucky for them, they have two first-round picks, so they can address those needs again later. For now, they take the best player available in Tristan Wirfs, giving Gardner Minshew some protection for this upcoming season.
TRADE
Broncos receive #10
Browns receive #15, #77, #95 and a 2021 5th Round Pick
Pick 10 Denver Broncos: WR Jerry Jeudy, Alabama – The Broncos trade up to get the guy they covet. They have three teams ahead of them that are thinking WR in the Jets, Raiders, and 49ers, so the Browns tempt the Broncos into trading up. This allows the Broncos to get the number-one option for Drew Lock and creates a WR duo that could wreak havoc on secondaries for years to come in Jeudy and Courtland Sutton. The Browns gain a huge haul to move down five picks, where the guy they want still may be available.
Pick 11 New York Jets: OT Mekhi Becton, Louisville – With two of the top-four OL off the board, and one of the top WRs off the board, the Jets now have a decision to make. I believe they still go Becton here. He is a mammoth of a man who has so much potential. Despite the flagged drug test, it does not seem like it is a major concern to many teams, so Becton still ends up here. The Jets address the biggest need they have and leave the WR need for the second round.
Pick 12 Las Vegas Raiders: WR CeeDee Lamb, Oklahoma – The Raiders still get a WR, and the one I believe is the best in the draft. CeeDee Lamb is phenomenal. He has good height for a WR, and he is incredible running with the ball after the catch. He is a bit lanky, which is a little downside to him, but he makes up for it with great instincts and ability, giving Derek Carr a legitimate number-one option to go along with breakout TE Darren Waller.
Pick 13 San Francisco 49ers: WR Henry Ruggs III, Alabama – The fourth player from Alabama taken, Ruggs has elite speed, and upon entry into the league, will be with the likes of Tyreke Hill as the fastest player in the league. He joins a team that is just coming off of a Super Bowl loss and has very few needs outside of the WR position. He joins a young WR group with Deebo Samuel as future targets for Jimmy Garapolo as the 49ers look to return to the Super Bowl.
TRADE
Falcons receive #14
Buccaneers receive #16, #78
Pick 14 Atlanta Falcons: CB C.J Henderson, Florida – The Falcons have been rumored to trade up for a CB for a few weeks now. They don't have to give up much to do it, giving up a third-round pick to move up two spots and take Henderson, who is someone they have liked a lot. He will quickly replace the departure of Desmond Trufant in the secondary. As for the Buccaneers, they are able to get an extra third-round pick to move back, where they believe they can still get one of the two players they really want.
Pick 15 Cleveland Browns: DT Javon Kinlaw, South Carolina – The Browns wanted Henderson but will be fine taking Kinlaw, who adds some toughness to the defense. They also could have went Andrew Thomas here, but with the addition of Jack Conklin in free agency, they decide to go Kinlaw and pair him up with the returning Myles Garrett, Olivier Vernon, and Sheldon Richardson to make the Browns' defensive front a force to be reckoned with.
Pick 16 Tampa Bay Buccaneers: OT Andrew Thomas, Georgia – The Buccaneers are able to trade down and still get the guy they really want in Andrew Thomas. This gives the Bucs some stability on the offensive line and gives Tom Brady much more time to find his elite targets in Mike Evans, Chris Godwin, and Rob Gronkowski. They are even able to get the player they have wanted along with an extra third-round pick, making this a huge win for the Bucs, who seem to continue winning the more they get into the offseason.
Pick 17 Dallas Cowboys: WR Justin Jefferson, LSU – I didn't know what to do with this pick. The Cowboys have a pressing need at CB with the departure of Byron Jones via free agency. However, there is just not anyone worth a pick at 17. So, since they missed out on Henderson, they take Justin Jefferson to pair up with Amari Cooper. This gives Dak Prescott multiple threats on the outside that could make the Cowboys the favorites in the NFC East.
TRADE
Eagles receive #18
Dolphins receive #21, #103, #145 and a 2021 3rd round pick
Pick 18 Philadelphia Eagles: WR Denzel Mims, Baylor – The Eagles get extremely desperate here. After watching their number-one target go to a division rival, they trade up to jump ahead of the WR needy Jaguars to fill their most pressing need. This will allow the Eagles to remain competitive in the division, and though they probably trade too much to come up and get Mims, it is the right decision for a team in win-now mode.
Pick 19 Oakland Raiders: OLB K'Lavon Chaisson, LSU – The Raiders luck into Chaisson, who after the trades becomes available at 19. I'm not saying he is Kahlil Mack, because he isn't, but this finally gives the Raiders a true Kahlil Mack replacement. He is someone with upside, and he is someone who can improve the Raiders' defense right away.
Pick 20 Jacksonville Jaguars: CB Trevon Diggs, Alabama – Another 'Bama player off the board. Diggs replaces the departing A.J. Bouye and the traded Jalen Ramsay. Though he has some concerns with his play, as we have seen his stock drop a bit in the past few weeks, he is the right pick for a team desperate for some corner help. Though not completely rebuilt, this is a start for the Jaguars in an attempt to rebuild the secondary.
Pick 21 Miami Dolphins: OT Josh Jones, Houston – In my Jets and Giants mock draft, the simulator has Jones fallen to the Giants in the second round. I personally am a big fan of Jones, whom I believe may take time, but can be a solid player in the NFL. This starts the rebuild of a Dolphins offensive line that was downright awful last year, and it gives some much-needed protection for the newly drafted Justin Herbert.
Pick 22 Minnesota Vikings: CB Kristian Fulton, LSU – Fulton replaces the departed Trae Waynes and Xavier Rhodes at CB. The Vikings get a bit desperate here because of the amount of CBs off the board already, so they make sure they get their guy here. They pick again in just three picks, so they will be able to fill more needs quickly.
Pick 23 New England Patriots: QB Jordan Love, Utah State – I was right in my first mock draft. The Patriots have to draft a Tom Brady replacement, and what better way to do that than with Jordan Love? This gives Belichick his QB of the future, and this can allow him to develop behind Brian Hoyer and Jarrett Stidham for a year before beginning his time as a franchise QB. Again, he is not Patrick Mahomes, but the process that he may be able to go through is eerily similar to the former NFL MVP.
Pick 24 New Orleans Saints: OLB Kenneth Murray, Oklahoma – The Saints were just a pick away from a Drew Brees' future replacement. Instead, they stick to win-now mode and take Kenneth Murray, to pair him alongside Demario Davis at LB for the Saints. If the Saints have any weakness, it is the linebacker position, so this pick can help them a lot.
Pick 25 Minnesota Vikings: Safety Xavier McKinney, Alabama – The Vikings continue to bolster the secondary. McKinney can play alongside Harrison Smith and give the Vikings an immediate improvement in the secondary. In one round of the draft, the Vikings will be able to completely fix their secondary, making it a future force once McKinney and Fulton develop a bit.
Pick 26 Miami Dolphins: DE A.J Epenesa, Iowa – The Dolphins would have liked to have McKinney but will instead take the best player available in A.J. Epenesa. They have needs everywhere, so after going offense for the first two picks, they can now start rebuilding the defense, pairing Epenesa up with last year's first-round pick Christian Wilkins.
Pick 27 Seattle Seahawks: OT Erza Cleveland, Boise State – The Seahawks seem to take an under-the-radar prospect every year. This year, it is with Erza Cleveland. Cleveland had a great combine performance, and he has been a fast riser. He will replace the departure of George Fant to the Jets via free agency and improve a lackluster offensive line.
Pick 28 Baltimore Ravens: WR Jalen Reagor, TCU – The Ravens have virtually no major needs. So, they give Lamar Jackson some more weapons, creating a young core that should terrify the NFL in Jackson, Marquise Brown, and Reagor. It will make the Ravens can't-miss football for the foreseeable future.
Pick 29: Tennessee Titans: DE Yetur Gross-Matos, Penn State – The Titans were just a game away from a Super Bowl appearance last season. Whether that was a fluke, we will see, but the Titans will be in win-now mode now. They take Gross-Matos to fill a need off the edge and provide a cheaper solution to a Jadaveon Clowney signing, especially for a team that still needs to re-sign its star RB.
Pick 30: Green Bay Packers: WR K.J Hamler, Penn State – Aaron Rodgers is not getting any younger. So, the Packers need to get as many weapons as they can in order to make another Super Bowl run. Pairing Hamler with Devante Adams is exactly what the Packers need to do to try to make one more Super Bowl run with Aaron Rodgers.
TRADE
Jets Receive #31, #210
49ers Receive #48, #79, #158 2021 3rd Round Pick
Pick 31: New York Jets: WR Tee Higgins, Clemson – I had the Jets getting Higgins in my Jets and Giants mock draft because the simulator had him fall to them at 48. I believe, however, that plenty of WRs are going to be taken in the first round. So, the Jets are going to trade back into the first round to get a guy whom they have met with and seem to like a lot in Tee Higgins. He brings in a rare combination of size and speed, and he will give Sam Darnold another weapon to help his development. The Jets may have given up a lot to get him, but it was to get a guy who could really turn into something special. 
Pick 32: Kansas City Chiefs: CB A.J Terrell, Clemson – The Super Bowl Champions will continue to add more exceptional players, adding A.J. Terrell to a secondary that was largely bailed out by the team's spectacular offense. This will allow the Chiefs to continue to improve in an attempt to make a run at back-to-back Super Bowl titles.
About the Writer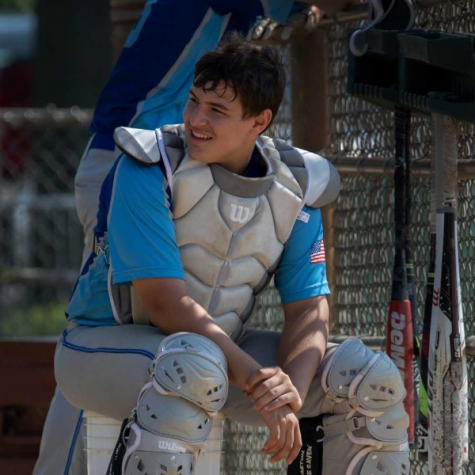 Dylan Burfield, Managing Editor
I am a student in the class of 2020. I have been writing for Horizon, both online and print, since my freshman year. I am now a managing editor on the...