Faculty and Community Members Recognized at Founders' Day 2023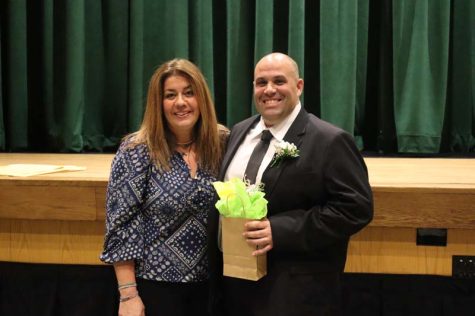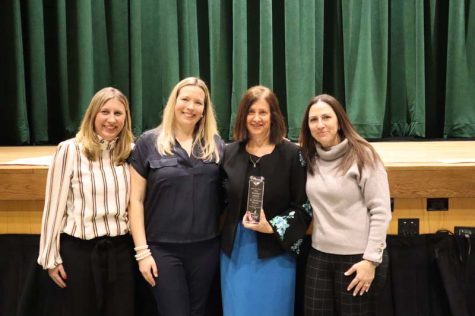 The annual Founders' Day award ceremony recognizes and honors individuals who have gone above and beyond for the welfare of the Lynbrook Community. This year, it took place in the LHS auditorium on Monday, February 13, at 7 p.m. Organized and facilitated by the Lynbrook Parent Teacher Association (PTA), the event presented the following thirteen Lynbrook teachers and parents with Honorary Life Membership Awards: Corey Guglielmo and Michael Kunz (LHS); Lisa Lanzello and Justin Randazzo (South Middle School); Sandra Gettenberg (North Middle School); Andreia Davies and Peter Deschler (Marion Street); Dr. Christine Doran and Laura Greene (West End); Katherine Kelly-Roth and Karline Wilson Schmieder (Waverly Park); and, Jennifer R. Powder and Mrs. Laura MacLeish (SEPTA).
In addition to the above awards, Lynbrook parent Jennifer Denker received the Distinguished Service Award, and superintendent Dr. Melissa Burak was honored with the first-ever Diamond Award. According to the PTA council, "[The Diamond Award] is the highest honor that can be bestowed upon any individual. Honorees must have worked with PTA to further the goals of being a powerful voice for all children, a relevant resource for families, and a strong advocate for the education and well-being of every child." 
First Vice President of the PTA Executive Board Joanna Santoli explained, "This year, Dr. Burak's name kept coming up–both because this is really our last opportunity to honor her, and because over the past few years especially, she has really steered the ship, so to speak– and the waters weren't always calm. So, when we decided she was our other pick, we had to find an honor that made sense because she had already earned an Honorary Life Membership and the Distinguished Life. So, we reviewed the other honors that exist in the PTA and found that the Diamond Award was the perfect fit." 
Retiring this year, Dr. Burak has served the Lynbrook district for nearly 30 years and has transformed it in the interests of the children. Burak expressed, "It was lovely to hear that the PTA recognizes some of the programs and initiatives that have been implemented during my superintendency. I was quite humbled when I was informed about this recognition. I am grateful to have had the opportunity to serve the students and families in the Lynbrook schools." 
LHS art teacher Michael Kunz has worked at the high school for the last fifteen years. Kunz currently advises the National Art Honor Society, Night of the Pumpkins, Spring Art Auction, and the Bern Seiderman Gallery, and he also co-advises the Class of 2025. He is also the Music and Drama Program Designer and the middle school girls' lacrosse coach. He has accumulated many accolades including the You Go the Distance Award (2017) and The Excellence in Teaching Award (2018). 
Kunz is very dedicated to art and his students: "I always loved to draw, paint, and be creative. I knew early on that no matter what I chose to do in life, I had to enjoy doing it. I love teaching classes that have students that are passionate about art and design. I feed off the creativity and enthusiasm." Junior Jasmine Ostroff takes Kunz's AP Art class and has learned a lot from him. "He has always pushed us to try new mediums and styles, which has really challenged me to widen my range as an artist. I think he deserves the award because he is very dedicated to making us improve as artists while enjoying doing it. He is [also] always mindful of opportunities to donate or use our artwork to benefit others, which you can see through all the NAHS does." 
Sophomore Catherine Christakos had Kunz as a freshman and added on to Ostroff's comments: "Mr. Kunz influenced my love for art in a way where he taught me how to be patient; learning how to appreciate your work and have confidence." Also mentioning the fundraisers and extra work Kunz does for school clubs, Christakos remarked, "He really cares for Lynbrook and its students." 
Held annually since 1918, Founders' Day takes one day out of the year to shine light on Lynbrook residents who play a critical role in the upkeep and improvement of the school district and community. All the individuals who received recognition earned it through excessive community service and participation in school-related activities. They, and so many more, are assets to the Lynbrook community. 
About the Contributor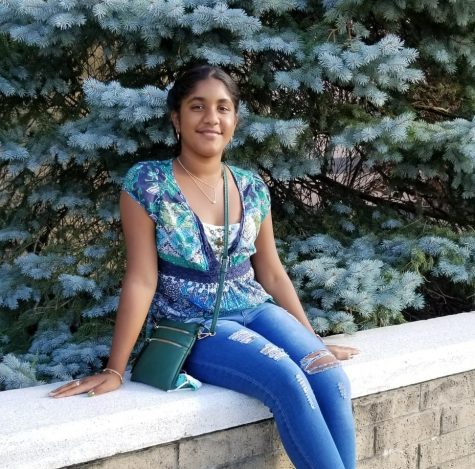 Miranda Mangru, Assistant Editor
Hi! My name is Miranda N. Mangru. I am a member of the Class of 2025 and an assistant editor for the Horizon newspaper. I take pleasure in listening to...