LHS Teachers Before They Were Teachers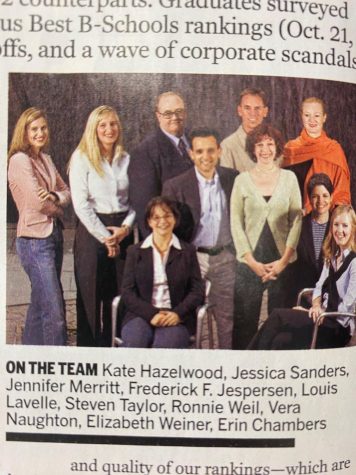 LHS is full of talented staff members, and many students may not know the full extent of their teachers' experiences, especially those who previously held careers other than in the field of education. Enlightening students with both academic and life lessons, many of these teachers draw from years of experience, whether that be professional or personal. Among them are a former journalist, chef, fashion designer, and video producer. 
For English teacher Jessica Sanders, journalism seemed to be the ideal career right out of college. However, this was not necessarily planned. "I actually thought I would attend law school," said Sanders. Nonetheless, she landed an internship for BusinessWeek magazine (now known as Bloomberg Businessweek), resulting in a full-time job offer prior to graduating college. Her stint at BusinessWeek spanned for almost 12 years, where she eventually rose from the ranks of a college intern to an editor/senior producer. Looking back on her career, Sanders realized mentoring to groups of interns was one of her favorite activities. Her passion to help others stemmed from her high school days, where she was trained to become an "AIDS Educator" by the Suffolk County Board of Health. "With this training, I had the opportunity to visit middle school students in my district to educate them about AIDS, which was a prevalent issue," she said. "I loved this experience." Sanders also participated in her school's Student Athlete Leadership Club, where she visited other schools within her district to speak to younger students. It was another endeavor she described as one of the "highlights" of her high school experience. 
Despite her prosperous career in journalism, Sanders decided to leave the field in the wake of the traumatic events of 9/11. "It really got me thinking about what I wanted to do with my life. While I liked the various jobs I held at the magazine and the people I worked with, I often felt unfulfilled. I was looking for a greater purpose in what I did," she said. Upon being inspired by a close friend and hearing many others speak highly of education, Sanders began her master's in education in January of 2002 while working full-time for BusinessWeek. She also continued to edit as a freelancer during her first three years of teaching at LHS. "I don't think my younger self would be completely surprised that I became a teacher; I did always love playing school when I was little!" Sanders said. "While I had visions of being a fashion designer, an architect, a doctor, a lawyer, and a marketing professional somewhere along the way, I think I ended up where I am supposed to be, and I am very grateful for that."
Social studies teacher David Rabinowitz never expected to take up teaching. Formerly a restaurant manager and chef, he thought that he would cook professionally for life. "I didn't consider other professions at first," he said. An avid cook in college, Rabinowitz chose hotel and restaurant management when it was time for him to choose a path during his undergraduate degree. This led to his employment at a restaurant, where he grew to prefer the back-of-the-house cooking over the front-house management of customers. "The unappreciative customers were challenging, and I knew there had to be a better career for me out there somewhere," he said. "I did not know teaching was the right decision. I took a leap of faith."
Prior to her career teaching Family and Consumer Sciences, Karen Goulet was fascinated by the work of textile design and color. Majoring as a fashion design major at the Fashion Institute of Technology (FIT), Goulet admired textile projects displayed in the halls, driving her to complete an associate's degree in textile/surface design after finishing another associate's degree in fashion design. A few years later, Goulet returned to FIT to gain a bachelor's degree in surface design at the encouragement of her mother, who said to Goulet that she "might want to teach one day." Her mother's rationale came true because after 20 years in fashion, Goulet decided to quit. "I traveled and lived in Taiwan for three years. I worked at many different companies and designed boy's wear, men's wear (Van Heusen), junior sportswear, missy sportswear, children's wear, and home fashions. I traveled to NYC for five years for school and fifteen for work," she said. "I was ready for a new career." 
Encouraged by her family, Goulet took classes at Adelphi University on Sundays and weeknights to obtain certification in childhood education. She became certified to teach K-12 art and family and consumer science classes. In the past, she has taught English, social studies, art, cooking, and fashion. "I started in a Queens middle school and eventually went to MacArthur High School for one year. I've now been at Lynbrook for fourteen years," Goulet said. Due to all of Goulet's experience, one might be shocked to realize she had no interest in teaching when she was younger. "It was after I had children that I got very interested in school and schooling," she said, and she added that she was also curious to understand how a classroom worked on a daily basis. However, she thinks her younger self would appreciate the path she eventually took. "I had a life in business and real-world production, [and] I was able to take that knowledge and experience to the classroom to share with young people," she said. "It was a perfect move." 
Before arriving at LHS, English teacher Mike Spinella worked at a video production outfit in Port Washington. Studying communications (video production and advertising) at SUNY Geneseo, Spinella learned how to create trade show sets, commercials, and training videos and manage audio/visual (AV). "My plan was to become an editor, putting together all the commercials and training videos," he said. However, his interest began to fade in his career when faced with extensive traveling and grueling 16-hour workdays. Having little time to do anything else other than work, Spinella knew leaving his job was the right decision to give himself the opportunity to explore what he loved to do most. He grew to appreciate teaching, primarily for it granting him the ability to coach. Believing his younger self's reaction to becoming a teacher to be one of satisfaction, Spinella imagines himself saying, "Smart move. You made the right call."
About the Contributor
Olivia Lanteri, Print Editor-in-Chief
Hey you! Thanks for checking out my profile. I am a member of the Class of 2024 and a storyteller at heart. I love to spend time with my family and friends,...