Are We Being Represented? Businesses Are Now Being More Inclusive in Advertisements
People identify themselves in their own way, and an individual's identity is often based on race, religion, sexuality, and/or gender, among other things. There are so many diverse groups of people in the world, but are they all being represented in advertising? Many businesses today are now trying to direct their advertisements a broader audience.
American businesses have slowly caught up with the times and now target advertisements to the LGBTQ+ community, as well as to various races and cultures. However, not everyone feels included.
"Diverse marketing" is a marketing process that recognizes the diversity in the preferred audience of the advertisement. From there, businesses advertise their ideas to accommodate the audience that they have or are aiming for. In a study done in 2021, according to Kantar Global Monitor (kantar.com), "65% of consumers say that it's important that the companies that they buy from actively promote diversity and inclusion in their own business or society as a whole." Businesses have recently learned to link diversity to success. A past study by the American Sociological Association found that "diversity is among the most important predictors of a business' sale revenue."
"
I feel it's really good because [many groups] are included. What makes us beautiful is our identities and backgrounds."
— Addi Norris, Class of 2026
With this reality, businesses have started to work harder to include more people. Businesses want their consumers to relate to what they are putting out to the public, in hope that it will gain positive feedback and earn revenue. In a sign that advertising is not reaching all possible consumers, freshman Addi Norris reacted to whether she feels represented in advertising: "Not really. I feel that we should be more inclusive in religion and identity. We don't connect with Jewish identity as much as we should." Norris is part of the large Jewish community and feels that with such a large group, Jewish people are not getting all the recognition that they deserve in advertising. When asked how she felt about businesses starting to be more inclusive, she said, "I feel it's really good because [many groups] are included. What makes us beautiful is our identities and backgrounds."
Even with businesses slowly progressing, others continue to feel excluded in some way. Freshman Gianna Thompson is another consumer feeling excluded. She said, "I feel that I am represented in some areas, but not in all. I feel that I am not represented enough as a Hispanic because I feel that we don't see them enough in advertisements." As businesses try to reach all possible consumers, some have learned that a target group can easily become stereotyped. For example, advertisements for over the past 40 years have shown women in kitchens, talking about cooking and cleaning products, says The New York Times. And "between 1980 and 2010, women in commercials were shown in workplace settings only four percent of the time," added the author in the article "Yes, Marketing is Still Sexist."
Coca-Cola is one of the companies that is smartly focusing on diversity. In 2014, Coca-Cola released a pre-Superbowl commercial featuring many cultures. This commercial was called "America Is Beautiful."  The commercial starts by showing different scenes in America: oceans, mountains, and many people going about their daily lives. In the background, the song "America the Beautiful" is being sung. As the commercial goes on, the song is later sung in multiple languages and there are people of all different ages, races, and cultures being shown. At the end, it says, "America Is Beautiful" with the Coca-Cola logo next to it. It was again aired during the Rio Olympics in 2016. The brand then released a statement regarding the advertisement saying, "America is Beautiful, and Coca-Cola is for everyone." Along with Coca-Cola, SheaMoisture has also promoted products just for Black women. According to Kantar, SheaMoisture supports Black female entrepreneurs as well as spreading the work of these entrepreneurs and celebrating Black women's journeys and heritage in the business world. With these examples of success in diversity advertising, sophomore Jessica Strohofer said, "Some businesses might take longer, but I think that [the] advertising business is taking a step to improve the issue."
Along with race, gender, and ethnicity, there are now more advertisers that are aware that they need to include people with disabilities and members of the LGBTQ+ community. Along with this is the expectancy of age-inclusive advertisements. In the future, consumers are hoping to see additional advertisements featuring people over the age of 50, who are not portrayed as old.
With many groups of people struggling to be represented, and businesses seeking to reach those consumers, more advertising changes that will make everyone feel valid and represented can be expected.
About the Contributor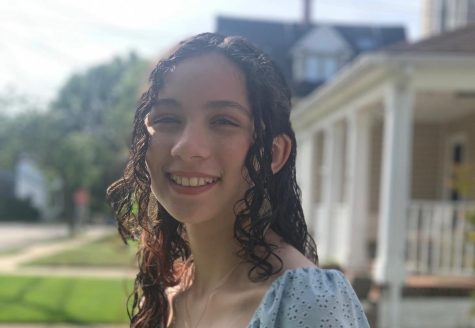 Sophia Woods, Contributor
Hi! Welcome to my profile page! I am a member of the Class of 2026. I enjoy reading, writing, and hanging out with my friends.