LHS's Production of Anything Goes Was the Top!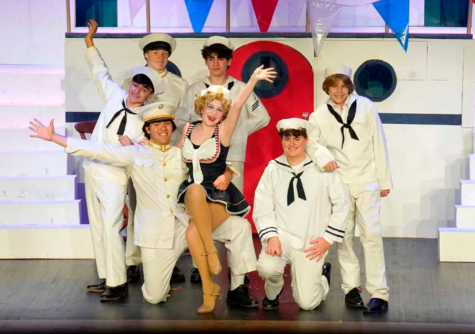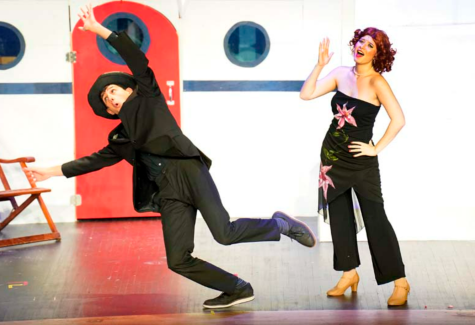 LHS's annual musical set sail on Friday, November 18, with the production of the 1930s original show Anything Goes. The performance was held in the recently renovated John F. Branciforte Auditorium and ran from Friday to Sunday.
Anything Goes opened on Broadway in 1934 at the Alvin Theater in New York City. Set on the S.S. American ship traveling from New York to England, the comedic story follows the "hope"-less romantic Billy Crocker (played by Jack Ceglie) who finds himself falling for the already-engaged Hope Harcourt (played by Lola Sokolskiy). The show has been revived many times and most recently made its appearance on Broadway in April of 2011, running until July 2012.
The musical opened with the playful number "I Get a Kick Out of You," where beautiful nightclub singer Reno Sweeney (played by Mia Rinaldi) confesses her feelings for Billy, who clearly does not feel the same way. Both Billy's boss, Elisha J. Whitney (played by Andrew Schiller), and Reno are preparing to board the S.S. American. As Billy is saying his farewells, he catches a glimpse of Harcourt, who he learns is to be engaged to wealthy British nobleman Lord Evelyn Oakleigh. Convinced he is destined to love Hope, Billy boards the ship under the false identity of "Public Enemy Number 1," Snake Eyes Johnson, with the goal of winning over Hope's heart.
Senior Mia Rinaldi has been in two previous LHS musicals but said she believes Anything Goes has been the best one yet: "It was definitely the most fun show to do on stage." Rinaldi described her character as "a sassy, loud nightclub singer" and added that "playing Reno was the best part I've ever had in a show. It was fitting for me vocally and was such a fun part!"
With the help of Reno and missionary-disguised gangster Moonface Martin (played by Jaiden Moreno), Billy attempts to bring Hope's engagement to an end. To his delight, he learns that she is not particularly interested in marrying Evelyn and is only doing it to please her mother. Hope confesses that she has feelings for Billy in the song "Easy to Love." At the same time, Reno and Moonface team up to sabotage the engagement and make a promise of friendship. Reno surprisingly finds herself falling for Lord Evelyn. 
After the true identities of both Billy and Moonface are revealed, the captain sends them down to the ship's brig. Billy is in despair, convinced he will never see Hope again, as they are not permitted to leave their cell until they return to America. Fortunately, Billy and Moonface manage to escape and find Hope and Evelyn. It is revealed that they are both displeased with the marriage arrangement. The play comes to a joyful conclusion; both Billy and Hope, as well as Reno and Evelyn, get happily married. 
Sophomore Jack Ceglie had a blast starring as Billy in the production. "It was easily one of my best [roles] because I loved getting to work alongside people with lots of talent, and the show was also just so much fun! Billy adds to the story because the majority of the characters are connected to him, so he is able to bring them all together in a fun way," he explained.
Last year, LHS put on a production of Les Misérables in which Ceglie starred as Marius. He feels that show is not comparable to Anything Goes because "Les [Misérables] had a more depressing mood." Ceglie added, "Having a fun, hilarious show this year was a nice change."
Along with the artistic cast and crew of Anything Goes, the pit orchestra, conducted by orchestra teacher Veronica Underhill, performed all musical numbers. The present instruments included the flute, piccolo, oboe, English horn, clarinet, saxophone, trumpet, trombone, percussion, piano, violin, and bass. Underhill commented on her conducting experience: "It was my first year conducting, although I've played in pit many times throughout high school and then various jobs." Although challenging, she was grateful to form valuable bonds with the students involved in the show. "The biggest challenge was knowing I must be the liaison between not just preparing the orchestra, but now I have to be the person who is able to allow the ensemble to keep going and make sure all stays well, giving cues from memory while paying attention to the people on stage. Although demanding, musicals are always a lot of fun, and getting to work with kids that are willing to put in all that time was a really pleasant experience as a teacher," she commented.
About the Contributor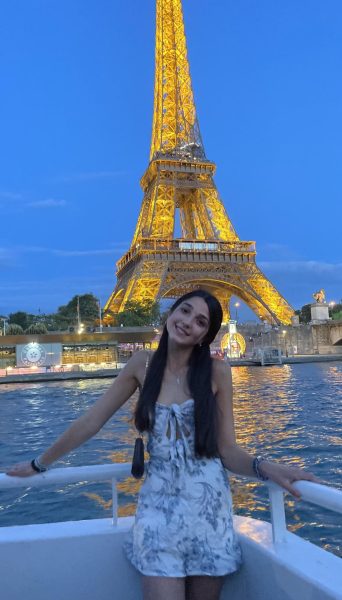 Emily Franklin, Managing Editor
My name is Emily Franklin, and I am a member of the Class of 2025 and an editor for Horizon. I am part of the Key Club, Birthday Wishes Club, and Mathletes....