Artist Spotlight: Jasmine Ostroff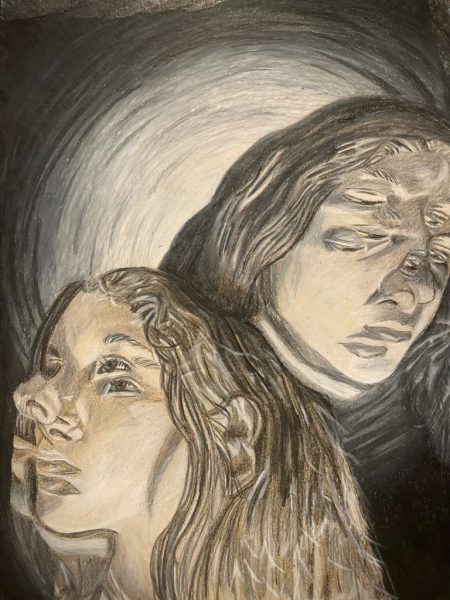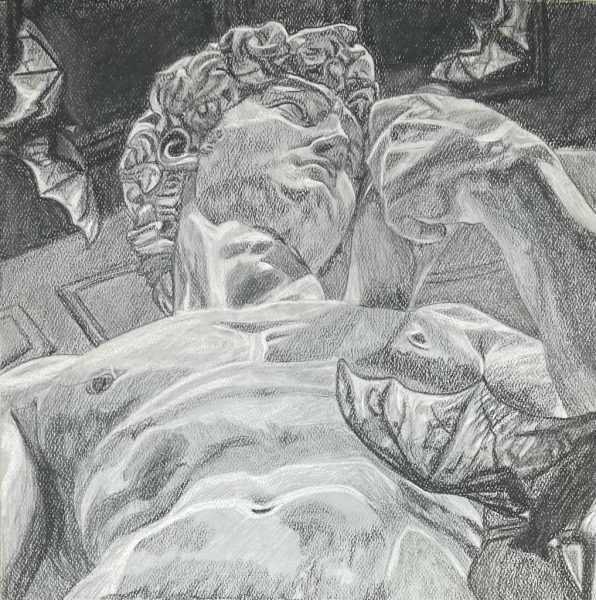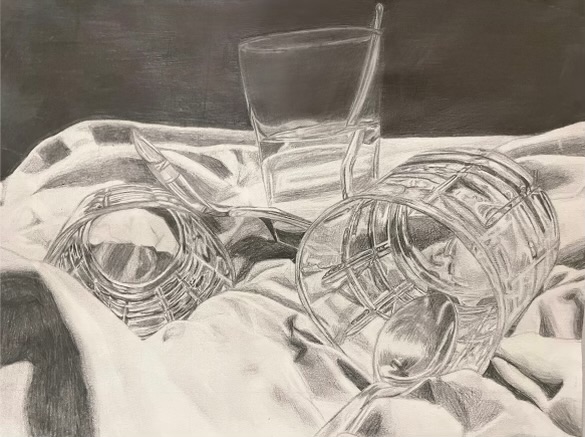 Even in her youngest years, junior Jasmine Ostroff has had a flare for the arts. Always a doodler in kindergarten and at Waverly Park Elementary School, Ostroff's passion was ever-present when she first decided to take an art class outside of school in Rockville Center and later switched to a Lynbrook class. While in Lynbrook, Ostroff experimented with different mediums other than graphite, such as paint and clay. Around this time, Ostroff's talents became noticed by her classmates. "I can even remember times back at Waverly where my friends kept asking me to draw this one type of rose all the time during lunches," she recalled. 
Ostroff is open to multiple mediums when she creates. She has used acrylic paints, oil pastels, and charcoal to express her work, most recently on different toned papers. However, Ostroff's medium of choice is a tried and true favorite: graphite. "I love using it to add small details and focus on exaggerating the values," she explained. 
To Ostroff, the origin of her artistic side is a bit of a mystery; her parents "haven't been interested in art," and her closest relative to express interest in art is her cousin. However, she suspects her grandmother may have had the artistic gene. While looking through a pile of old papers, Ostroff and her father discovered old drawings that resembled clothing designs or figures. However, despite her suspicion, "We couldn't figure out if [the drawings] belonged to my grandma or not, so it's still somewhat of a mystery where they came from," she said.
When it comes to inspiration, Ostroff finds influences on her work everywhere, from Instagram posts to old pictures of her family. Sometimes, her emotions come out in her art: "When I am drawing for myself and on my own time, how I'm feeling or if I see something as simple as a tree, I will want to draw it." Instagram artists like Elif Egeli and Silvie Mahdal challenge Ostroff to try new styles and mediums, which she sometimes uses as references for AP Art. But one of her biggest inspirations? Her family. "My parents also inspire me because they are very encouraging in what I do; they know I love art and would support me by getting me paints and sketchbooks when I was younger," explained Ostroff. "It is even connected to mediums in that way because I always want to try different mediums and types of art (like photography or digital art), and they would make it possible for me to do so."
Ostroff's talents impress fellow junior and AP Art student Kristina Ligai. Calling the realistic elements of Ostroff's work impressive and "beautifully done," Ligai loves Ostroff's ability to work with different colors and understanding of which materials are best for a piece she is doing. "Her skill is noticeable throughout her work and continues to improve as she does more artwork," Ligai praised. AP Art teacher Michael Kunz admires the thoughtfulness that Ostroff puts into her work: "Jasmine really focuses on developing a strong idea, composition, and finished piece." Kunz believes her theme, "Renaissance Creatures of the Night," makes Ostroff stand out in her class. "It is a sustained investigation theme that I have never seen before," Kunz said.
To Ostroff, art has always been "really important," but she appreciates art more now that she has learned so much about it. She especially loves the freedom and creativity that comes with the practice: "I like that I can make whatever I want whenever I want, and I've always just loved to do it in my spare time in school and at home whenever I'm bored. It's also very stress relieving for me, and I like that I am able to use my art to even make gifts or cards and posters for my family."
About the Contributor
Olivia Lanteri, Print Editor-in-Chief
Hey you! Thanks for checking out my profile. I am a member of the Class of 2024 and a storyteller at heart. I love to spend time with my family and friends,...