SGA Hosts Annual Breakfast with Santa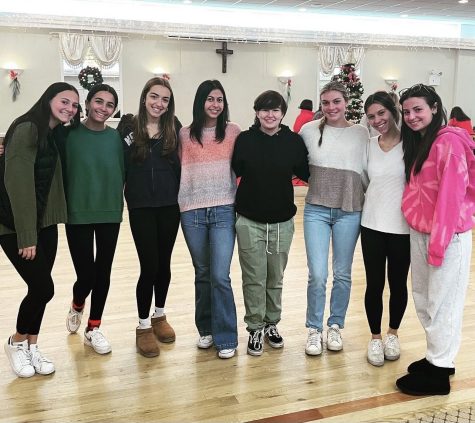 Since the commencement of the holiday season, students and teachers alike have found ways to get into the holiday spirit; one of these ways was the annual Breakfast with Santa hosted by the Student Government Association (SGA). 
The Breakfast with Santa, hosted on December 12 at the Knights of Columbus hall, allowed for members of the SGA to help the community fully emerge into the holiday spirit. The event included an assortment of food, a magic show, cookie decorating, and writing letters to Santa, along with a visit from Santa himself. 
The morning was organized into three different seating sessions for the breakfast. From the first session, which was held from 8:30 to 10:30 AM, and the final session, which was held from 10:30 AM to 12:30 PM, SGA volunteers made themselves helpful in more ways than one. The volunteers' roles in the event ranged from the setup at the beginning of each session and the cleanup throughout to the general assistance to any kid or parent in need of help. As the parents and children enjoyed their breakfast, they were entertained by a magic show. 
SGA member and senior Sofia Yaker shared that her favorite part of the Breakfast with Santa was "seeing how excited all the kids get when Santa came in, and they can go up to him and tell him what they are wishing for." Club advisor Mary Kirby agreed: "It is heartwarming to see the children who are attending the breakfast with their families as they react to Santa when he arrives." Kirby continued, "It is equally heartwarming to see the childrens' interaction with the high school students; they genuinely are lured to the 'big kids.'" SGA member and senior Ava Schwam added, "My favorite tradition is the magic show because it is so entertaining and enjoyable for both the kids and adults!" 
This annual event acts as a tradition for the club. When asked why she felt the tradition was so meaningful, Yaker noted that she thinks that it is because "so many families come to the Breakfast with Santa every year, and it puts people into the holiday spirit." Schwam agreed, noting how "watching the joy on the kids' faces and seeing the magic of Christmas come to life as Santa comes out of the main doors" made all the hard work put into the event worth it. Kirby explained why Breakfast with Santa is a prominent tradition, as the club has continued to partner with the Lynbrook Recreation Department for numerous years and is always willing to help them out with providing volunteers for events like this one.