Horizon Staff Attends Columbia Scholastic Press Association's Fall Conference
Both Horizon staff members and journalism students, along with chaperones and English teachers Jessica Sanders and Roseanne Mitchell, attended Columbia University's 82nd Scholastic Press Association's Fall Conference on Monday, November 7. Attendees explored Columbia's campus and attended workshops that covered various aspects of journalism, including writing, design and layout, online media, photography, and even critique writing. Schools from as far as California traveled to attend this event, which granted students the opportunity to meet professors and journalists who shared information and tips for becoming a better writer.
Sophomore Justin Williams, one of Horizon's sports editors, spoke about the knowledge he gained through the event: "My favorite workshop was called 'Sports 365.' It was about finding ways to improve your coverage as a sports journalist, which is a career that I would love to pursue." He added, "The most notable thing I learned from [speaker Chris Waugaman] is to get as comfortable with players and coaches as possible. [He said], 'Use their practice as your practice.' That really changed my perspective on sports writing."
Like Williams, sophomore Cassandra Levinson appreciated the experience. "The workshops definitely reinforced some mantras that I have been told as a writer, and more broadly, as a creative writer. It's a wonderful privilege to be able to [learn] in such a dynamic environment," Levinson said.  She also shared that she had no favorite workshop; she found them all very enlightening and felt that the writing techniques learned can be incorporated into her own writing.  
Not only did attendees spend the day going to workshop after workshop, but they got a glimpse of what navigating a college campus can be like. Horizon members could visit the campus bookstore, where many bought books, sweatshirts, and souvenirs. During lunchtime, the members gathered and sat on the steps of Columbia's state-of-the-art Low Memorial Library. 
For Jessica Sanders, who is the advisor for Horizon, the press conference was yet another rewarding experience. She explained, "I have attended this conference at least half a dozen times over the years. I always love seeing the students have a fun and educational experience on Columbia's beautiful campus. This year, we really lucked out with such beautiful, summer-like weather. It was a great day." Sanders also discussed how she admires the range of workshops offered and the benefits young writers gain from the diversity of the information shared. Sanders, future Horizon members, and journalism students will likely continue to attend this conference for years to come, always continuing to gain knowledge towards their journalistic pursuits.
About the Contributor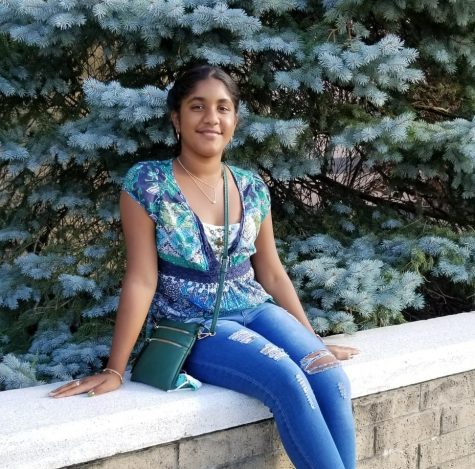 Miranda Mangru, Assistant Editor
Hi! My name is Miranda N. Mangru. I am a member of the Class of 2025 and an assistant editor for the Horizon newspaper. I take pleasure in listening to...