Introductions to Italian: Kindergarten Center Receives a Visit from Italian Students
Students in Italian 4 classes began this year with a unit on recycling in Italy; they learned about the environmental initiatives that Italians enthusiastically participate in. The students explored "la raccolta differenziata," Italy's system of sorting different materials of waste into containers of designated colors (for example, plastic belongs in a yellow container, paper belongs in blue, and so on). During the unit, Italian teacher Antonella Tranchina showed her classes a video of an Italian children's song about recycling. She explained to them that though the video was juvenile and made for young children, it was better fit for the Italian 4 students because the videos made for Italian teenagers, who had grown up speaking Italian, would be much too advanced. After watching the children's video and recalling a trip to the kindergarten center (KC) with her Italian students years prior, she asked her current students if they would be interested in going to the KC and teaching the young children what they had been learning. The students responded positively, communications between Tranchina and KC Principal Ellen Postman ensued, and the project was underway.
Tranchina and fellow Italian teacher Lenny Bruno wanted to hand the baton to the students and put them fully in charge of the project. Tranchina explained how this trip would be different from an earlier one. "I put it all on you…. It was wonderful because I went into this kind of [blindly], not know[ing] what the outcome was going to be. I tried something new, and I put everything on you students, so it was amazing to see how you delivered in a very adult way, in a very responsible way. You basically took ownership, and you made something beautiful," said Tranchina. She also avoided assigning each student a specific role in the project. She let them decide who would do what. "There were so many parts in the lesson; I wanted each [student] to pick the part that they felt most comfortable [in]," added Tranchina.
Though each Italian class period worked separately, students followed the same lesson plan that included a PowerPoint outlining which materials correspond to each colored bin, showing the children's song video, and then leading the kindergarteners in an interactive activity in which they were asked to place items of different materials into the proper boxes. In the weeks leading up to the trip, the Italian students split up into groups, with some working on wrapping cardboard boxes in different colored paper to represent the recycling bins, others preparing the PowerPoint, and some creating a worksheet for the kindergartners to complete in their classrooms after the lesson in order to review what they had learned. The Italian students worked collectively on bringing in the items that the kindergarteners would be sorting, such as empty tissue boxes, plastic bags, water bottles, newspapers, glass jars and bottles, and organic materials.
The Italian students spent much time rehearsing their projects and making edits and revisions to their lesson plan and respective PowerPoints. Rehearsals also took place in front of fellow high school classes to receive feedback from other teachers and students.
Finally, on Wednesday, November 2, each class walked across Union Avenue to the kindergarten center during its regular class period. Period four, the first Italian 4H class of the day, arrived in the gym, where five tables were already prepared (each Italian class presented to about five kindergarten classes), and began setting up the PowerPoint and props. Beginning with "Ciao, bambini!" (Hello, children!) and introducing themselves in Italian, the high school students went through the PowerPoint, having the children repeat words like "il riciclaggio" (recycling) and asking them, in Italian, what color each box was. During the song, they encouraged the kindergartners to sing "riduci, riusa, ricicla" (reduce, reuse, recycle) along to the chorus. Student presenters from the various class periods were impressed and pleasantly surprised with the kindergartners' quick comprehension of the Italian words. Junior Eliza Fucci explained, "Before the presentation, I was nervous that the kindergartners wouldn't understand what we were showing them. But I was happy to see that they were able to interact with it and learn, especially during the [hands-on] activity part of it." Olivia Pollicino, a junior, said, "During the presentation, I felt excited that the kids seemed to understand what we were talking about and understand how they can recycle and help the environment." Junior Leigh Caponi commented, "I was very shocked with how well the kindergartners picked up the subject. Hearing them speak in Italian was very validating and made all of our hard work worth it!"
Following the PowerPoints, the Italian students had each of the five kindergarten classes line up at a table. The high schoolers took turns asking each child which colored box an item should be put in, guiding them when they were unsure and congratulating them with "bravo" or "brava" when the child chose the correct box. Aubrie-Lynn Wilkonski, a junior, commented, "They all seemed to learn so much and [were] putting plastic, paper, and glass in all the correct containers….I was really happy that at the end of the presentation, they learned a lot about the different ways to recycle and how to help the environment."
When asked what they hoped the kindergartners gained from the experience, many of the high schoolers reached a consensus. "I hope all of the kindergarteners learned how recycling benefits and helps the environment, and also I hope they will keep recycling in mind for the future," Wilkonski expressed. Fucci added, "I hope the kindergarteners learned a little about how to help the planet, how children recycle in Italy, and overall had fun!"
Postman felt that the Italian recycling presentation was a valuable and enjoyable experience for the KC students. "It was very exciting for the children. The children will be learning about recycling in a few months from now when it comes to Earth Day, so at least this gives them a base and gives them a foundation so when they actually dive into the topic, they'll have some information stored inside that they're going to be able to share." When asked what she thinks or hopes the kindergartners gained from the event, Postman responded, "First of all, being exposed to a second language, being exposed to high school students and what their future will be like when they go to high school, or even in middle school when they start to learn a second language." Postman also hopes that visits from the high schoolers to the kindergarten center will continue regularly, perhaps with lessons relevant to the time of year or season.
Tranchina and Bruno were incredibly proud of their students' efforts and successes. Bruno commented, "I think that the recycling presentation was beautifully orchestrated and gave the Kindergarteners the opportunity to see how much learning a language can be fun." Back in class, Tranchina asked her students how much money the lottery was currently worth so that she could tell them she felt she had won more than that. With tears in her eyes, she expressed feelings similar to those of parents watching their child perform. "You can't find the right word in the dictionary… to describe how beautiful you guys did."
Along with their immense pride watching their students, the teachers have high hopes for what the high schoolers gained from this process. Tranchina expressed how she wanted her students to have a mature, real-world experience: "I'm hoping that it taught you what real life outside of the classroom is [and] what is it that adults go through…" The Italian students truly must have had that mature, teacher-like experience because with their feelings of pride and excitement for their young pupils, perhaps they felt something like what their own teachers felt in watching them.
About the Contributor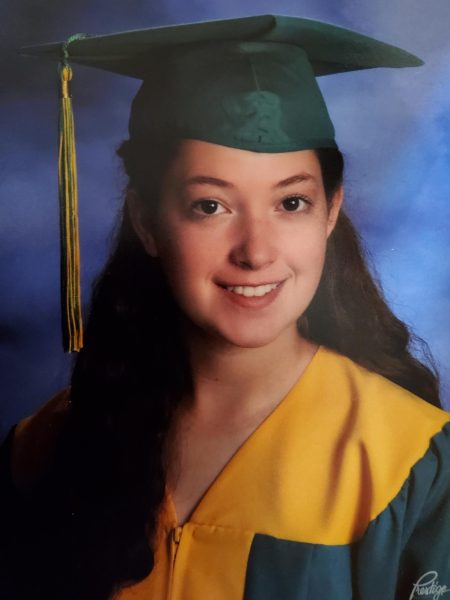 Madeleine Malinka, Online Editor-in-Chief
I am a member of the class of 2024 and a co-editor-in-chief of Horizon's online publication. I have one dog and eleven siblings, and I love to read!