It's a Beautiful Day to Surf a Hurricane
When people think of hurricanes, they think of strong winds, harsh rains, flooding, roofs getting blown away, and instant panic. But when avid surfers hear the word hurricane, they think it is time to hit the waves.
Surfing during hurricane season is a very popular activity on Long Island, especially in Long Beach. Some people like Dave Juan, owner of the shop Unsound Surf in Long Beach, and junior Amelia Doyle love to surf during hurricane season. But there are others like Luke and Emma Hamlet, employees at Long Beach Surf Shop, who disagree.
For employees working the shops, hurricane season can be overwhelming. E. Hamlet said, "It gets crowded here, and just personally, it starts to feel like work for us." L. Hamlet agreed, saying, "When people are calling for [a wave] in advance, people get really excited." Both agreed that hurricane season can be really stressful in the shops and at the beach. The ocean can get extremely crowded, and people could end up on top of each other, cutting each other off when trying to get a wave. Wipeouts can be really painful. It can be really scary to wipeout on a monster wave because it can take a surfer in and spit him/her out in a split second. Even Unsound Surf owner Juan, who said that he liked surfing during hurricane season, has gotten nervous before going out. Juan said, "Humans can't breathe water, unfortunately," making it really nerve-racking when surfing in those hurricane waves. When one wipes out, it is possible to roll under water continuously and not be able to get to the surface to breathe.
"
I have been surfing for five years; surfing during hurricane season is sick. The swell is much better than during other times of the year."
— Amelia Doyle, LHS Class of '24
Businesses that rely on surfing prosper during this time because people tend to buy new leashes and wax along with the "stuff they had been putting off replacing," said L. Hamlet. Those purchases often include new boards and wet suits. Juan also said that a popular item bought during hurricane season is short boards because they are easier to ride in those types of waves. Long boards are usually the way to go when one is a beginner, but during hurricane season, it is unlikely a surfer is going to catch anything without using a short board. That is why I recommend to not surf during hurricane season if one is not experienced. I have been surfing since I was seven and have always used a long board. I have always preferred the smaller waves that come right before the swell. More recently, however, after surfing in Hawaii this summer, I am looking into investing in a short board so I can participate during the bigger hurricane swells. As Juan put it, one would need "a high-performance surfboard and [be an] experienced surfer too" in order to ride such waves.
Doyle has her own opinion regarding hurricane surf: "I have been surfing for five years; surfing during hurricane season is sick. The swell is much better than during other times of the year." Doyle has surfed many times in her life, but hurricane season seems to be her favorite. She has not ever really felt scared in the ocean. "It is where I feel the calmest. There is just something so healing about being out on the water," added Doyle.
About the Contributor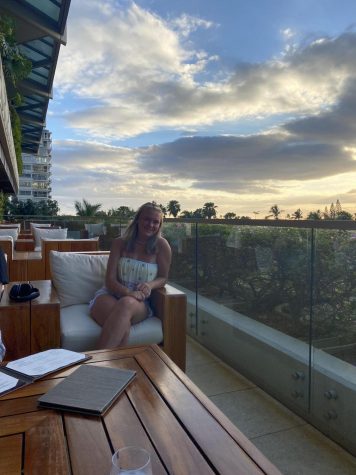 Mary Costello, Contributor
Hi! Thanks for checking out my profile page. I am a member of the class of 2024. I enjoy writing creative and interesting articles. I am a member of the...